Open Outlook and select Tools. Click Account Settings.
---
Click New.
---
Check Manually configure server settings or additional server types.
---
Click Next.
---
Select Internet E-mail.
---
Click Next.
---
Enter Your Name and E-mail Address.
---
Choose IMAP as your account type.
For Incoming mail server (IMAP), enter imap.one.com. For Outgoing mail server (SMTP), enter send.one.com.
---
In Logon Information enter the e-mail address and password that you created in the control panel.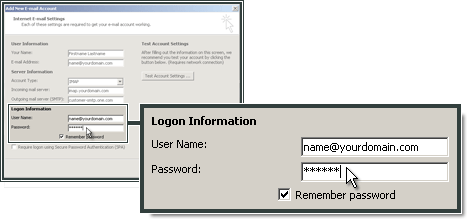 ---
Configuration of the SMTP server in Outlook 2007
Click More Settings.
---
Select Outgoing Server and then My outgoing server (SMTP) requires authentication.

---
Select Advanced. In Incoming Server (IMAP) enter 993 and select SSL. In Outgoing server (SMTP) enter 465 and select SSL. For Root folder path enter INBOX with uppercase letters.
---
Click OK.
---
Click Next.
---
Click Finish.
---