The Online Shop integrates seamlessly with Website Builder. Use the Online Shop component to insert it in a page in your site. Note, that you can only use the component once in your website.
Open Website Builder from the One.com control panel.
Drag the Online Shop component into your workspace, from the menu left on your screen.
Adjust the size and placement of the shop component to your liking.
Click Edit Online Shop to adjust the look and style of the shop in Website Builder to your preferences.
Click Save and Publish to make your shop available online.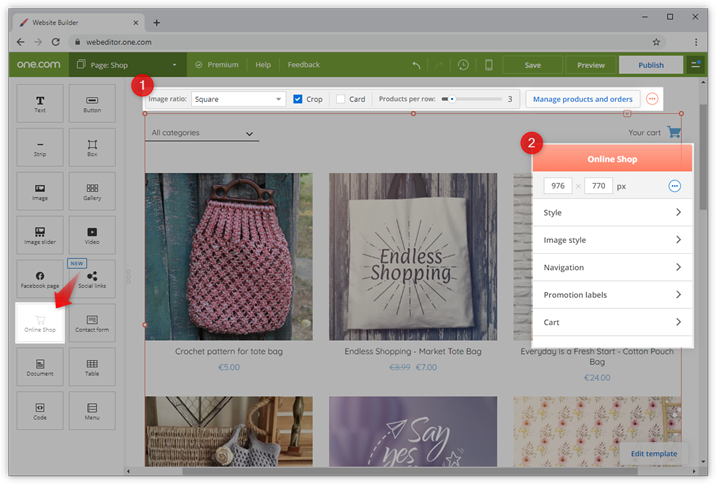 ---
Editing the look and style of your Online Shop
You can set, among other things, how many products are shown per row, the color and position of promotion labels and the location of your shopping cart.
1 - Top/bottom menu
Image ratio - Select the image ratio of your products, for example, portrait or landscape.
Crop - Check this box if you want to crop images so they are all shown in the same size.
Card - Check this box to show your products on a card; the product and description are outlined with a rectangular border.
Products per row - Set how many products (2-8) should be visible per row.
2 - Properties panel
Style - Set the font, text color and accent color of your shop. You can also select how many products are visible per page and the text and style of the "Buy" button.
Image style - Set the image ratio and whether to crop images. You can also set a hover color that becomes visible if you move your mouse over a product.
Navigation - Set if you want to show the Category selector and the "Sort by" selector, allowing your visitors to sort and filter the products in your shop.
Promotion labels - Set the position and color of promotion labels on your products. Go to the Online Shop administration to add a promotion label to specific product.
Cart - Set the position of the shopping cart on your page. Check our detailed guide for more information: Add the cart of your Online Shop to all pages of your site.
---
Related articles: