one.com Webmail is an easy way to access your emails. You don't need to install any software or worry about getting the settings right. Log on to your webmail from the nearest computer, your smartphone or tablet.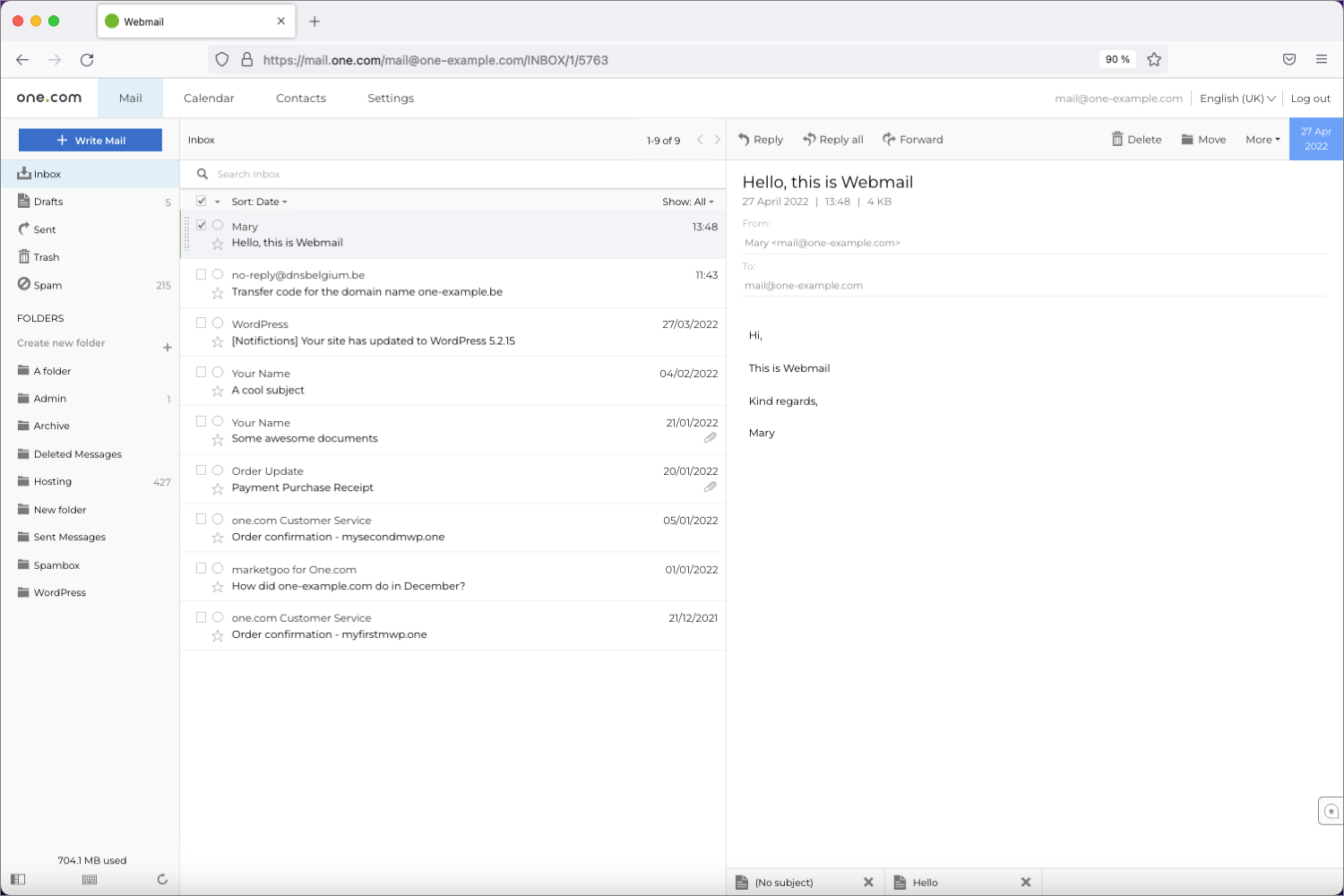 ---
Access your webmail
To be able to use webmail, you need an email account. Create your account in the Control Panel.
Access webmail from the browser on your computer or mobile device.
Go to our website, www.one.com.

Click Webmail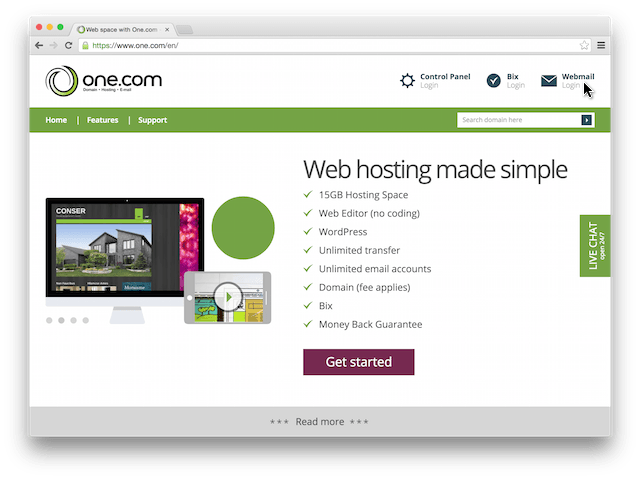 Enter your email and password

Click Log in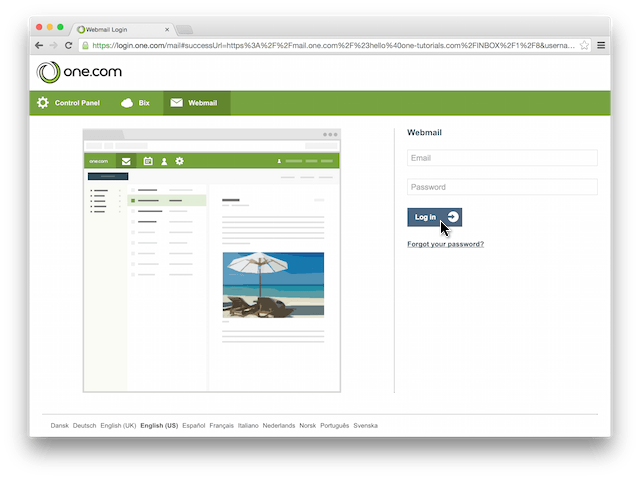 Webmail supports desktop versions of Chrome, Firefox, Safari, Internet Explorer 10 and newer. In addition, webmail supports mobile devices; iOS 6 and above, Android version 4 and above and Windows Phone 7 and above.

---
Send and receive emails
Click Write Mail
Start to type in a name in the field To: .
Webmail will automatically search for email addresses from Contacts or from past mails, you sent. If you are sending a message to a new person, type in their full email address.

Enter a subject.

Add content to your email.

When you are done, click Send.
Tip: If you want to add images in Webmail, just drag the images from your computer to where you want to place them in your message. Resize an image, by dragging its corners, after adding it to your message.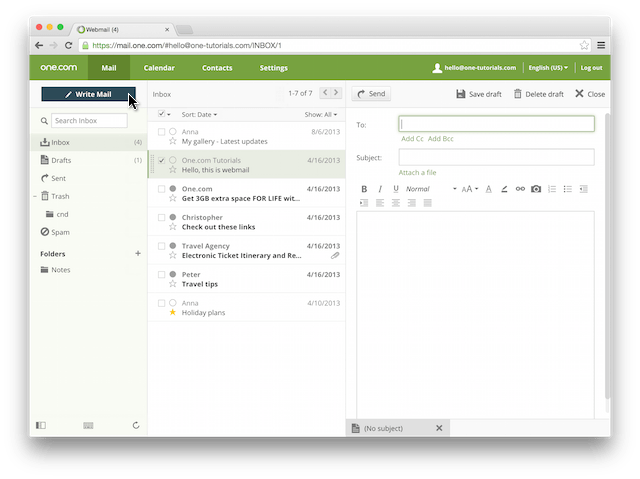 ---
Delete messages
To delete emails, select the emails you want to delete, and click the delete icon.
Select the emails you want to delete

Click the delete icon.
You can select several emails at a time by using the select function.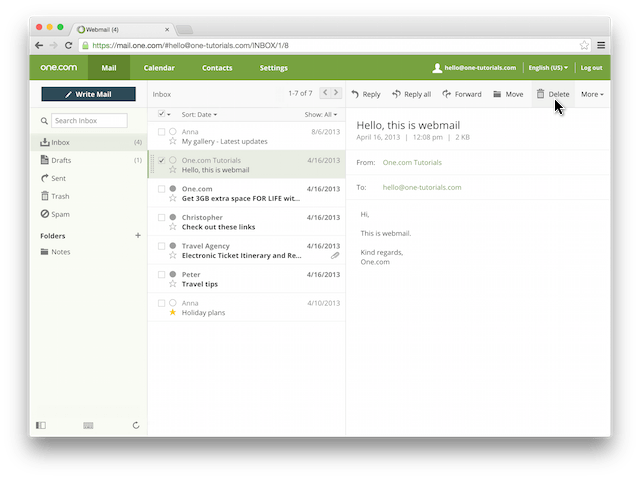 ---
Search messages
To search for subjects or senders in a specific folder, just enter what you are looking for in the search field, and press enter.
---
Add a star to messages
You can add a star to messages that you want to track or follow up on later.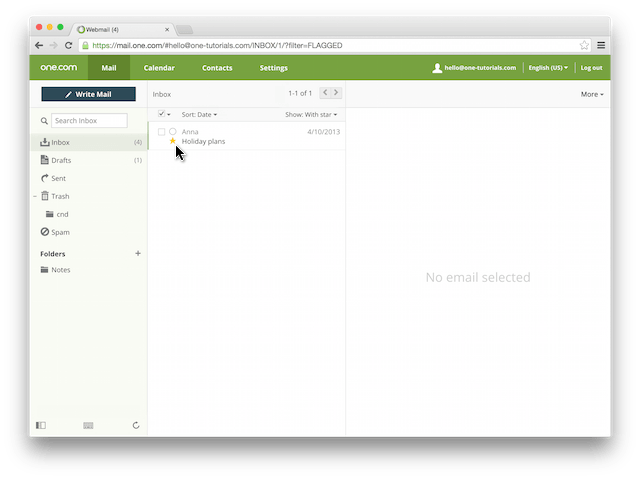 ---
Plan with webmail's built-in calendar
To access your calendar:
Open your webmail.

Click Calendar in the top menu.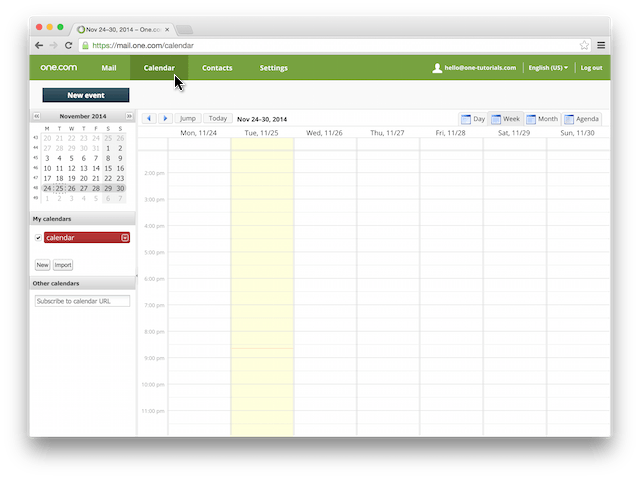 ---
Add a signature to your emails
Add a default signature to your emails, to make sure all your emails end with a proper greeting.
Click Settings
Click General
Enter your signature in Attach this signature
Click Save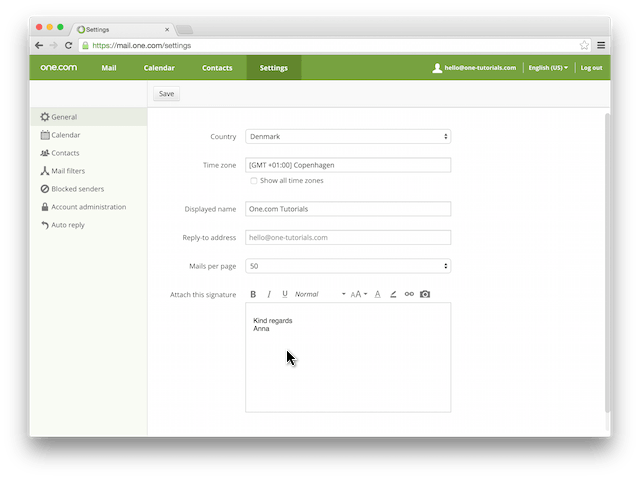 ---
Collect your contacts in webmail
Webmail stores your contacts alphabetically so you can get quick access to them when writing emails.
To add a new contact:
Click Contacts
Click New contact

Enter the info for the new contact

Click Save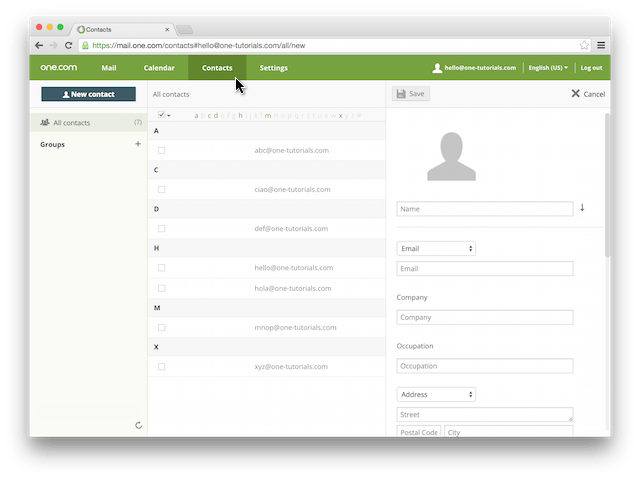 ---
Change the display name and reply-to address
Your display name and reply-to address can be updated once you are logged in.
Click Settings
Click General
Enter the name that should appear as sender in Displayed name
Enter the address that should be replied to in Reply-to Address
Click Save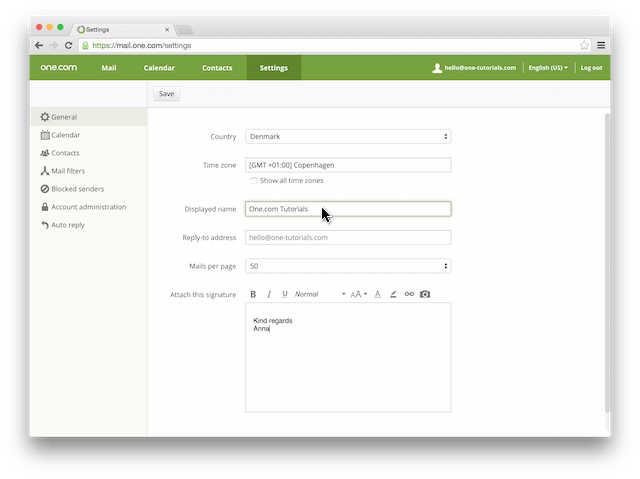 ---
Change the language of your webmail
Webmail supports 10 different languages, and you can easily switch between them.
Find the language settings in the upper right corner

Click the current language

Select the preferred language in the drop-down menu

And you're done!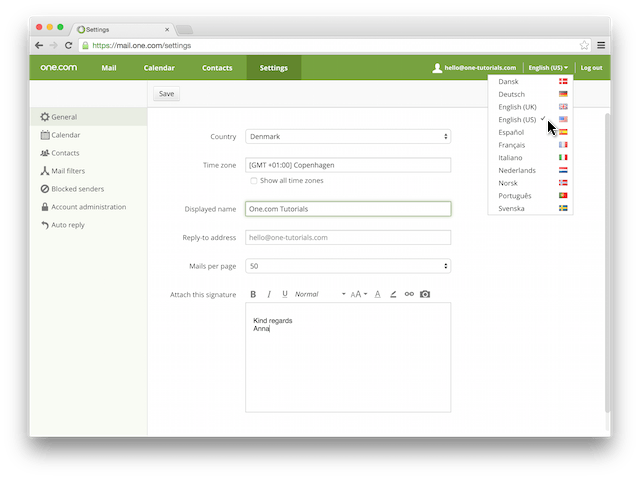 ---