SPF prevents spammers from using an email address on your domain as their sender address, known as email spoofing.
Don't have a domain name yet? Find the perfect domain for your business or idea today.
---
How does SPF work?
With SPF you can define the outgoing mail servers that are authorized to send email from your domain name. When an email is sent from your domain, the incoming server checks if the mail comes from an approved server before delivering it to the recipient.
If the information doesn't match, the email is identified as unauthorized and will be rejected or delivered to the spam folder.
Unfortunately, not all incoming mail servers check for SPF records. So even though adding an SPF record will help, it cannot prevent all spoofing.
---
Create an SPF record on your domain
Follow the instructions below to add an SPF record to your domain. Keep in mind that it takes up to 90 minutes before your change is active.
Log into your one.com Control Panel and click DNS settings on the Advanced settings tile.
Go to DNS records.
Under create new record, click TXT.

Paste in the following string under Value:

v=spf1 include:_custspf.one.com ~all

Click Create record to save your settings.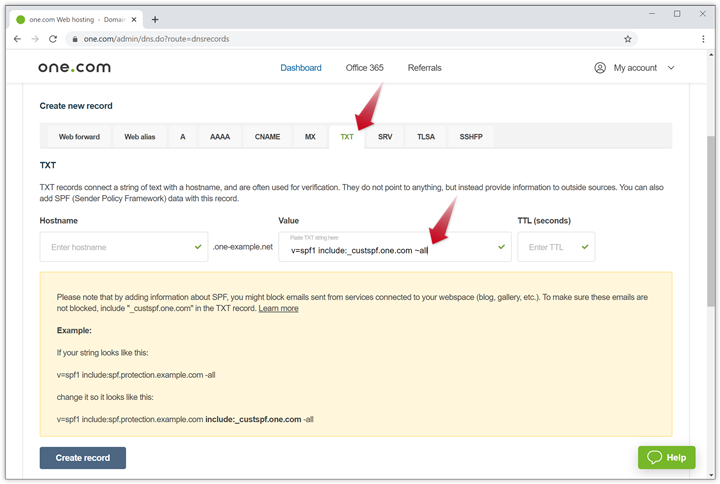 ---
Related articles: