How often do you find yourself in a constant time crunch when writing emails? It's a common occurrence in our busy lives. This guide shows how to generate text using our Writing Assistant in Webmail, based on ChatGPT.
Whether you experience a lack of confidence in English or require assistance in effectively communicating your emails, the Writing Assistant is here to provide support and help you address these needs.
Don't have an email address yet? With our email hosting solution, you can mail professionally with your domain to all your contacts.
---
What is the Writing Assistant?
The Writing Assistant in Webmail is powered by AI and ChatGPT. With just a few inputs, you can receive fast assistance and suggestions to save precious time while ensuring your messages are impactful and use the right words. Whether you need help with English or want to enhance your email communication, the Webmail Writing Assistant is your secret ally for creating professional emails that make a lasting impression.
---
Where do I find the Writing Assistant?
In Webmail, you'll find the Writing Assistant button at the bottom of the page.
Note: Please be aware that initially, the Writing Assistant is currently only available in English UK version. The English US version will be added at a later stage. We are delaying the availability in other languages until we have full confidence in the quality of the responses.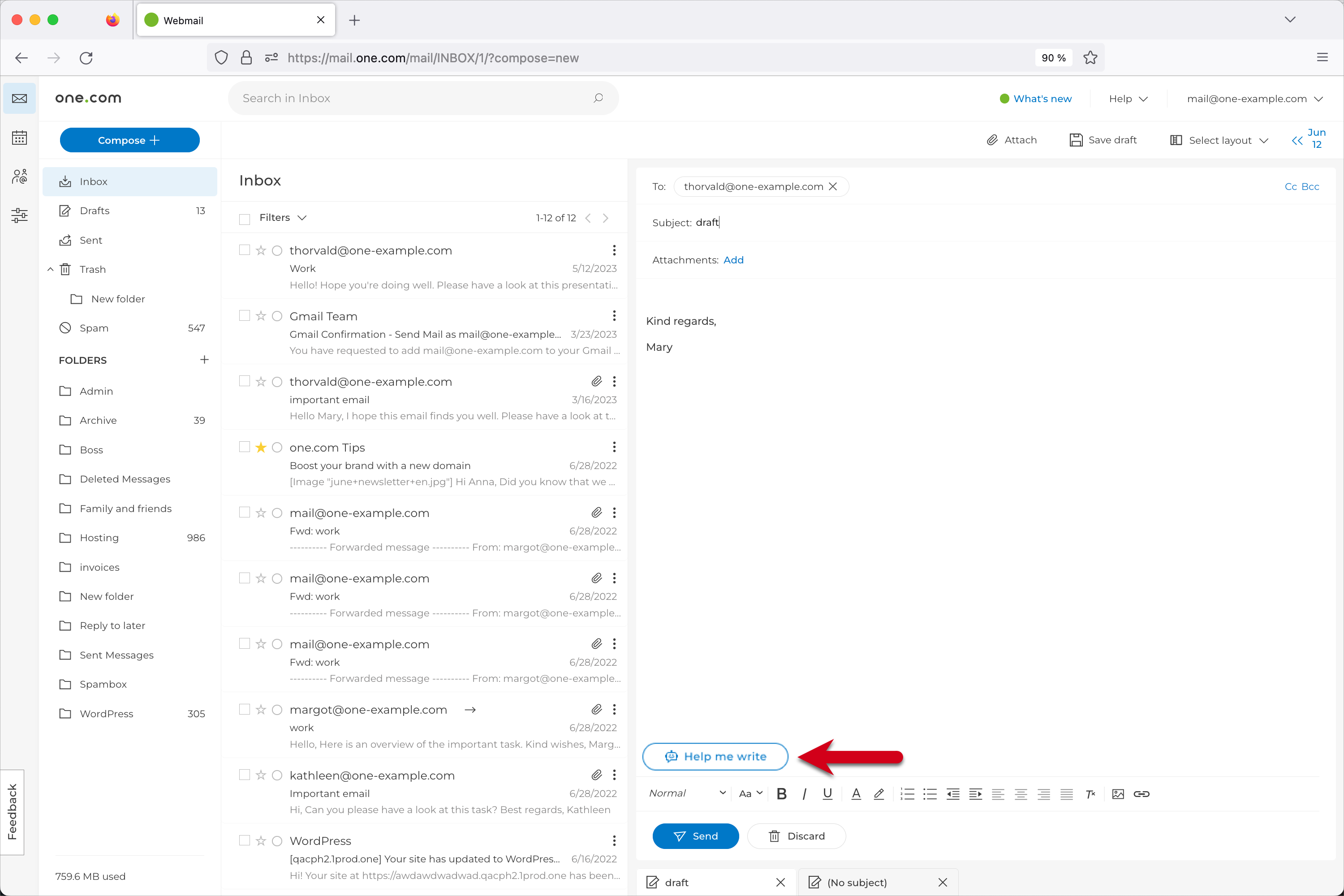 ---
Where can I enable or disable it?
To enable or disable - click the Settings icon in the menu to the left and find Writing Assistant under General.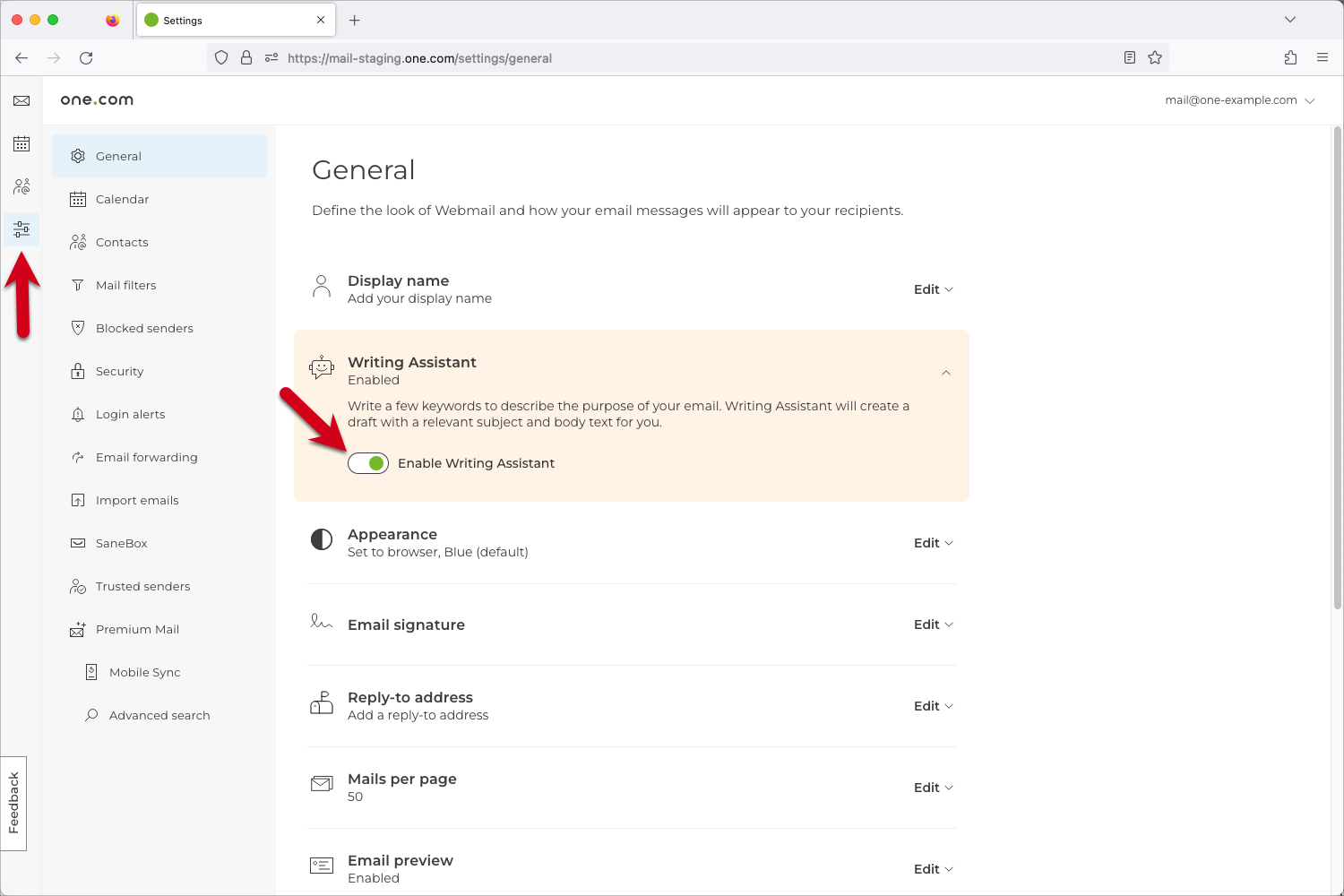 ---
How do I use the Writing Assistant?
Select the Writing Assistant button, and enter relevant details about your email topic, such as "sick, not attending the meeting." The application will generate an email draft with a subject and body text for you to edit, eliminating the need to mention "write an email explicitly."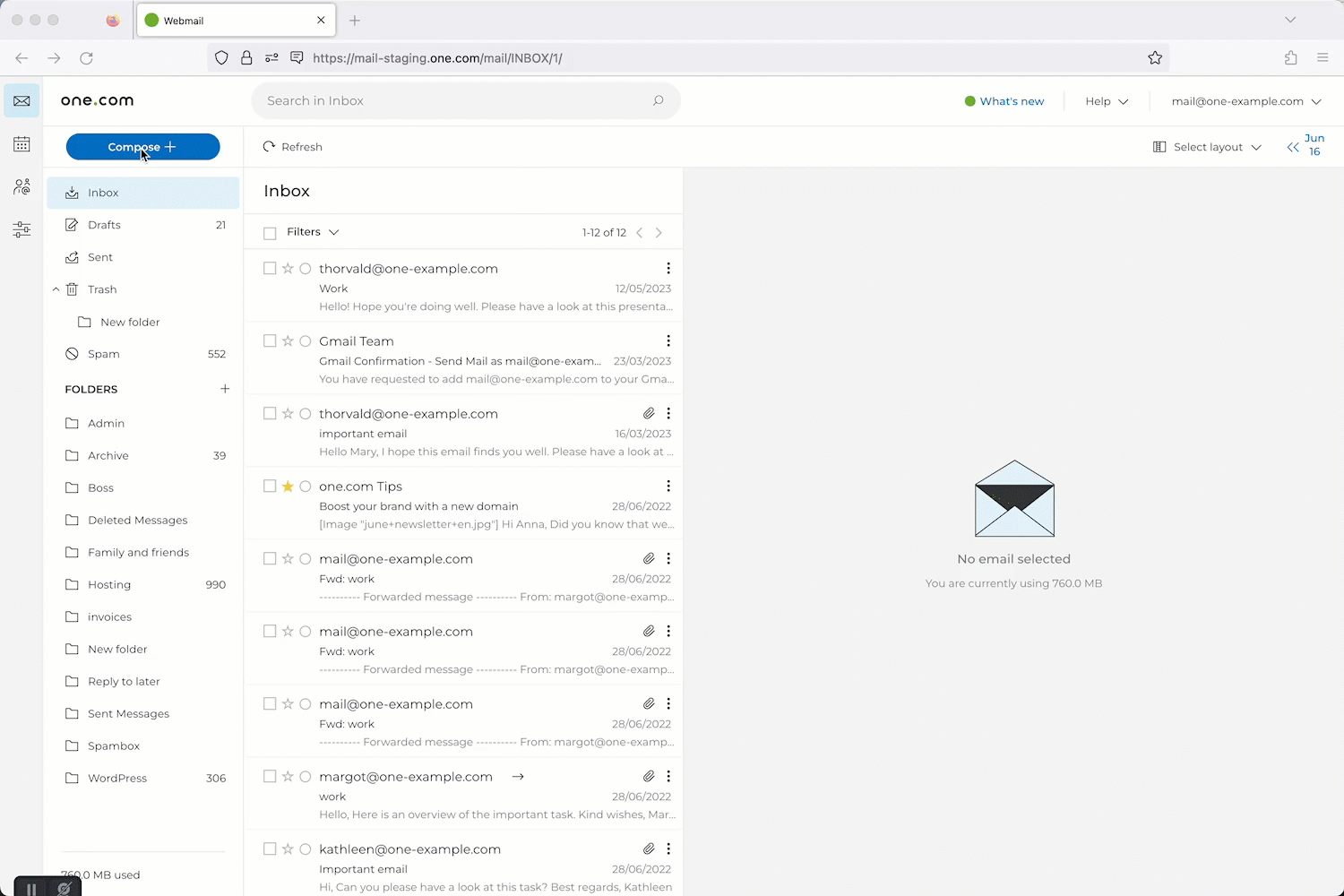 ---
Can I modify the result?
The Webmail Writing Assistant will generate a new draft email message. Feel free to customize the draft, add your personal touch, including the recipient, and send it like any regular email.
If you are not completely satisfied with the results, you can always try again. Please note that we are not saving your previous queries, so please feel free to type your inputs again.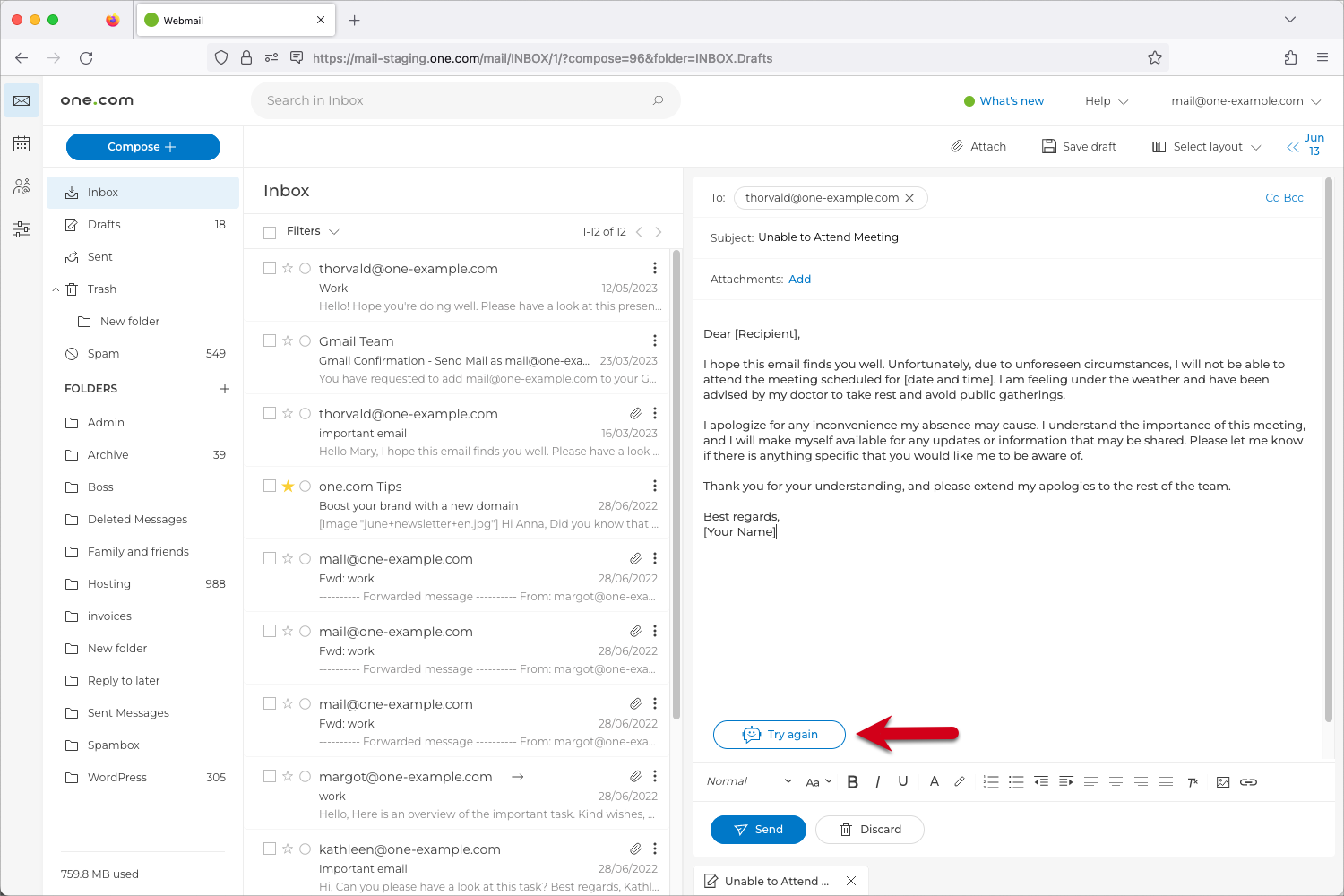 ---
What about privacy?
Please note that this is a free service; however, in order to use it, you must agree to the terms of use and the privacy policy provided by ChatGPT. Your data will not be utilized for training the AI and will be deleted after 30 days. This guarantees that each new query is generated independently and not influenced by previously generated conversations. Nonetheless, please refrain from sharing any personal information, such as passwords or credit card details.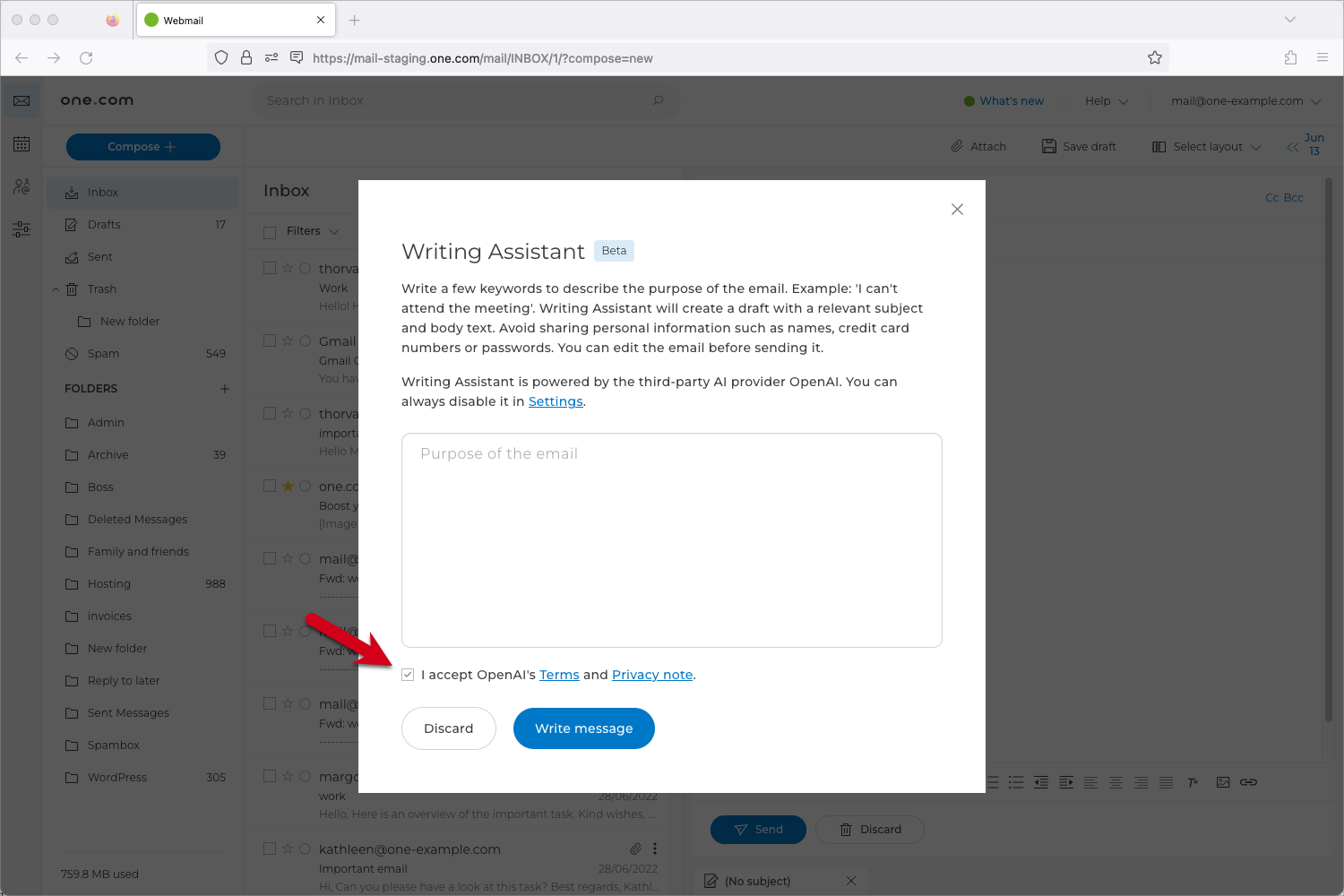 Note: ChatGPT does not have any access to your contacts' email accounts, attachments, or any other content within your email messages.
---
Related articles: