Add credibility to your site and brand by letting users know what others think of your products. If you have collected reviews via your Google My Business listing, you can display these directly on your Website Builder site. This guide will show you how to set up this feature using the Google Reviews widget.
This feature is a part of the Website Builder Business + Ecommerce tier.
---
Step 1 - Find and insert the Google Reviews widget
Go to the Website Builder editor and find the Social tab in the left-hand menu.
Scroll down to Reviews and click on the Google Reviews widget. You can also drag the component into your workspace.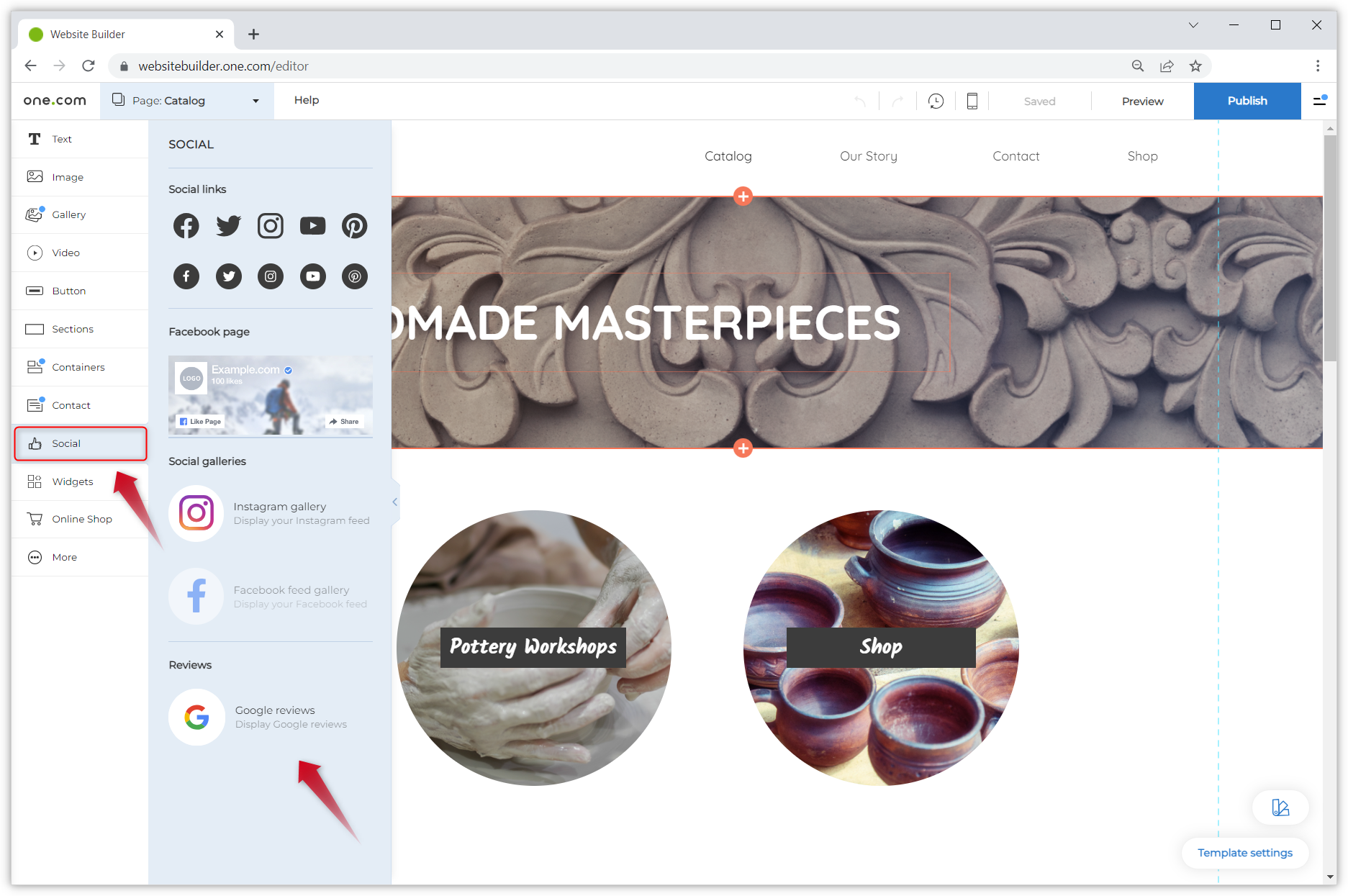 ---
Step 2 - Create or connect a Google My Business listing
Note: If you've already connected your existing Google My Business listing in the Website Builder dashboard, you can go directly to step 3 and choose your reviews.
Now you need to create a Google My Business listing or connect an existing one.
Create a Google My Business listing:
Click Create a listing

in the pop-up window and fill out your business information in the fields on the screen. All this information will be synced to your Google My Business listing with Google.

When you reach the end of the flow, go to Google and verify your new listing.
Once the listing is verified and you've received your first reviews, you can return and add both to your website.
Connect an existing listing:
Click Connect a listing in the pop-up window.
Sign in to your Google account and approve the access request.
Choose if you want to import all the information from your listing. Note that you will still be able to fetch your reviews if you decide not to do this.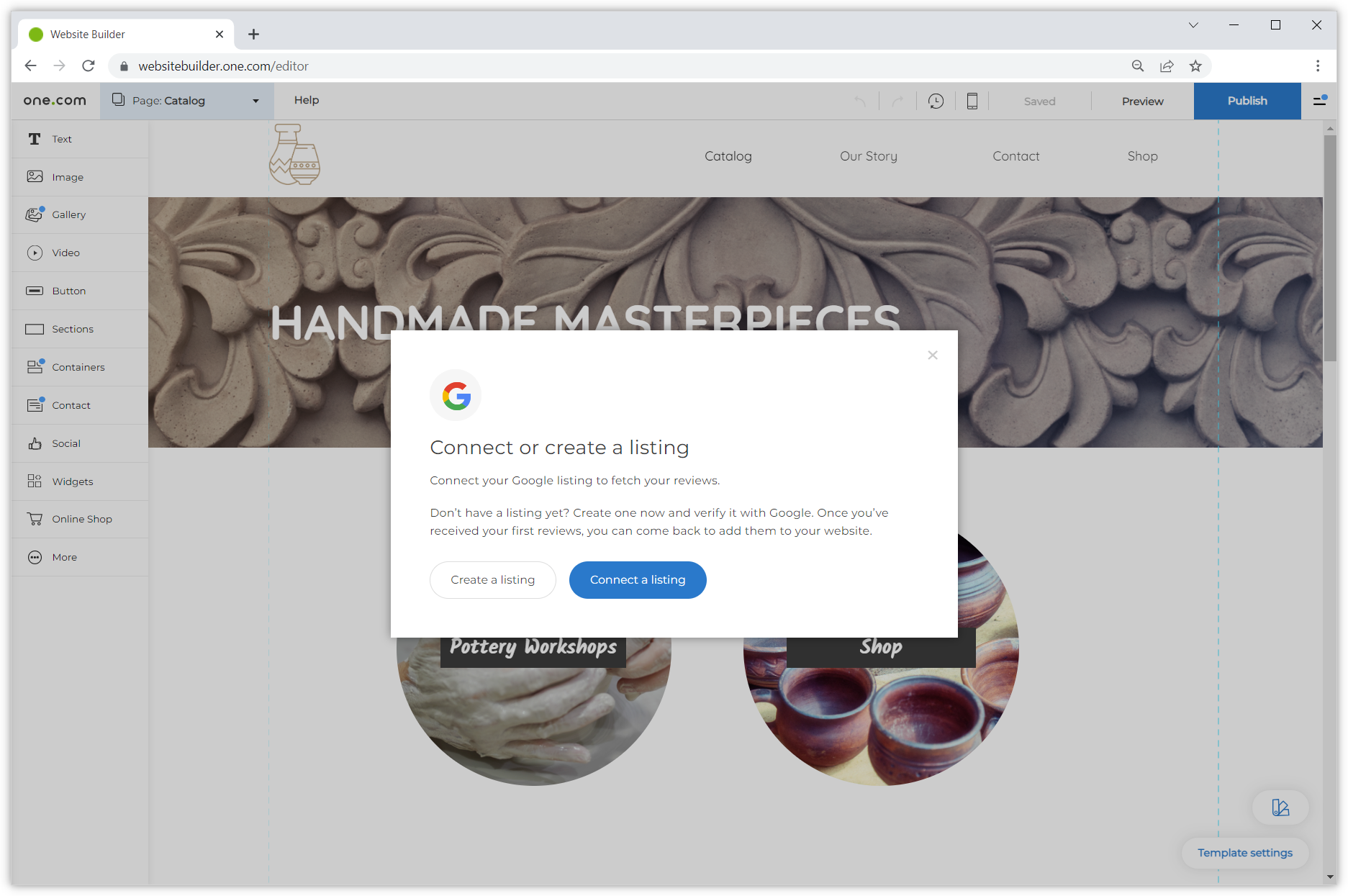 ---
Step 3 - Select reviews and layout
Once your listing is connected, you'll see a pop-up window with your available reviews. Choose the ones you want to display (you can select up to 6 reviews) and click Continue.
Choose a layout for your reviews. You can change this at a later point if you want to. Click Done to add the component to your site.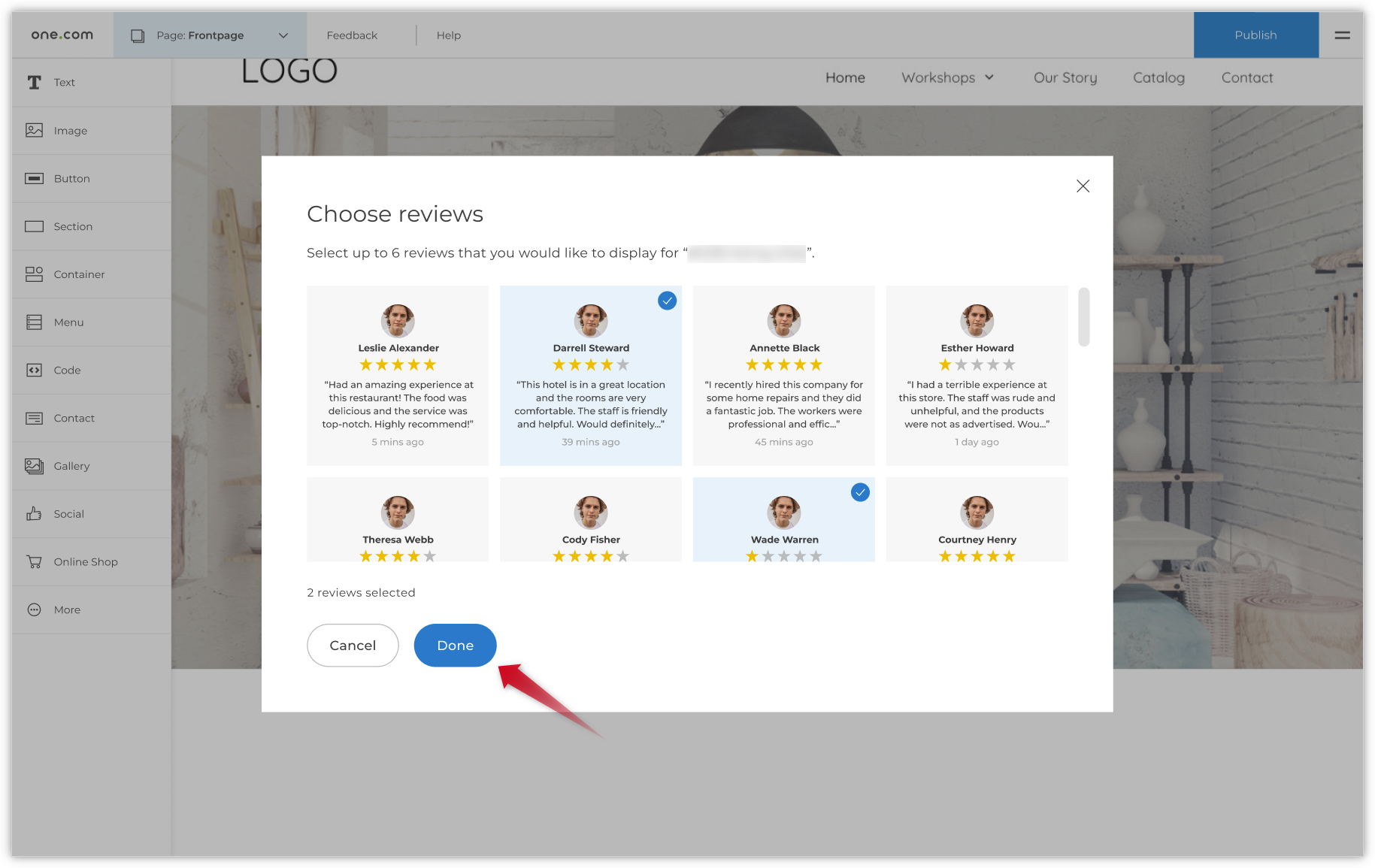 ---
Step 4 - Edit your Google Reviews widget settings
Adjust the size and placement of the component on your site to your liking.
If you select the component and click the Review settings tab above or below it, you'll get the following editing options:
Change reviews:
Here you can change which reviews are shown, add additional ones or exclude ones that you've already selected.
Layout:
If you want to change the layout, select a different one in the drop-down menu next to this option.
Properties menu:
You will also see a separate floating menu with the following settings:
Header text: Here, you can change the header text that appears above the reviews.
Colour: Change the colour of the text as well as the background of the component.
Review button: Choose if you want to display the option to leave a review by showing the "leave a review" button in the corner of the component. You can also edit the button style.
---
Step 5 - Save and publish
Finally, save and publish your changes to make the reviews public on your site.
---
Related articles: