If you want to add a document to your site, for example, a PDF with your terms of business, you can use the Document component. Users can then both view and download the document, without the need for additional browser plugins.
In Website Builder, open the page where you want to embed the document.
Drag the Document component into your page.
Select the document you want to add; either upload it from your computer or select one already on your web space.
Adjust the size of the component to your specifications. You can show a miniature version of the document that users can click to open a bigger version.
Click Preview to see how it will look.
Click Save and Publish when you are satisfied with the result.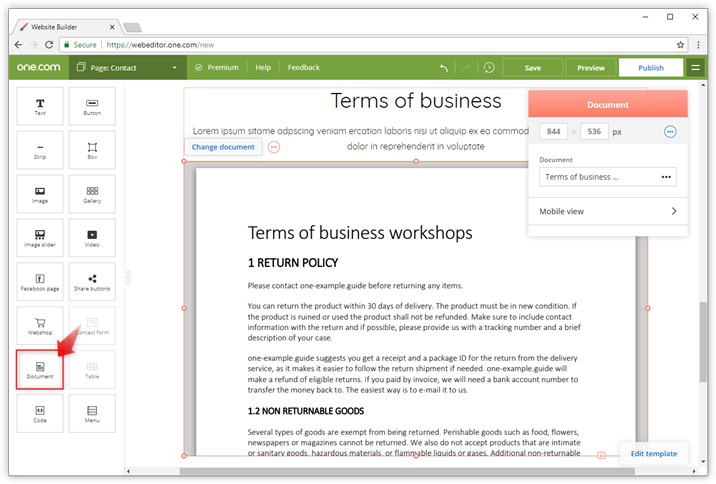 The following file formats are supported: Adobe Acrobat (PDF), Microsoft Word (DOC/DOCX*), Microsoft PowerPoint (PPT/PPTX*), Microsoft Excel (XLS/XLSX*), TIFF Images (TIF, TIFF), Apple Pages (PAGES), Adobe Illustrator (AI), Adobe Photoshop (PSD), Autodesk AutoCad (DXF), Scalable Vector Graphics (SVG), PostScript (EPS/PS), OpenType/TrueType Fonts (OTF, TTF), XML Paper Specification (XPS), Archive Files (ZIP/RAR).

The maximum file size is 25MB.