A CNAME (Canonical name) record, is basically an alias or nickname for another domain. It is often used instead of an A record to point different hostnames to the same location. The difference between the record types is that an A record always points to an IP address, while a CNAME always points to another name.
A CNAME is often used to point a subdomain on your domain to an external service, like for example Office 365 or Blogger.
Create a CNAME record on your domain
Log into the one.com Control Panel.
Click DNS settings on the Advanced settings tile.
Go to DNS records.
Under create new record, click CNAME.
Enter the following details:
- Hostname: The subdomain (required) that will become the alias, for example, www.
- Is an alias of: The domain name that you want to create the alias of, this can't be an IP address.
- TTL: Optionally. If you leave it empty, it will use the default time 3600 seconds.
Click Create record to save your settings.
Example: In the screenshot below we are making blog.one-example.net into an alias of ghs.google.com. So we can serve our Blogger blog on our own domain. The TTL is left empty, meaning it will by default set to 3600.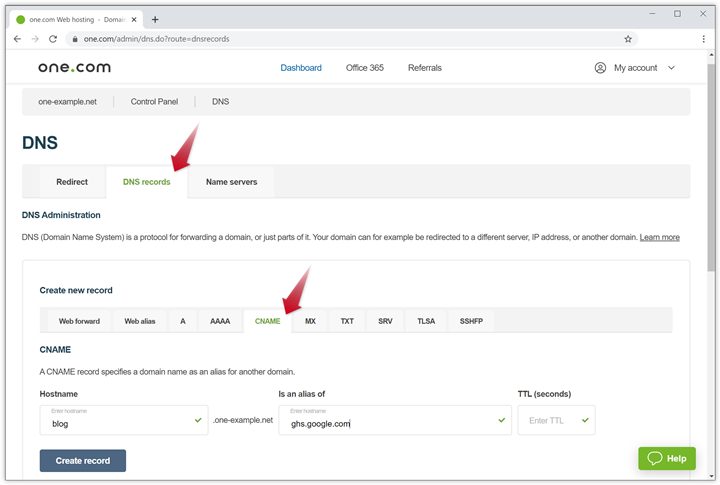 ---
Related articles: