An MX (Mail Exchange) record tells a sending mail server where to deliver email that is sent to your (sub)domain. By default, this is set to the one.com servers, but you can change them to other external servers.
If you have a web hosting subscription with us, then you would only change the MX records if you want to receive your email through another provider, for example, Google or Office 365.
Don't have a domain name yet? Find the perfect domain for your business or idea today.
---
Create an MX record on your domain
Log into the one.com control panel.
Click DNS settings on the Advanced settings tile.
Go to DNS records.
Under create new record, click MX.
Enter the following details:
- Leave the hostname empty, or enter a subdomain.
- The mail server from your preferred email provider.
- Optionally enter a TTL, or leave it empty to default to 3600 seconds.
- Enter a priority, normally 10, 20, etc. The lower the number, the higher the priority.
Click Create record to save your settings.
Example: In the screenshot below we are setting one-example-guide.mail.protection.outlook.com as our preferred email server. So we can use Exchange for our email. The TTL is left empty, which will make it default to 3600 and the by setting the Priority to 0, meaning it has the highest priority.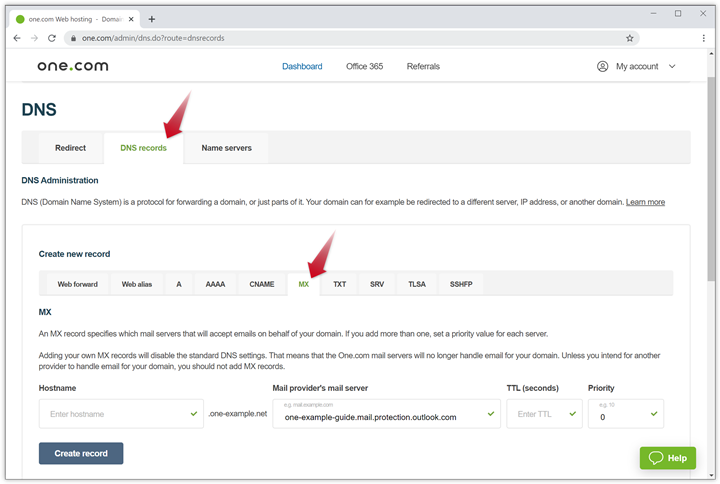 ---
Related articles: