With an SRV (Server) record, you can specify a host and a port for specific services, like for example, Lync/Skype for business with Office 365. In most cases, a third-party service will tell you what the record should contain.
When you need to enter the value or the location where you want to direct to, it will typically consist of a port weight and target. Looking something like this: 1 443 sipdir.online.lync.com.
Create an SRV record on your domain
Log into the one.com Control Panel.
Click DNS settings on the Advanced settings tile.
Go to DNS records.
Under create new record, click SRV.
Enter the following details:
- Enter a hostname, the field can't be empty and can't contain spaces.
- Optionally enter a TTL, or leave it empty to default to 3600 seconds.
- Enter a priority, normally 10, 20, etc. The lower the number, the higher the priority.
- Enter the value (weight port and target) or server you want to direct to.
Click Create record to save your settings.
Example: In the screenshot below we are creating an SRV record to be able to use Skype for business.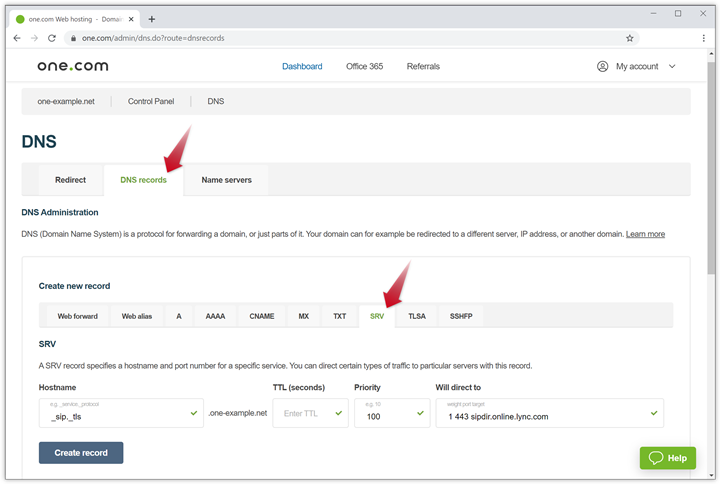 ---
Related articles: