This guide explains what a Web alias is, aspects to consider and how to create one on your domain with one.com.
---
What is a Web alias?
With a Web alias, you direct a domain or subdomain to another domain or subdomain, much like a Web forward. However, with a Web alias, you keep the URL from the original domain visible in the browser's address bar.
The Web alias isn't a real DNS record but a setting that mimics DNS behaviour.
---
What to consider before creating a Web alias
Below, we have listed the aspects to consider before setting up a Web alias:
It must be accepted by the target URL for it to work. Facebook, for example, doesn't allow this.
It won't work on a mobile device.
It has a negative impact on SEO ranking.
Because SSL isn't supported on a Domain only or Email Essential plan, you can only use a Web alias with HTTP.
Therefore, we recommend using a Web forward instead, or in case you want to direct to an IP address, you need to create an A record.
---
Create a Web alias on your domain
Log into the one.com Control Panel.
Click DNS settings on the Advanced settings tile.
Go to DNS records.
Under create new record, click Web alias.
Enter the following details:
- Hostname: leave it empty to redirect the domain, or enter a subdomain.
- URL: Enter the URL you want to direct to, including "https://".
Click Create record to save your settings.
Example: In the screenshot below we have directed www.one-example.guide to the URL https://www.one-example.com. So when a visitor types in www.one-example.guide in their browser, they end up on the site www.one-example.com, BUT in their browser it still shows www.one-example.guide.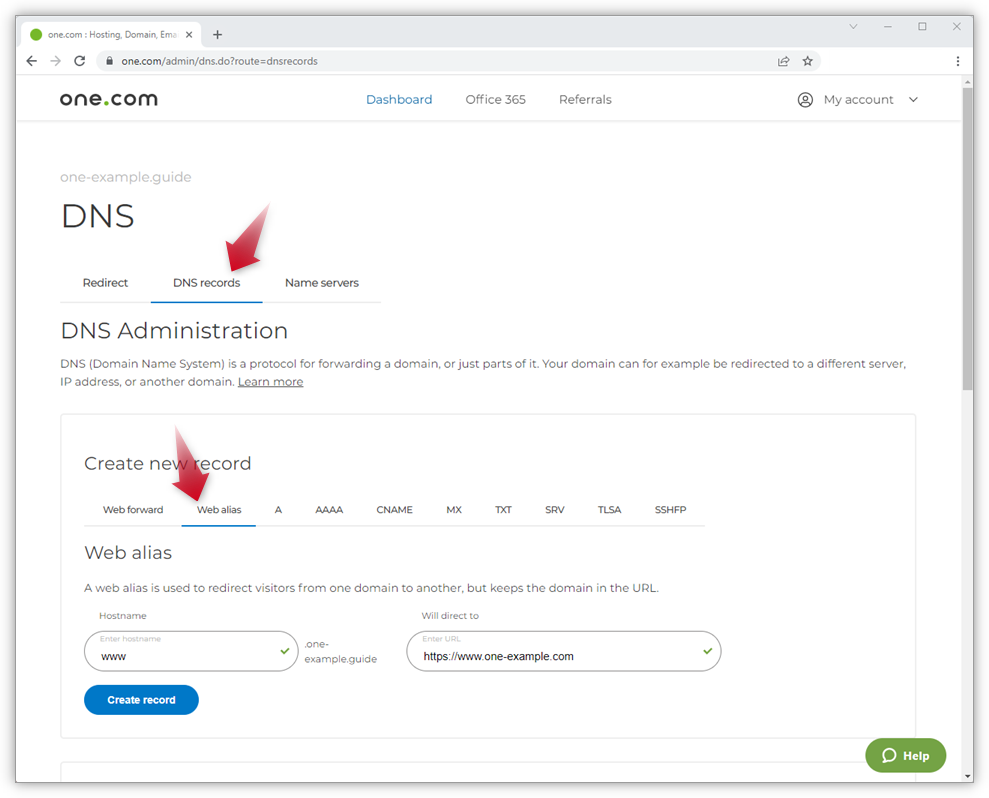 ---
Related articles: