If you are using cookies on your site, you need to let your visitors know about this and ask for their consent. In this guide, we explain how to enable a cookie banner in Website Builder.
Don't have access to Website Builder? You can try it out for free for 14 days and create a website in no time. Start your free trial now
---
Step 1 - Open Website Builder and go to Settings
Open Website Builder from the One.com control panel.
Click the menu button in the top-right corner.
Select Settings in the menu that appears.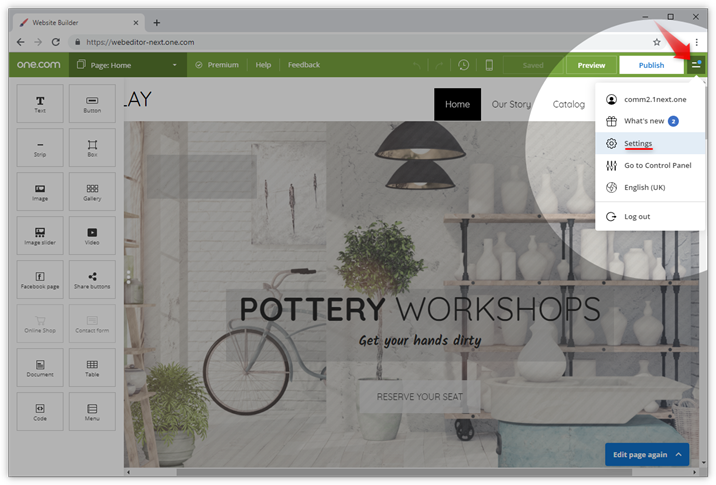 ---
Step 2 - Enable the cookie banner
Slide the toggle to the right to enable the cookie banner.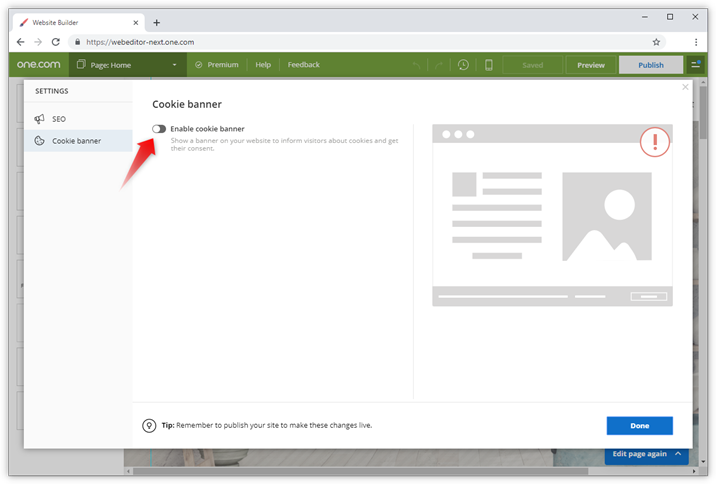 ---
Step 3 - Type in a consent text
Type in the text that should be visible in the cookie banner for your customers. You can only have one version of the text.
Example: This website uses cookies to analyse traffic and measure the effectiveness of campaigns. Read our cookie policy to learn more about cookies and how to disable them. By clicking "Accept" you agree to the use of cookies.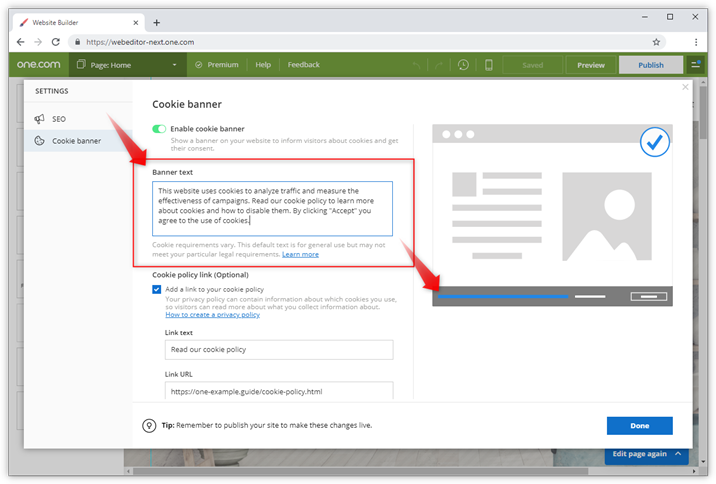 ---
Step 4 - Add a text and URL to the cookie policy (optional)
If you have a cookie policy you can add a link to the policy in the banner.
Check the box to enable the link.
Type in the text that should be visible in the banner.
Paste in the URL to your cookie policy.
Tip: Read our guide if you need help creating a cookie policy:What should be included in my cookie policy?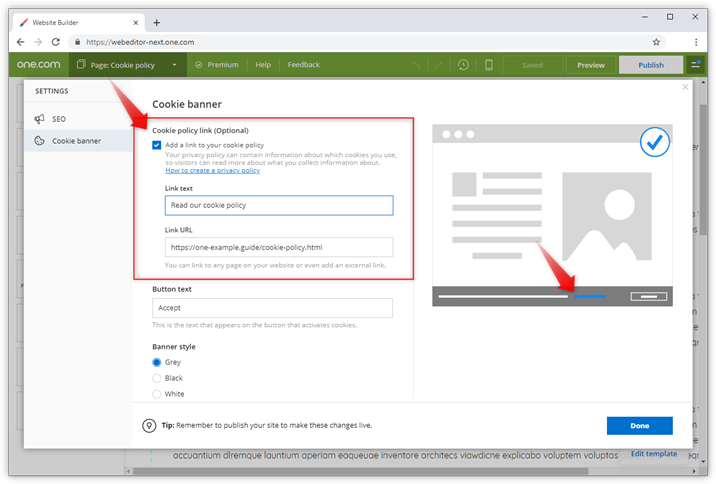 ---
Step 5 - Type in a text for the button
Type in the text for the button that a visitor has to click in order to accept the banner, like "Accept" or "I agree". Cookies will not become functional unless a visitor has clicked this button.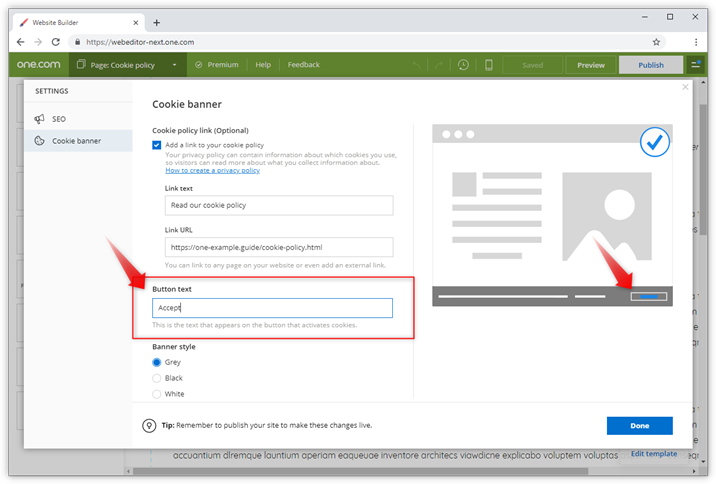 ---
Step 6 - Select a banner style
Select a style for the banner. You can choose between three colour schemes: white, black and grey.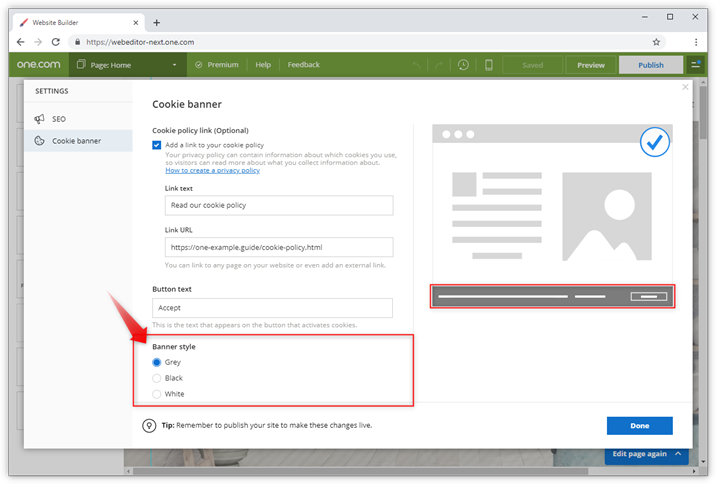 ---
Step 7 - Click Done
When you are finished click Done.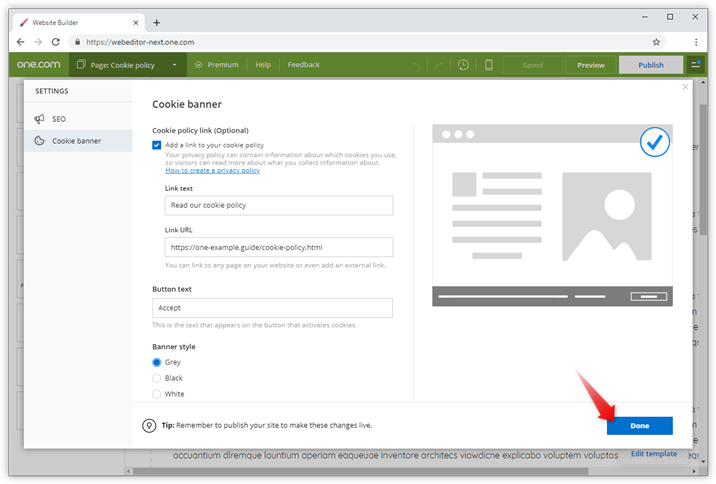 ---
Step 8 - Save and publish your site
You can only see the banner in the live version of your website. Click Save and Publish to save your settings. If you now open your website, the banner will be visible at the bottom.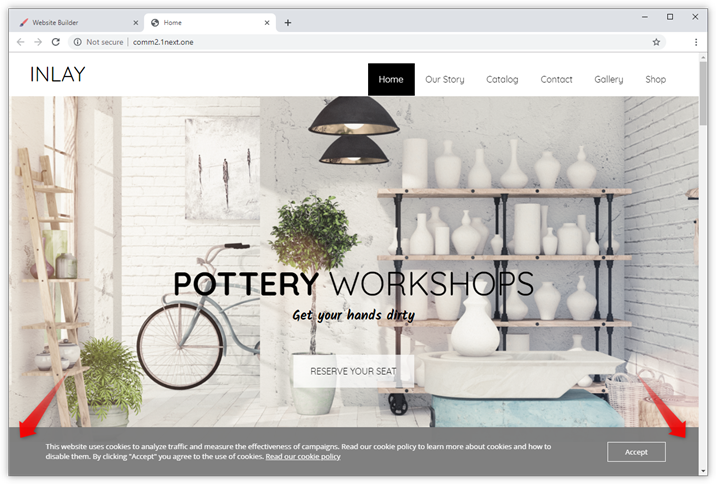 ---
Related articles: