In this article, we've listed answers to the most common questions about the migration to the new RushFiles plans.
---
What has changed about the RushFiles plans?
We changed the plans and storage size for RushFiles available through one.com. The free storage plan is now 10 GB, and the paid plans are starting at 50 GB up to 1 TB. If you need even more storage, please contact our customer service.
The RushFiles section in the Control Panel has also gotten a complete overhaul, giving you a better overview of your usage. In addition, RushFiles has added some great features, such as:
Create sub-shares that you can share with users.
Share your files via public links outside RushFiles. Public links can be password protected and set to expire after a certain period.
Log in via Two Factor Authentication (2FA).
---
I wasn't aware I was using so much space, how can that be?
Up until the migration, we didn't put a cap on the available storage space, meaning you were able to use more space than what was included in your subscription, at no additional costs on your part.
With the migration to the new plans, it's no longer possible to use more space than what's included in the plan. That's why you were migrated to the plan that fits with your current storage usage on RushFiles. For example, if you are using 67 GB of storage you've been migrated to the 100 GB plan.
We won't charge you for the new plan until your hosting is up for renewal, so you have until then to make changes.
---
How do I change to another RushFiles plan?
You can change your current RushFiles storage plan from the one.com Control Panel.
Upgrades take effect immediately, whereas downgrades take effect at the end of your web hosting subscription period.
Log in to your one.com Control Panel.
Select RushFiles on the tile Files & Security.
Click See all plans.
Click Select for the plan you want to change to.
Either confirm your downgrade or enter your payment details when upgrading to a larger plan.
Note: If you want to downgrade to a smaller plan and are currently using more storage space than the smaller plan includes, you need to delete files before you can downgrade.
---
How do I log in to RushFiles?
You can access your RushFiles account in several ways:
From the RushFiles dashboard in the one.com Control Panel.
By going to the RushFiles login page in your browser.
---
I can't remember my password, what do I do?
Don't worry! You can click the button below to request a new password. Just type in the email address of the user that you want to log in with. You will then receive an email with a link to choose a new password.
Change your RushFiles password
Note: It can sometimes take up to 20 minutes before the email to reset your RushFiles password arrives.
---
Where can I see what files I have stored on RushFiles?
You see your files and folders on your RushFiles account in your "Share list". Here you can download, delete and move files and folders.
Log in at https://rushfiles.one/client.
Click Share list in the menu to the left.
Navigate to the folder that you want to check.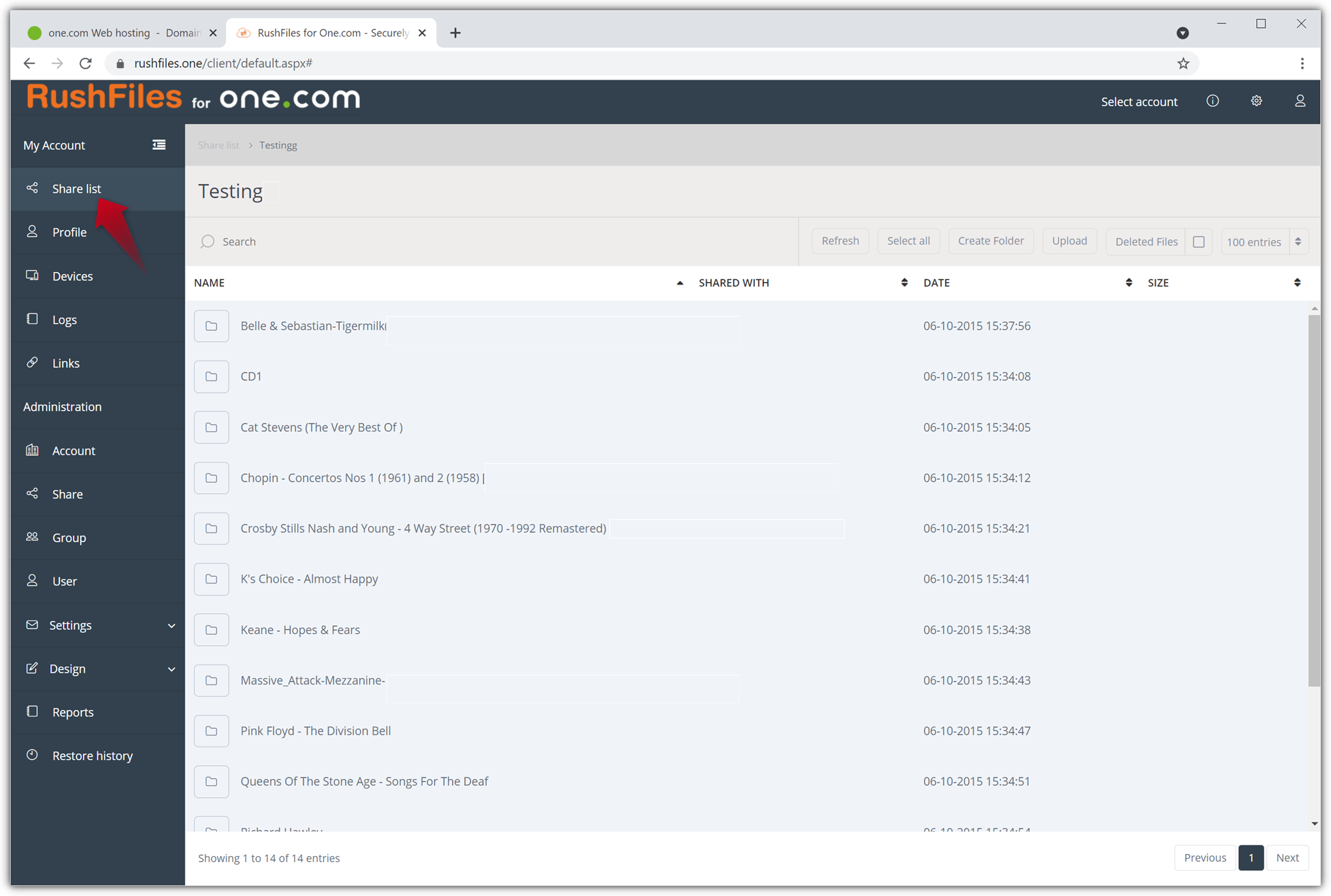 ---
How do I delete files from RushFiles?
To permanently delete files from RushFiles, and free up space, you need to delete them twice.
Log in at https://rushfiles.one/client.
Click Share list in the menu to the right navigate to the share where you want to delete files.
Check the box for Deleted files in the top menu, to the right.
Delete the files and folders you no longer need the first time. You can right-click and select delete, or click the trashcan icon in the top menu.
The deleted files and folders will now be recognisable by a small trashcan icon. Right-click on the deleted files or folders and select "Delete permanently".
After deleting them for the second time your storage usage will be updated.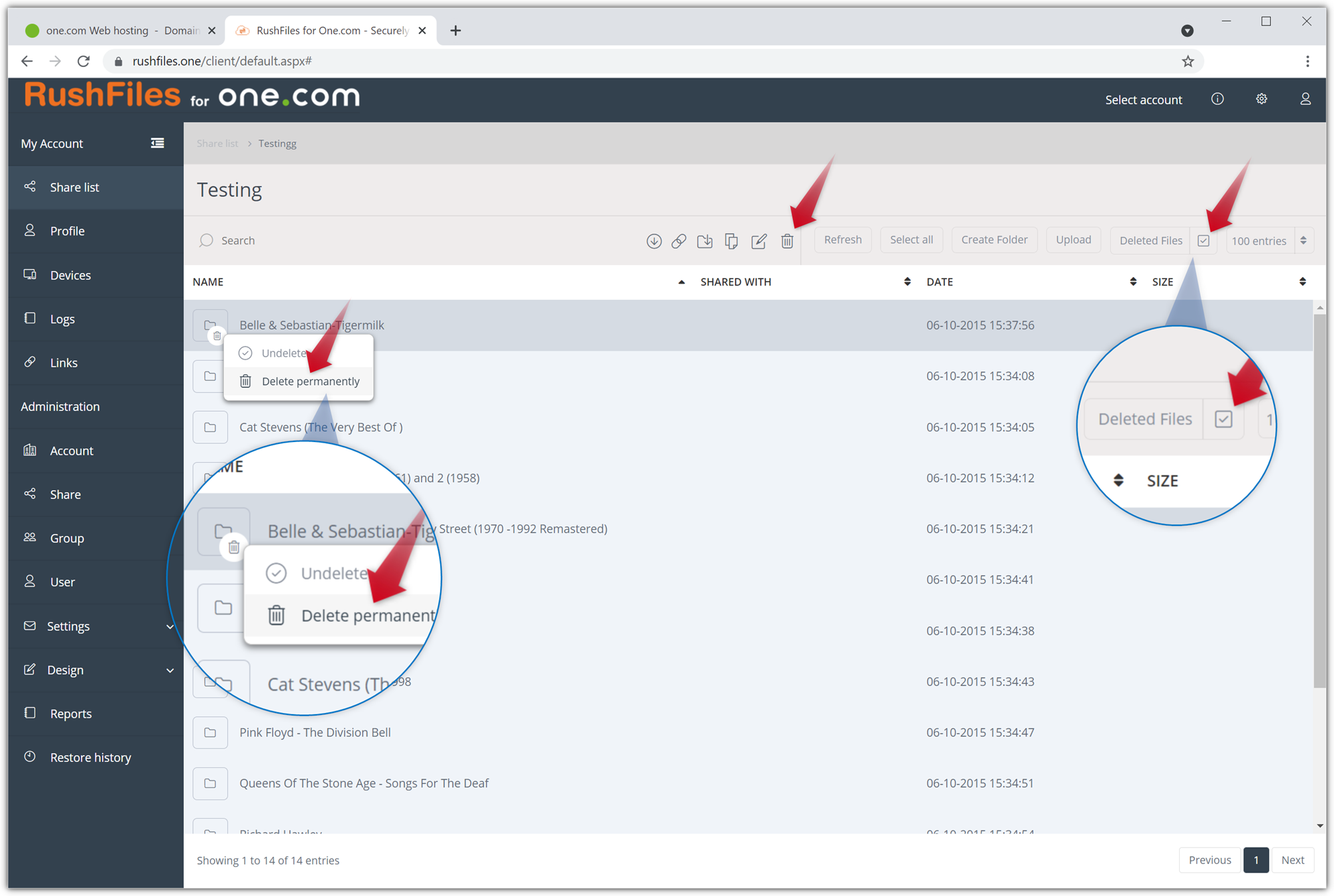 ---
I no longer need RushFiles, how do I cancel?
You can cancel RushFiles from the one.com Control Panel from the same section where you manage other add-ons.
Log in to the Control Panel.
Click My accounts > My products.
Scroll down to the domain where you want to cancel RushFiles for.
Click Manage, all the way to the right of your screen, and select Add-ons in the dropdown menu.
Scroll to the RushFiles storage add-on, and click Cancel.
Confirm your cancellation.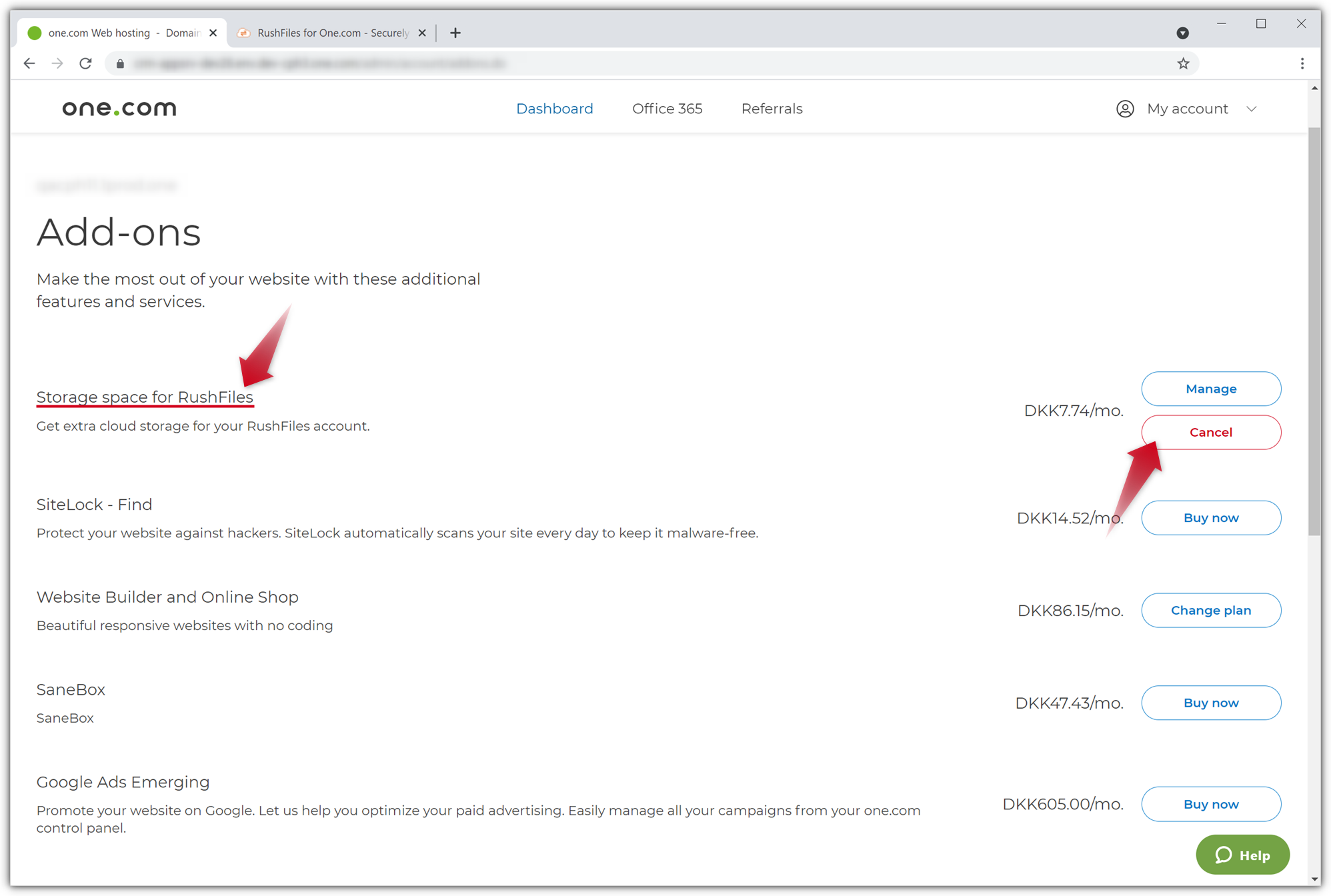 ---
Where can I manage my shares and users?
You can manage your shares and users when accessing your RushFiles account via your browser. Here you can create and delete users, change user types and roles, and manage user permissions for your shares.
Check out RushFiles' website for more details about the different user types and roles and how to create users:
---
Where can I download the updated apps?
You don't need the apps to access your files on RushFiles, but using the apps gives you the highest flexibility and the possibility to access your files from all devices.
You can download the desktop and mobile apps on RushFiles' website:
---
Related articles: