This guide shows you how to temporarily remove and edit an SPF record that conflicts with setting up an Exchange account on your domain.
---
Why do I need to edit the SPF?
SPF is used to prevent spammers from using an email address on your domain as their sender address, known as email spoofing. You can read about SPF records here.
During the activation of Exchange or Microsoft 365, a new SPF record is created, but because you already have an existing SPF record on your domain, this creates a conflict.
To solve this, you need to delete the existing SPF record, before continuing to create a Microsoft account. When the account is active, you can manually adjust the SPF record in case you have custom SPF records other than for one.com mail.
---
Step 1 - Log in to your one.com control panel > DNS settings
Log in to the one.com control panel, or check our guide if you need help.
Click DNS settings in the Advanced settings tile.
Click DNS records.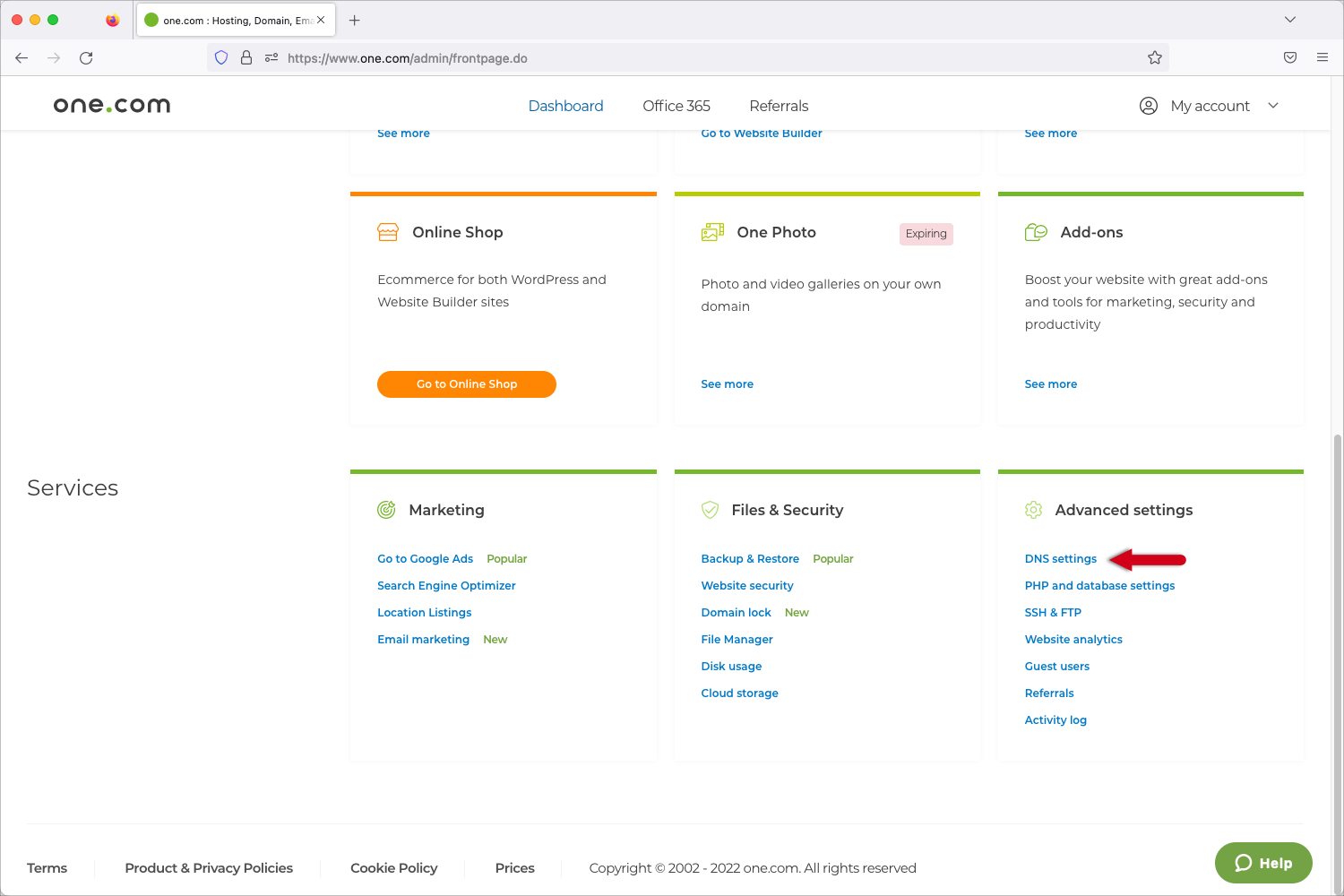 ---
Step 2 - Copy and remove the current SPF
To be able to create an Exchange account, you first need to remove your current SPF record. Follow the steps below:
Scroll down on the page to find your Personal DNS settings.
Locate your SPF record and copy it. Paste it into a document and save it for later.
When you have saved your SPF record in a text document, you can delete the record by clicking Delete record.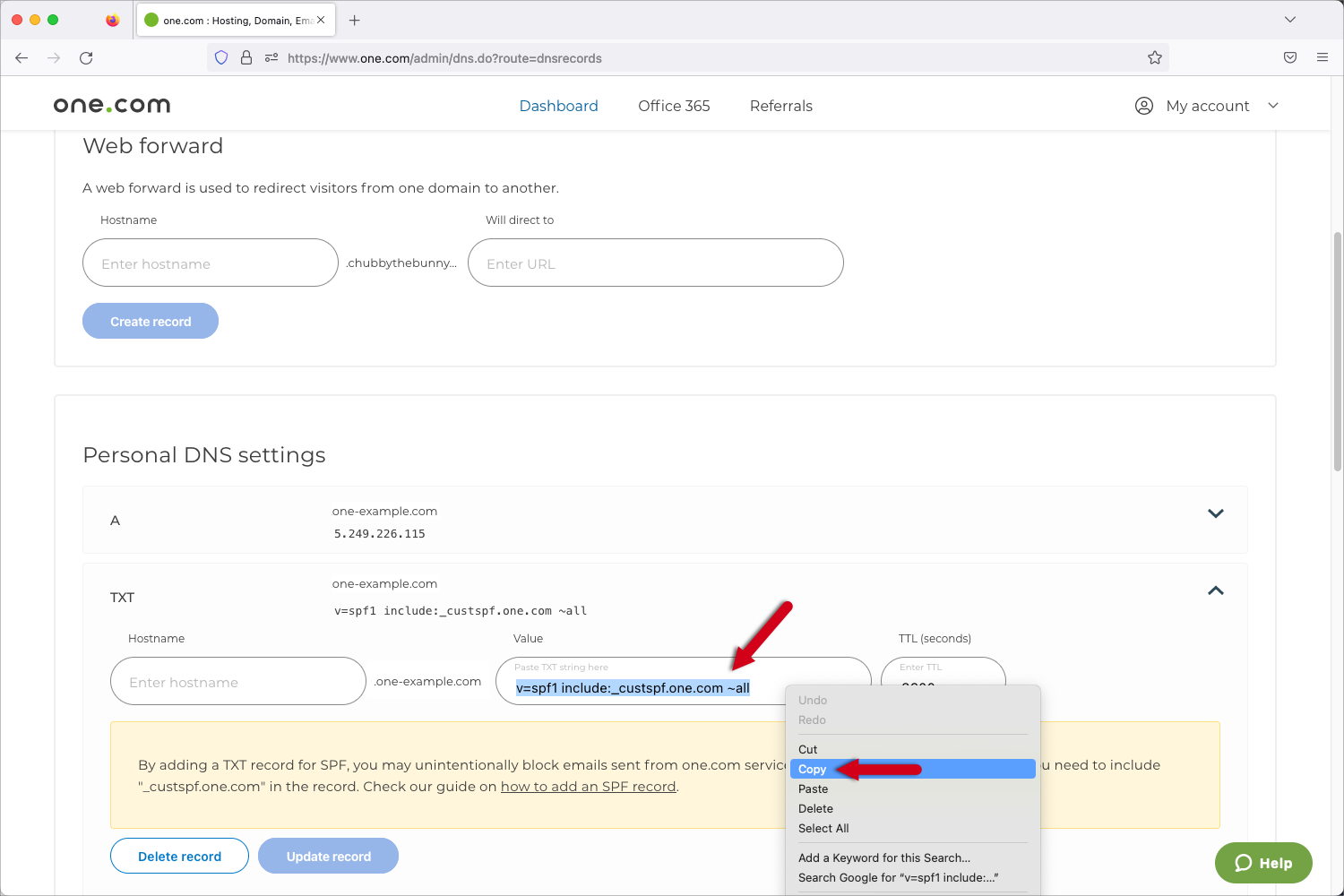 ---
Step 3 - Edit the new SPF
Once you've deleted the SPF, you can create your new Exchange account. When the account is created, a new SPF record will be created, and you can include the one you deleted in the new SPF record.
Please follow the steps below on how to edit the SPF record:
Locate the new SPF record under DNS settings > DNS records > Show all
Click the TXT record to edit it (do not delete it)
Include the old SPF record in the new one. See the example below:
Click Update record.
Example: This is the SPF record that is added after the Exchange account is active:


  v=spf1 include:_custspf.one.com include:spf.protection.outlook.com ~all  

Include the deleted record by pasting it behind the two, like shown above.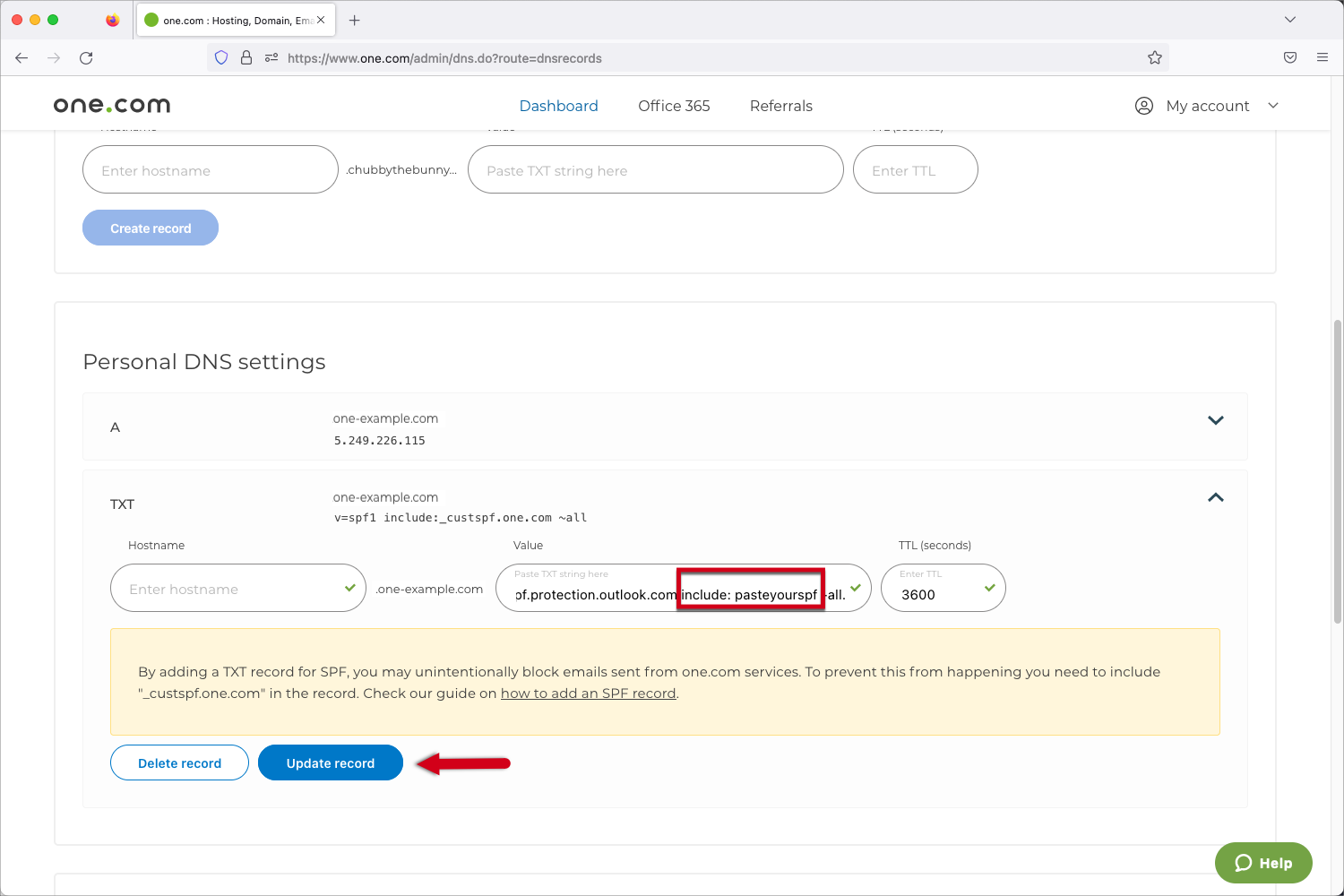 ---
Related articles: