There are currently almost 60.000 free WordPress plugins available, and it can be difficult to choose which plugins to use on your WordPress website. Sometimes, deciding between many options can get a little bit easier when you know what not to pick.
That's why our one.com WordPress team has collected a list of plugins for you that they advise against using. You can find the whole list of discouraged plugins here:
Discouraged WordPress plugins list
Below, we explain why we advise against using certain groups of plugins on your WordPress site.
---
When does one.com advise against using a specific plugin?
The main reasons why we discourage the use of certain plugins are:
High server load
Performance issues
Compatibility issues
Security risks
In most cases, a combination of these issues is the reason why we decided to add a plugin to the list of discouraged plugins.
High server load
This means that the plugin is causing our servers to work overtime. This will not only slow down your own website but also other users' websites and can impact various services. If we notice that one.com customers create a very high server load that negatively affects many customers, we sometimes have no other choice than to suspend the customer's services and inform them.
Performance issues
Similar to the high server load, some plugins cause performance issues. This means your website's loading time will be longer which has a negative impact on the user experience.
Compatibility issues
Some plugins simply don't work well together with the features or services that are automatically included in your web hosting subscription with us.
Security risks
Unfortunately, there are a lot of plugins available for WordPress that actually can pose a security risk to your website or database. We don't want our customers to get hacked due to an insecure plugin. That's why we've collected the plugins that we know can cause security issues and added them to the list.
---
Backup plugins
In general, we don't recommend using backup plugins. This has various reasons. They can cause performance issues and sometimes pose a security risk. Backup plugins are also often very resource-heavy and negatively impact server health.
We take security backups every night and you can use our add-on product Backup & Restore to quickly save and restore your database and website version. Alternatively, you can manually create backups of your database and your website.
---
Caching plugins
Our one.com servers have a built-in Varnish cache that helps improve your website performance. Adding another caching plugin might conflict with this built-in Varnish cache. This can negatively impact the speed of your website instead of making it faster.
You can read more about Varnish caching and our Performance Cache plugin, in which it is included, in the following guide:
---
Recommended plugins
We recommend using the following plugins:
Contact Form 7
Contact Form by WP Forms
Imagify
Jetpack
Site Kit by Google
Social Media Share Buttons
WooCommerce
WP Mail SMTP
YARPP
Rank Math SEO
You can easily find and install these plugins inside your WP Admin.
In WP Admin, click on one.com > Plugins in the menu on the left.
Select the tab Recommended plugins.
Choose the plugin that you want to use, and click Install now.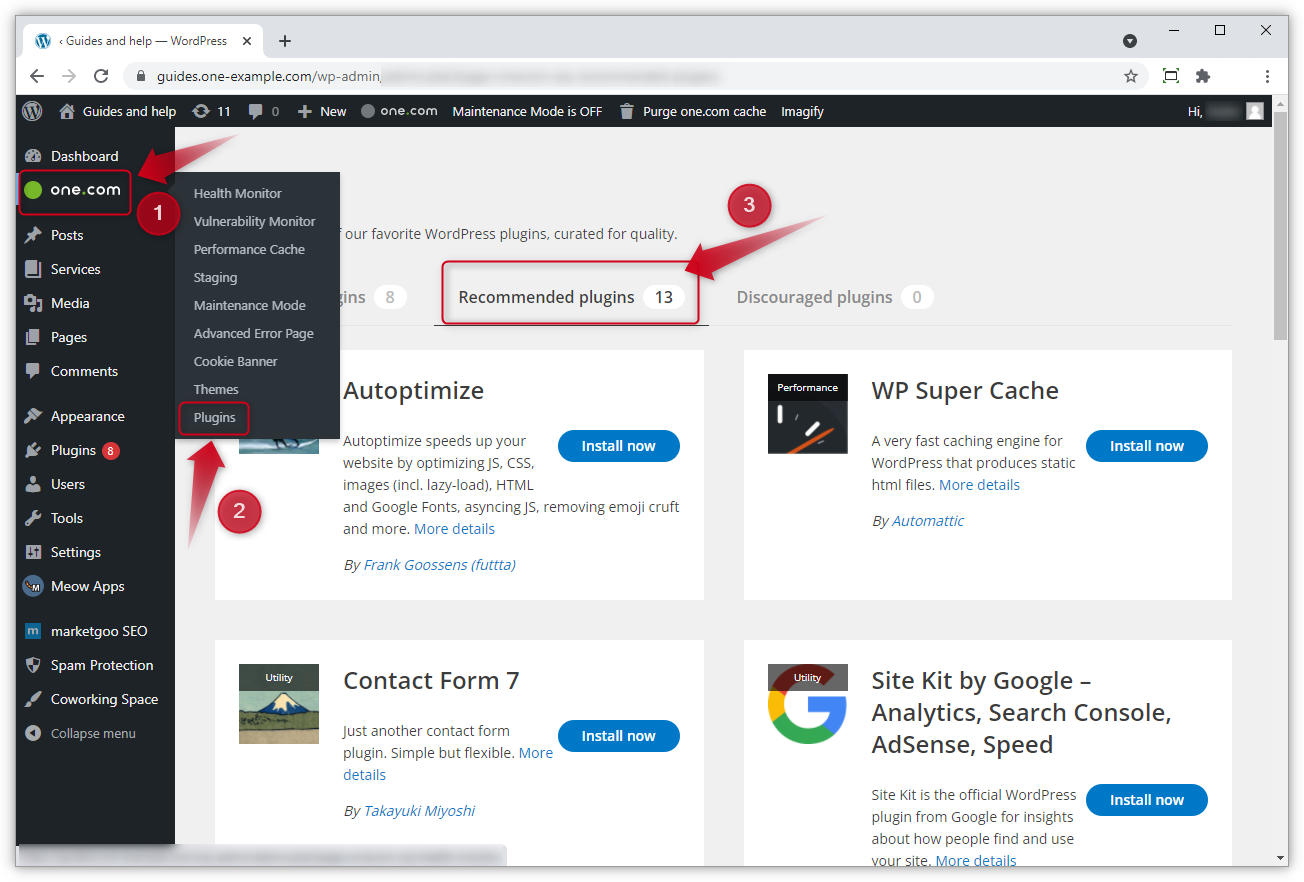 Note: You need the one.com parent plugin to see the recommended plugins in your WP Admin. It is automatically installed with every 1-click installation. If you're not using the one.com parent plugin yet, you can install it in a few simple steps.
---
Related articles: