This guide shows you how to create filters so that you can sort your emails and keep your inbox clean.
Filters sort your emails before they are delivered to your inbox, and move them to specific folders, mark them as read or mark them with a star to indicate the email is important.
Note: If the email is marked as spam, the email filter created by user will be skipped.
---
Step 1 - Go to settings in Webmail
When logged in to your Webmail, click the Settings icon in the menu to the left.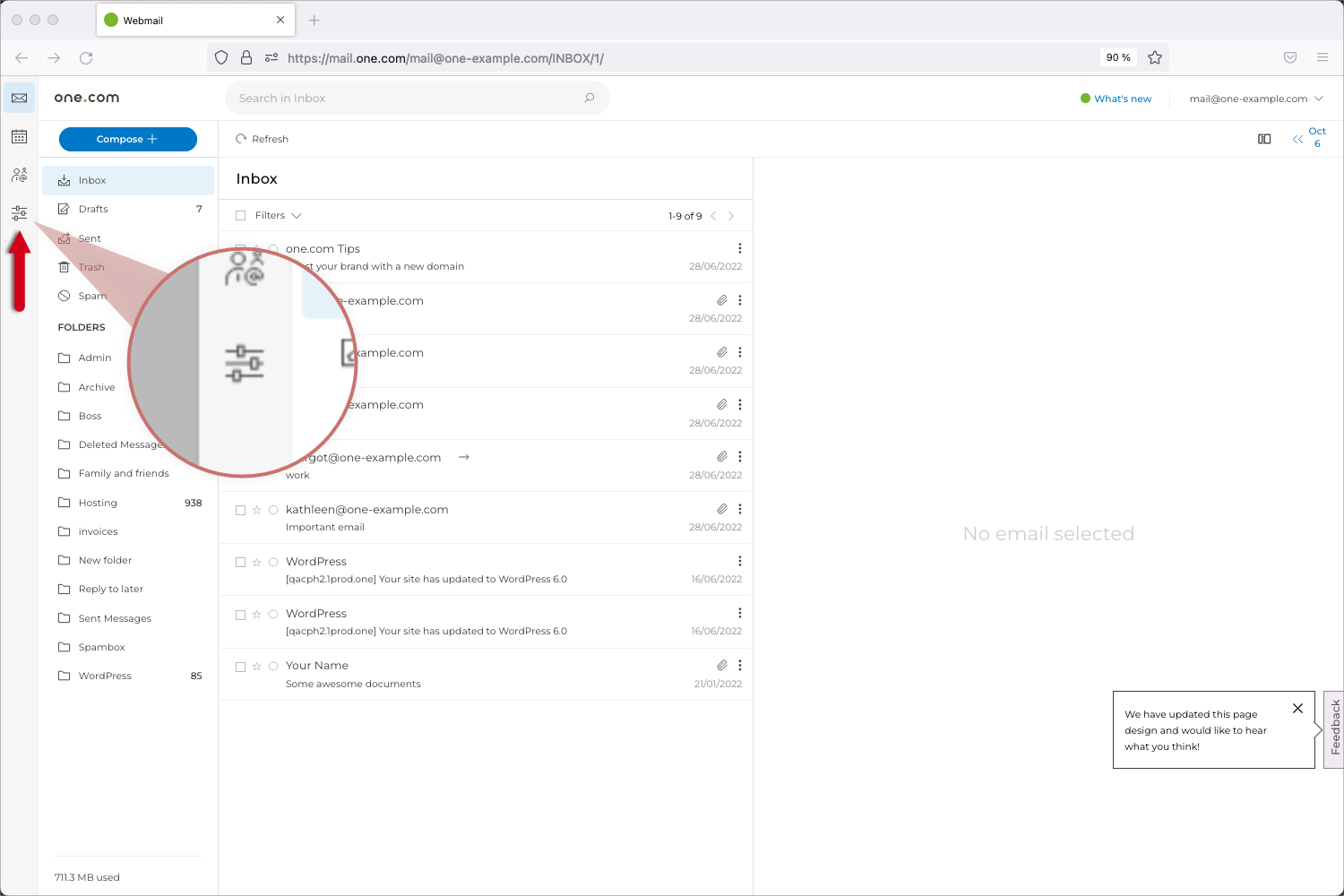 ---
Step 2 - Click Mail filters
Click Mail filters in the menu to the left.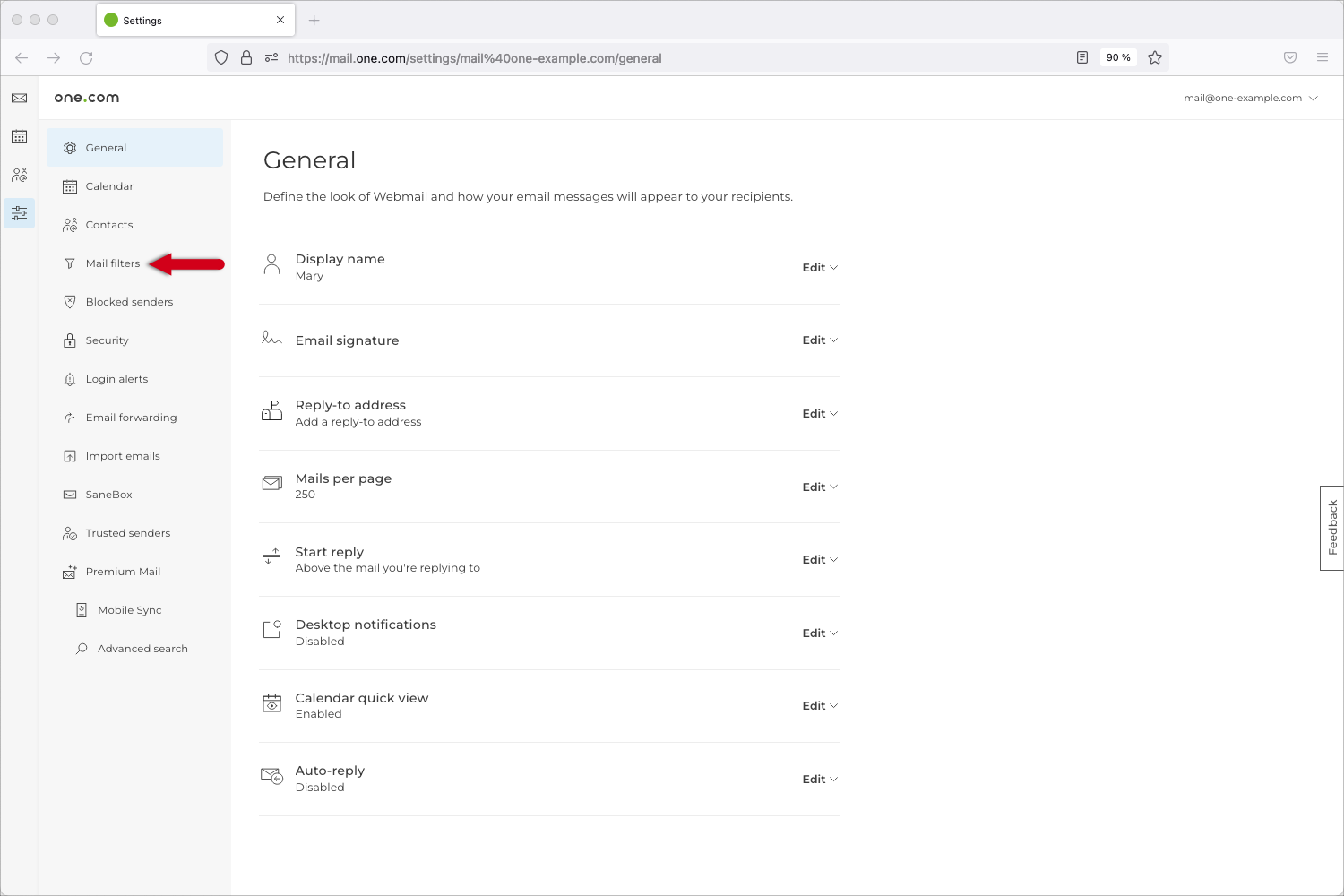 ---
Step 3 - Add Mail filter
Click Add mail filter.
Enter the criteria to filter on under "When a new mail arrives, look for". In this example, we entered an email address, but you can also enter only part of an address or part of a subject.
Under "Then do this with mails that match", select what folder to move the emails to, and if they should be marked as read or get a star.
Click Add filter.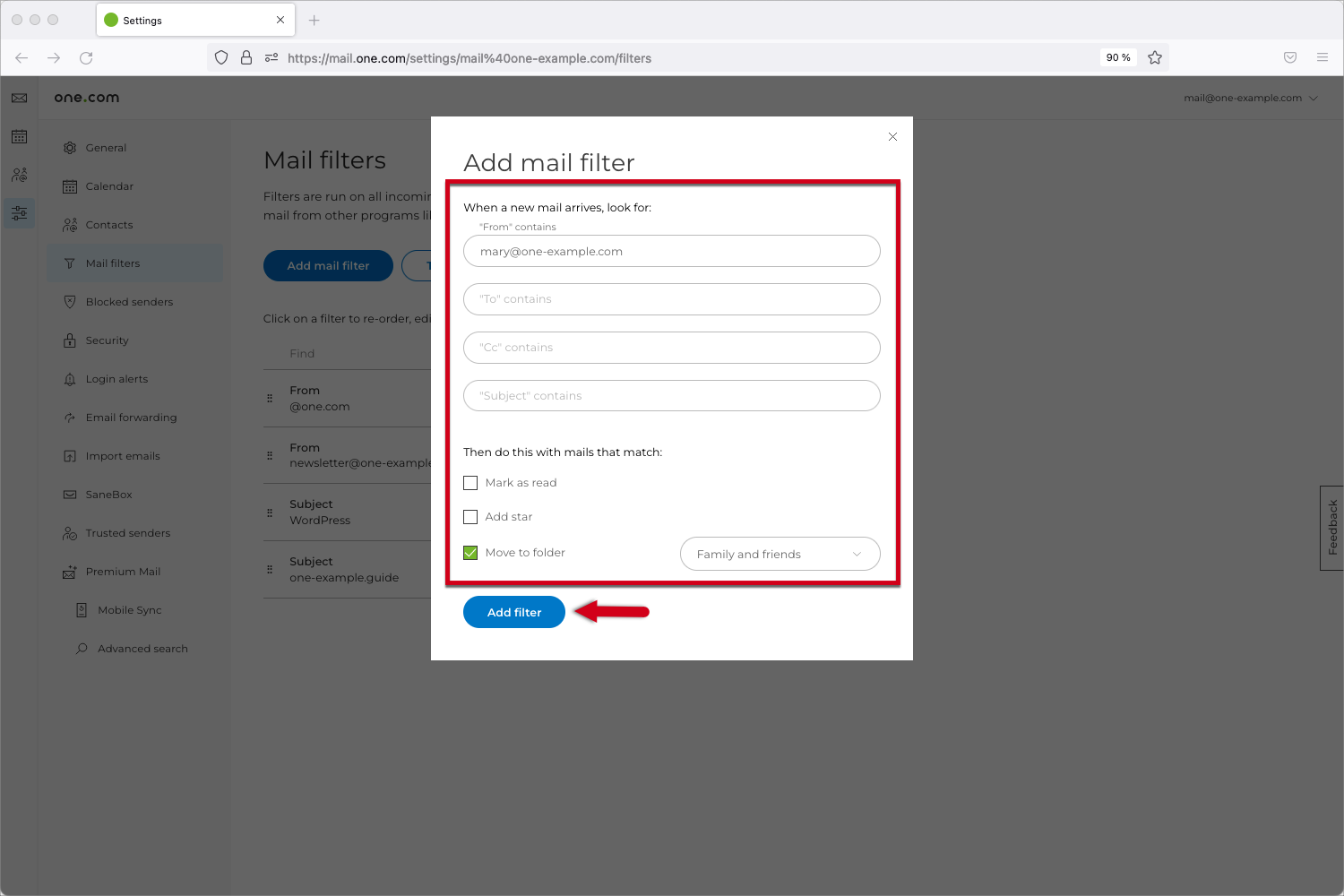 ---
Step 4 - Done!
You've now created a new filter, and you can see it in your list of existing mail filters.
Note: The order in which your existing mail filters are listed matters. The top one is run first, then the second, and so on. If the filter doesn't behave as expected, try to move filters up or down, and see if this changes anything.
---
Tips for useful filters
Newsletters and daily updates
Your inbox can quickly become swamped with newsletters and updates you have signed up for. An easy way to manage them is to use an alias, like "newsletter@yourdomain.com" when you sign up. You can then create a filter that moves all emails addressed to this alias to a separate folder.
Emails where you are cc'd
When you are cc'd in an email, it's usually just "for your information" and not something that requires you to act. If you get many of these emails, it's a good idea to filter them into a separate folder. That way, you can read them when it suits you.
Important emails you don't want to miss
Make sure you never overlook important emails from your boss. Create a filter that adds a star to emails from a certain email address or domain. That way they become more visible in your inbox, and you won't miss them.
Notifications you never read
You might get some emails that you never read, but are handy to keep in case you need them later. Create a filter that moves these emails to a separate folder and marks them as read. That way, the emails are there when you need them, but you won't notice them otherwise.
---
Related articles: