You can activate Premium Mail from two locations:
After you have activated Mobile Sync, you need to set up your account on a mobile device or in a client to make use of the synchronisation features.
Note: You need to activate Premium Mail separately for each email account.
---
Activate Premium Mail inside Webmail
If Mobile Sync is not available in Webmail, then this has been disabled from the One.com control panel. Please contact the web space administrator to get it enabled on your account.
Log into Webmail and go to Settings, in the top menu.
Click Premium Mail, in the menu to the left.
Click the Start free trial button to activate it.
Note: If you want to keep using Premium Mail after the trial has expired, the owner of the hosting subscription needs to approve it. An email will be sent to the contact email address with a link to turn the trial into a paid subscription.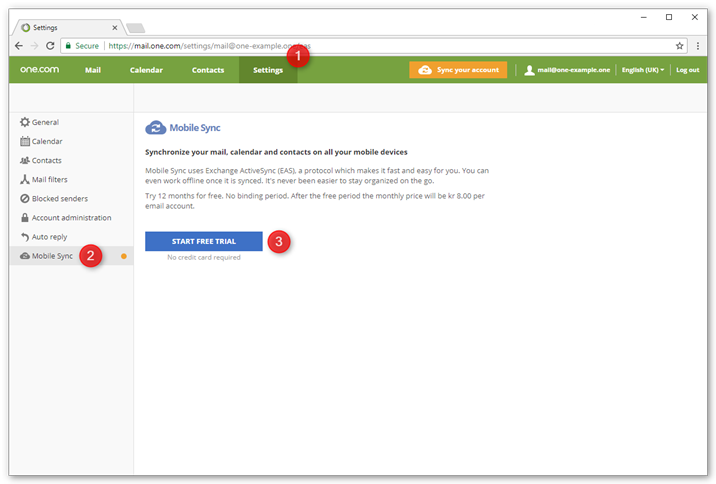 ---
Activate Premium Mail from the One.com control panel
You can manage Premium Mail for all email accounts on your domain from the One.com control panel under Mail Administration.
Login to the One.com control panel and click on the Email tile to open Mail Administration.
Under Accounts, click Premium Mail.
Enable Premium Mail by moving the toggle under Status to the right.
Click Start free trial to confirm.
Note: If you have more than four email accounts created on your domain, you can disable the option to activate Mobile Sync from Webmail. This can be handy if you want more control over who can activate extra features.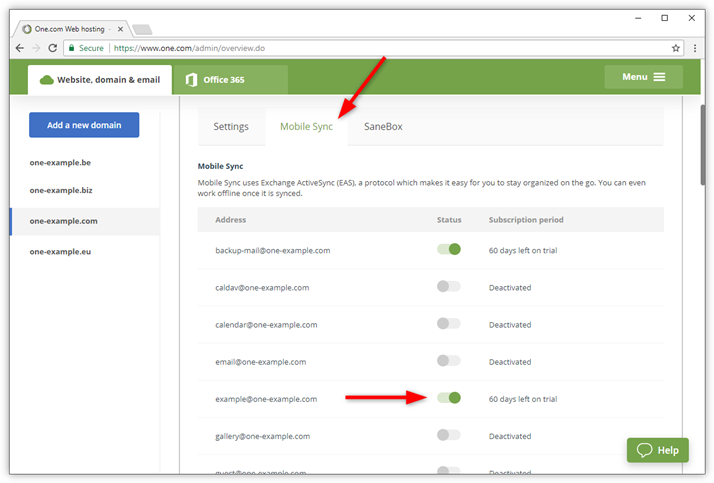 ---
Set up Mobile Sync on your device
After you have activated Mobile Sync, you can set it up on your mobile device. Check out our step-by-step setup guides for more information.
Tip: If you have previously set up your account with IMAP, you need to remove it and set it up again with Mobile Sync. Check our guide for more information: Change your email settings to Mobile Sync.
---
Related articles:
Back