Our Companion app simplifies shop management on the go. It makes it easy to create, edit, and cancel orders from anywhere. In this article, you can find more information about the shop-specific features of the Companion app.
Note: You must have published your Online Shop (with Business + Ecommerce) to access the Online shop features in the app.
---
Online Shop tab
If you have already published a shop, you can see a fourth Online Shop tab at the bottom, in addition to the other main tabs (Home, Support and Academy).
Through the Online Shop tab, you can access your orders or products.
---
Orders overview & management
Under My orders, you can see an overview of your Current orders and your Draft orders, along with their current status.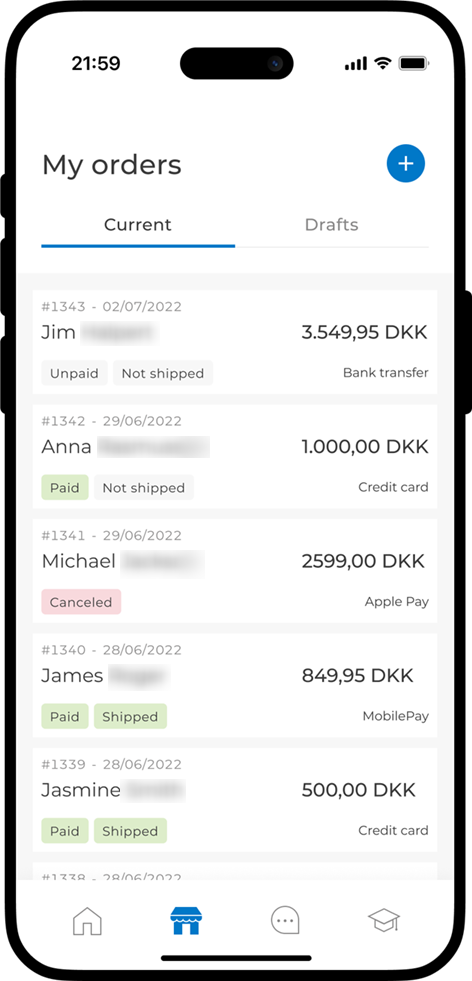 You can simply tap on any order to view more details, and then click the Update button located in the top-right corner to make any necessary updates to the status. From there, you can mark an order as paid, shipped, or cancel it altogether.
How to cancel an existing order

In the Companion app click on the Online Shop tab in the bottom.
Go to Orders.
You will see a list of your orders. Find the specific order that you want to cancel.
Tap on the order you wish to cancel. This will open a detailed view of that order, displaying information such as the items ordered, shipping details, and the current status.
In the top-right corner of the order details page, tap Update to access the order status options.
Select Cancel order.
Confirm by taping on the Cancel order button.
Done!

How to create a draft order/new order

In the Companion app, click on the Online Shop tab at the bottom.
Go to Orders.
Tap the button in the top-right corner with the plus sign.
Add the product(s).
Add the customer details (only the customer's email address is mandatory) and tap Done in the top-right corner.
A discount can be added (optional).
Select shipping.
Then you have the following options:



Mark as paid > creates a Current order
Select the payment method and tap Confirm in the top-right corner.




Send payment link > creates a Draft order
Edit (optional) the message

accompanying

the payment link and tap Confirm in the top-right corner.




Tap on Save at the top-right corner > creates a Draft order

Note: When you mark an order as paid, it will be moved from Draft orders to Current orders. There, you can either mark the order as shipped or cancel it. However, if you want to edit the order details, you will need to use the desktop version.


Done!

---

Products overview & updates

Under My Products, you can see an overview of your Inventory and any Categories you have created.



To view more information about a product and make changes to its price or quantity, simply tap on it. This feature allows you to easily adjust prices and update quantities based on new shipments. You can also effortlessly set products on sale and specify a discounted price. To save any changes, you can tap on the Save button in the top-right corner.

---

Shop statistics

Shop-specific statistics are available in addition to the general statistics for all published websites.

The following widgets are available for Shop owners:

Last orders
Weekly revenue
Bestsellers

---

Related articles: