With email import, you can copy emails from one email account to another account that is created on the domain hosted with one.com. You can import from external accounts, like Gmail, Hotmail and Yahoo, as well as internal accounts that are hosted with one.com.
Both emails and folders are imported. The emails are placed in a folder with the name of the account you are importing from.
Log in to the Webmail account you want to import the emails to.
Click the Settings icon on the left side of your screen.
Click Import emails in the left-hand menu.
Click Get Started to go to the import page.
Enter the email address that you want to import from.
Click Next.
You will now be redirected to a secure login page where you need to enter your password and allow the import tool access to the account.
The import is now in progress. It can take up to 2 days before it is completed. While the import is in progress the folder from the imported account is already visible, but it won't have all your emails yet.
Tip: If you are on a mobile or tablet, tap the menu (the two horizontal lines) in the top left corner and tap Settings. Then, tap the two horizontal lines again in the settings menu, and click Import emails to open the import tool.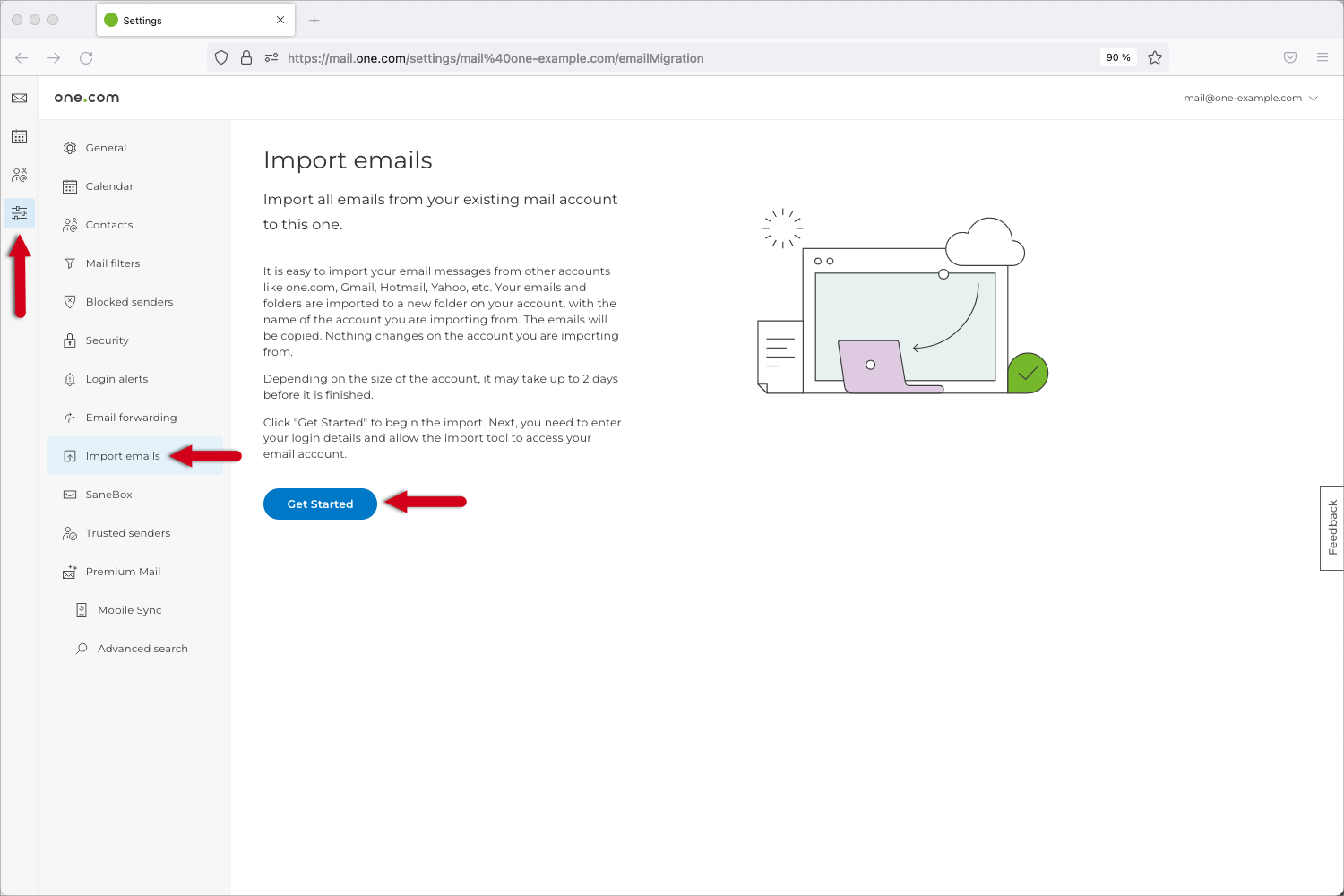 ---
Frequently asked questions
Where are my emails placed?
The emails (and folders) are placed in a folder with the name of the account you are importing from. The folder is created automatically when you start the import. When the import is done, you can move the emails and folders to other locations on your account.
Can I import emails from the same account?
No, this isn't possible because both accounts need to be active to start the import, and an account cannot be active in two places. If you want to import emails during a domain transfer, we recommend setting up your account with IMAP in a local client (such as Outlook, Mail, etc.) and making a backup there.
Will emails be removed from the account I am importing from?
No, the emails are copied. Nothing changes on the account that you are importing from.
From which email providers can I import emails?
You can import from providers that support Shuttlecloud, check their website for a list of supported providers.
It seems that not all my emails were imported.
If emails or folders are missing, this usually means that the import hasn't been completed yet. Go to Settings > Import emails to see if it's still ongoing.
How many email accounts can I import?
You can import as many mail accounts as you want, but only one email account at a time. Once the import is completed, you can start another import.
---
Related articles: