With an AAAA record, you can point a domain to an IPv6-address. It is the same as an A record, but instead of pointing to an IPv4-address, it's used to point to an IPv6-address.
An AAAA record isn't very common, because most services still use IPv4 addresses, but as the use of Ipv6 grows, so will AAAA records.
Don't have a domain name yet? Find the perfect domain for your business or idea today.
---
Create an AAAA record on your domain
Log into the one.com Control Panel.
Click DNS settings on the Advanced settings tile.
Go to DNS records.
Under create new record, click AAAA.
Enter the following details:
- Hostname: leave it empty to point the domain, or enter a subdomain.
- IP-address: where you want to point to.
- TTL: optional. If you leave it empty, it will use the default time of 3600 seconds.
Click Create record to save your settings.
Example: In the screenshot below we have pointed www.one-example.net to the IP-address 2001:0db8:85a3:0000:0000:8a2e:0370:7334. The TTL is left empty, meaning it is set to 3600, which means the server will cache this setting for one hour.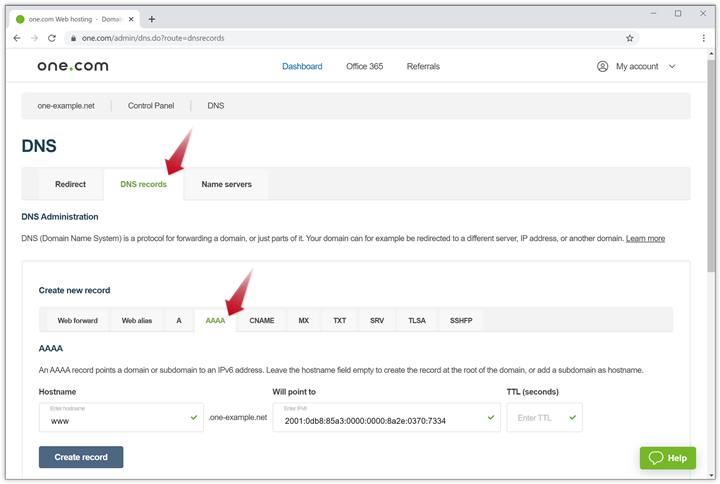 ---
Related articles: