A TXT (Text) record doesn't do anything in itself but can be used to relay information. For example, SPF (Sender Policy Framework) information.
TXT records can also be used to verify that you are the owner of your domain, for example, when you want to set up your domain with Office 365.
Create a TXT record on your domain
Log into the one.com Control Panel.
Click DNS settings on the Advanced settings tile.
Go to DNS records.
Under create new record, click TXT.
Enter the following details:
- Leave the hostname empty, or add a subdomain.
- Enter the TXT string under Value.
- Optionally enter a TTL, or leave it empty to default to 3600 seconds.
Click Create record to save your settings.
Example: In the screenshot below we have added the TXT record MS=ms80466744 to verify that we own the domain one-example.net. This is required to be able to continue setting up our domain with Office 365. The TTL is left empty, which will make it default to 3600.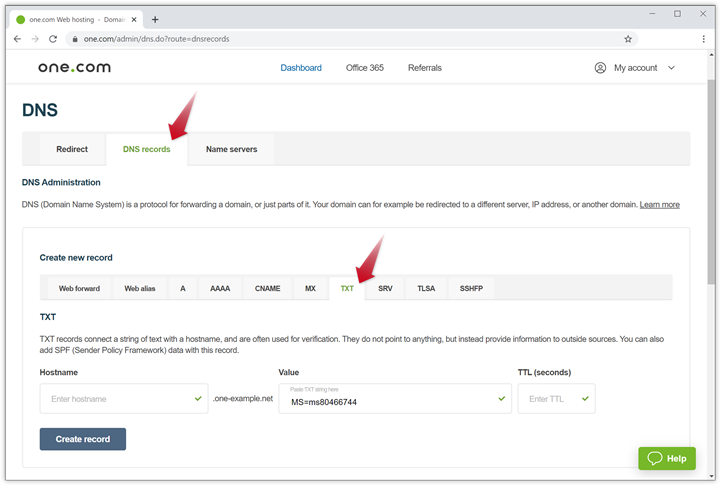 ---
Don't have any hosting yet? With our fast and reliable web hosting, you can turn your website idea into reality.
Related articles: