To keep your website secure, it's essential that you always update your CMS to the latest version, including your plugins, extensions, themes and other additions. In this guide, we show how to update WordPress and Joomla.
Wonder why updating is so important? Read our guide: Why you should always update WordPress.
Is your website suspended?
Then you can temporarily reopen your site from the one.com control panel, allowing you to access the dashboard of your CMS. Your site will only be accessible from the machine or device you are currently using, and after 24 hours the access expires again.
---
Update WordPress
Log into your WordPress dashboard.
Click Updates in the menu to the left. A red dot with a number indicates that updates are available and how many.
Update WordPress core, all plugins and all themes, until the red dot is no longer visible.
That's all!
Tip: If you don't have access to your WP Admin, you can do a manual update. Read our guide to learn how to update WordPress manually.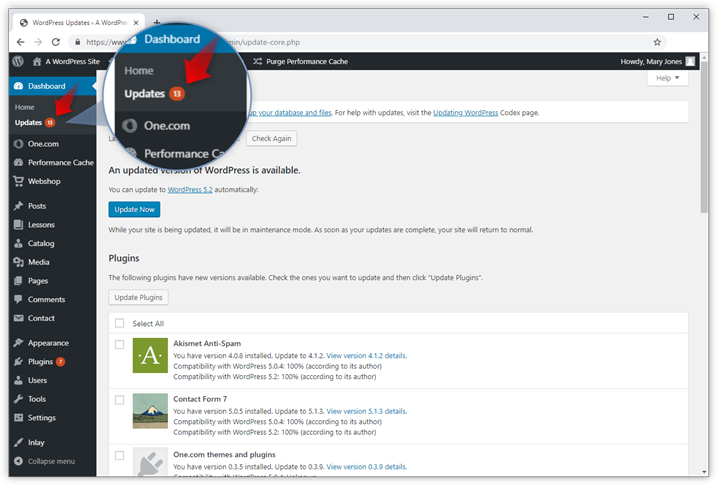 ---
Update Joomla
Log into your Joomla control panel.
Look in the menu to the left under Maintenance; if there are any updates available there is a red icon with a number.
Install all available updates for the core installation of Joomla and any extensions and templates.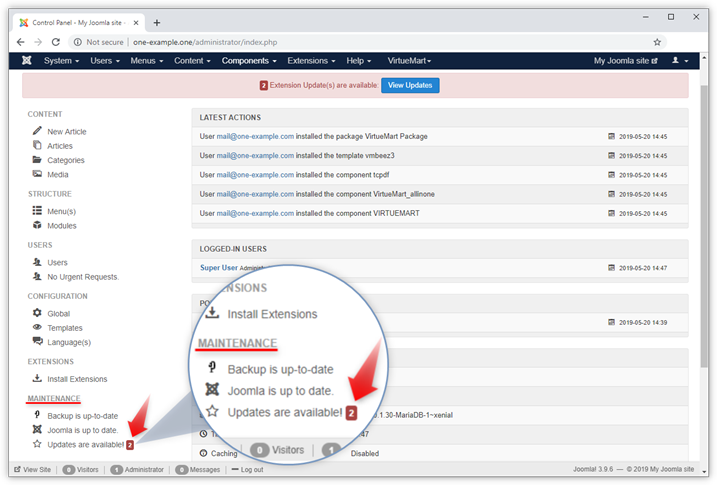 ---
Update other CMS's
Updating other CMS's is usually similar to Joomla and WordPress; a notification and update section in the dashboard or control panel of your CMS. Check the links below for information about some other common CMS's.
---
Related articles: