If you have issues with payment methods in your Online Shop not working, this is usually because the payment method isn't properly activated in Stripe.
Tip: First you need to connect your Online Shop to a Stripe account. Check our guide for more information: Getting started with Stripe.
To check if a payment method is active:
Log in to your Stripe Dashboard.
Click Settings in the menu to the left, all the way at the bottom.
Next, click Payment Methods in the middle of the screen.
You should now see an overview of all online payment methods that are available, and whether they are active.
Note: You can only activate the following payment methods: credit card, Bancontact, Giropay, iDeal and Sofort. Other methods available in Stripe cannot be used in the Online Shop from one.com.
"Live" indicates that the method is activated on your account and you can receive payments. You might still need to configure it, in that case, there is a button to the right called "Configure".
"Pending" indicates that the activation request is being processed - this should not take more than 48 hours. If it takes longer, you need to get in touch with Stripe support.
"Additional information required" indicates that you need to provide more information to activate the payment method. Click the "Provide info" button to the right.
"Testmode" indicates that the payment method isn't active. Click the "Activate" button to the right to start the activation process.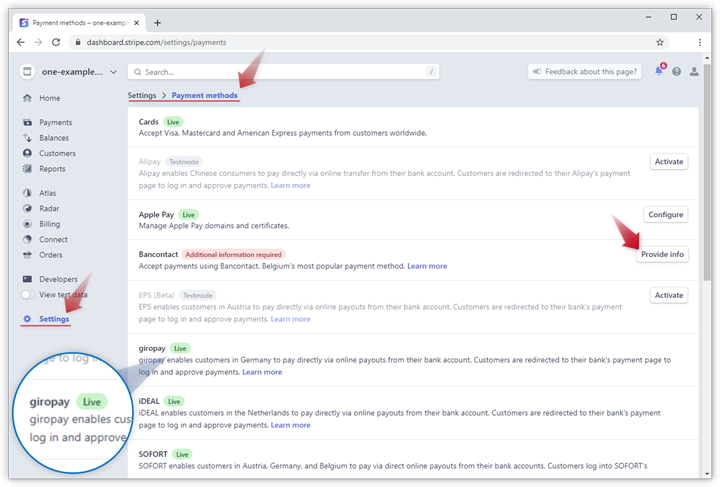 ---
Related articles: