This feature is currently only available for customers with the Website Builder Business + Ecommerce add-on plan in Denmark, Sweden, Norway and Belgium.
With the Shipmondo integration for your one.com Online Shop, you can manage your shipping faster and more efficiently. In this article, we explain what Shipmondo is, which benefits it has for your business, and how you can start using it for your online shop.
---
What is Shipmondo?
Shipmondo helps you to easily manage your shipments from receiving an order to sending the package. When you receive an order in your one.com Online Shop, the Shipmondo integration automatically transfers all order data to your Shipmondo account where you then can print packing lists and buy and print shipping labels.
---
Why should I use Shipmondo for my online shop?
Faster shipping management
The integration automatically transfers your order details from your online shop to your Shipmondo account. This means that you no longer need to manually copy-paste order details and customer addresses when preparing your shipments. You'll see all orders in your Shipmondo account and will then be able to print packing list and shipping labels with a few clicks.
Pre-negotiated deals with carriers
Shipmondo makes shipping easy for you. You don't need to negotiate prices and conditions with different shipping carriers - Shipmondo has pre-negotiated deals with a long list of carriers in different countries that you can use. You can find the whole list on their website.
If you already have a good deal with a carrier, you also have the option to add your own agreement to your Shipmondo account.
No fixed monthly fee
With Shipmondo, you only pay for what you use. Unlike other shipping solutions, Shipmondo is not a subscription, which means that you don't pay a fixed monthly fee. Instead, you pay per label that you create. This can help you keep your shipping expenses at a minimum.
Additional shipping options
When you use the Shipmondo integration you have the option to offer delivery to a pickup point in addition to home delivery and manual pick up in your store. This means that customers will be able to pick up their packages in shops and service points in their area, making it easier to get deliveries from you when they're not home.
---
What does it cost and how does billing work?
Free account
Setting up an account in Shipmondo and connecting it to your Online Shop is free.
Shipping costs
Once you've created an account you can see Shipmondo's whole price list inside their user interface. You can decide which country you're sending from and which country you're sending to and then check the individual costs.
Shipmondo invoices
The payment for shipping labels is handled directly with Shipmondo. It's up to you to decide if you want to receive an invoice for each individual label you print or if you want to use Shipmondo's balance option to receive a collective invoice of all printed labels once a month.
Read more about monthly invoicing here:
---
Can I test Shipmondo before I decide to use it?
Yes, you can test Shipmondo to find out if it's the right tool for you. Simply set up your account for free through your one.com Online shop dashboard, create a test order and a test shipment.
Read more about testing Shipmondo here:
---
How can I start using Shipmondo for my online shop?
You can find the Shipmondo integration in your Online Shop dashboard in the one.com control panel.
Note: You need to have a VAT identification number for your business to sign up for Shipmondo. If you don't have a VAT number yet, you can contact the tax administration in your country to get one.
Select Settings in the menu on the left, and then VAT & Shipping.
Click New account in the section named "Import from Shipmondo".
You're now redirected to the Shipmondo sign-up page on their website. Fill out the registration details and click Create account.
You have now connected your Online Shop with Shipmondo and will see Shipmondo's user interface.
Before you can start sending orders with Shipmondo, you need to set up shipping templates for the carriers that you want to use. In your Shipmondo account, go to Shipment > Templates to get started. You can read more about shipping templates here: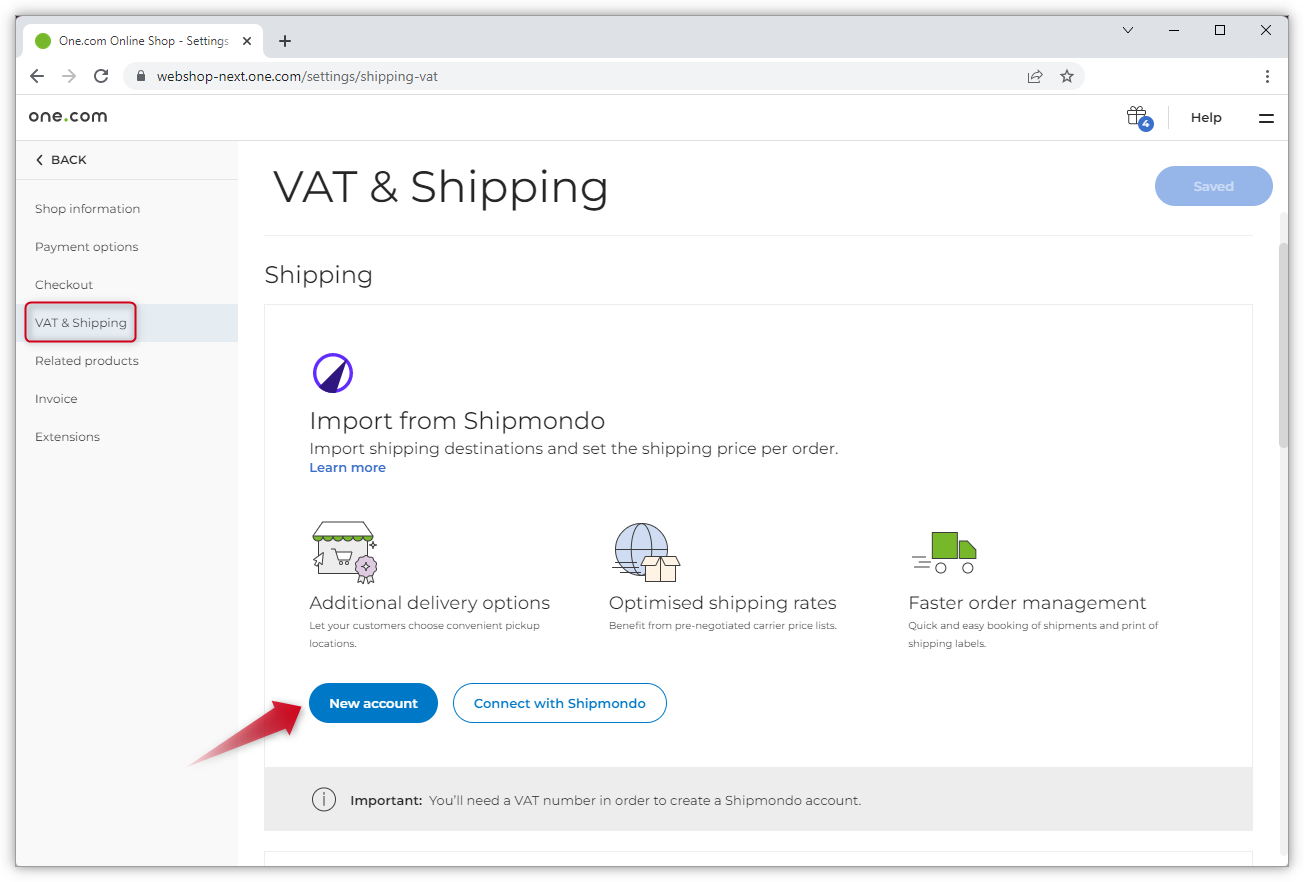 Note: The next time you want to see your Shipmondo account including your order overview, you need to go to the Shipmondo login page and access your account with your email address and password.
---
I already have a Shipmondo account - can I use it?
Yes! You can connect your existing Shipmondo account with your one.com Online Shop in a few simple steps.
Open your Online Shop dashboard in the one.com control panel.
Select Settings in the menu on the left, and then VAT & Shipping.
Enter your Shipmondo email address and password on the login page.
That's it! You have now connected your Online Shop with Shipmondo.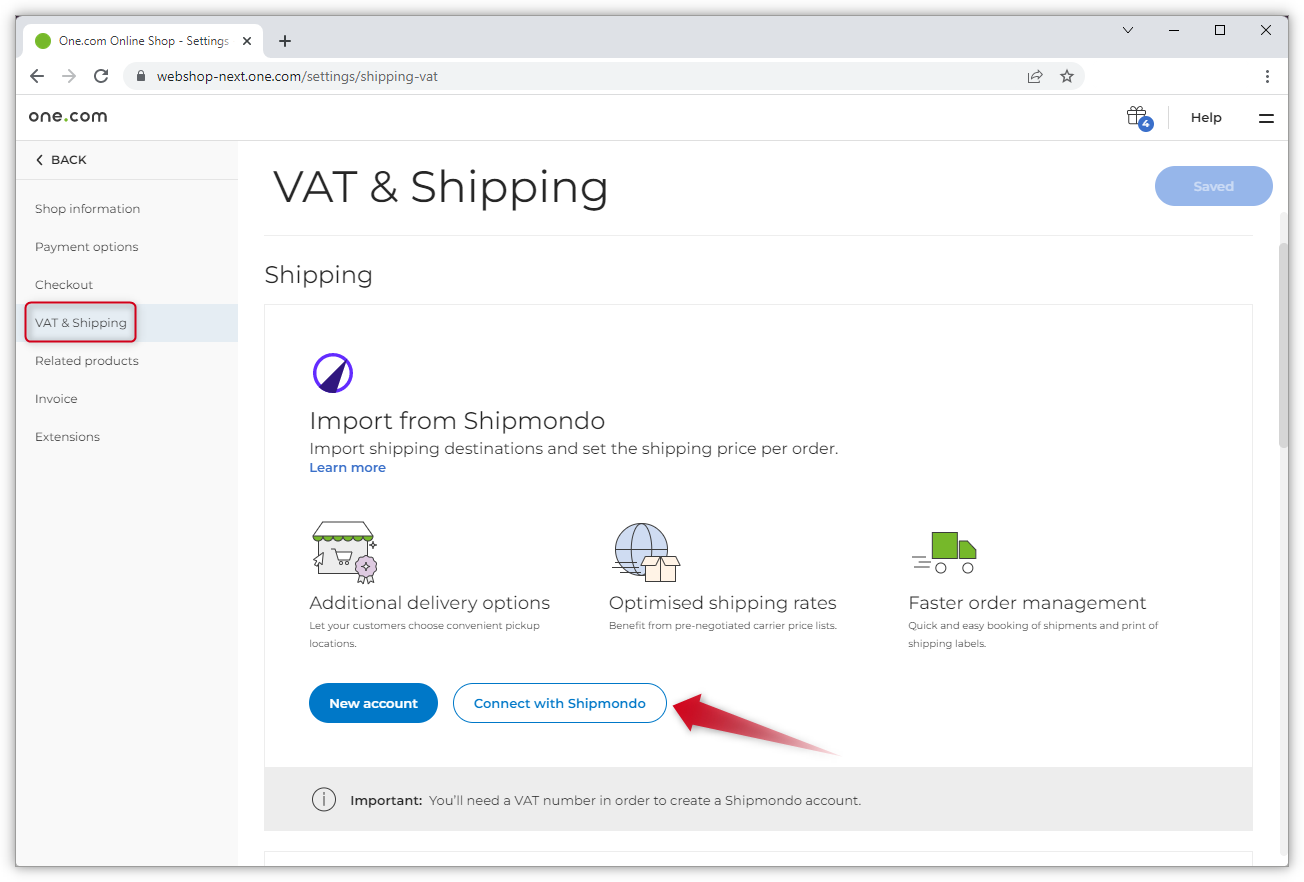 ---
Where do I see my orders in Shipmondo?
After you have connected your Online Shop with Shipmondo and created shipping templates, all new orders will automatically be transferred to your Shipmondo account. They will be stored in a folder called Drafts.
Log in to your Shipmondo account with your email and password.
Select Shipments in the panel on the left to expand the menu.
Click Drafts to see your order overview. In this list, you see all orders that you haven't yet printed a shipping label for.
To start sending orders, select the orders you want to send by ticking the little box on their left.
Click Create shipments.
Once you've bought the shipping label the order will be moved from Drafts to Booked.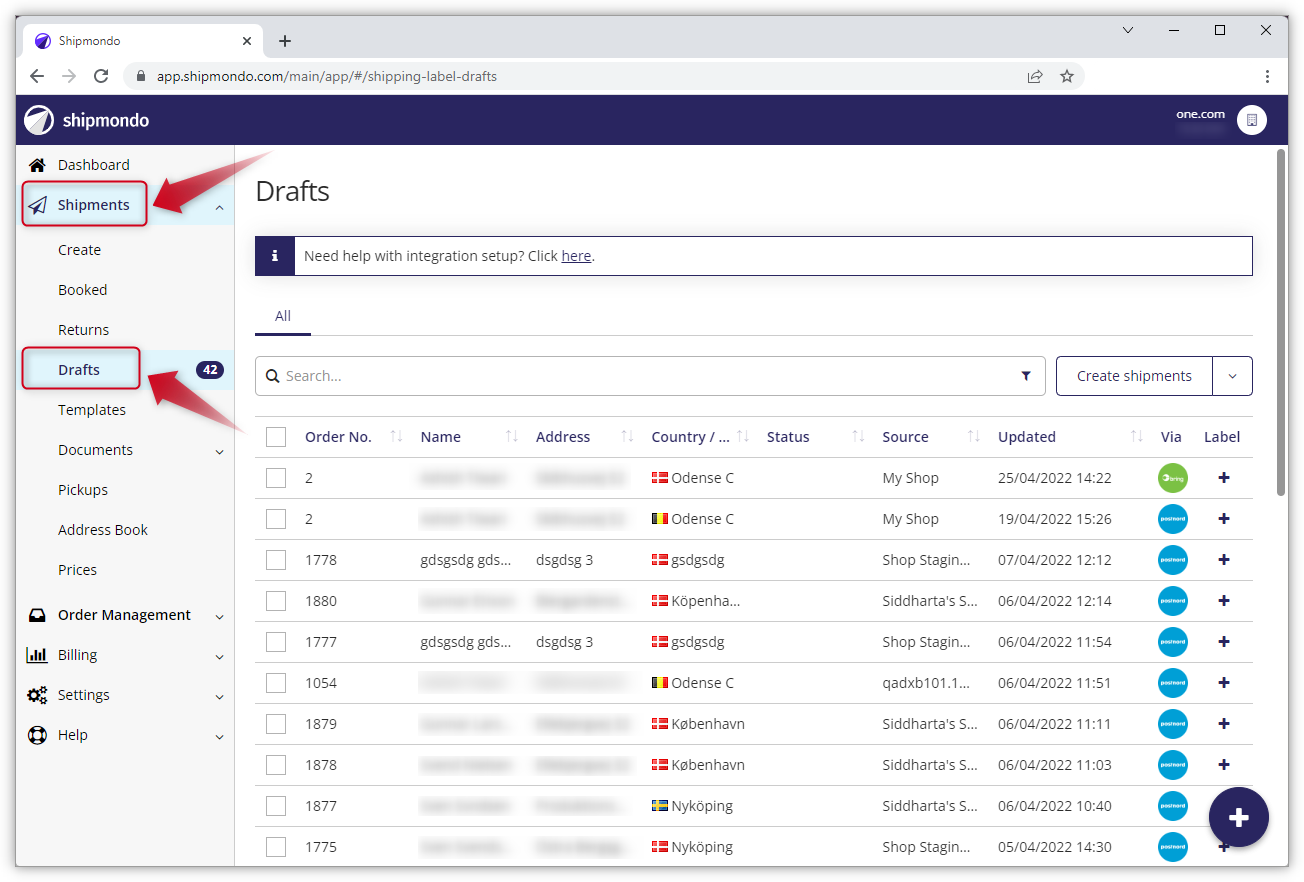 Note: To use this quick process when creating shipments, you need to have money on your Shipmondo account. Read more about Shipmondo's balance payments in their help article:
---
Related articles