With our API, you can automate processes and access additional features for your Online Shop. In this article, we explain what APIs are and how to use our one.com Online Shop API for your business.
---
What is an API?
Application Programming Interfaces (short: APIs) are used in apps and everywhere on the internet to allow different systems and programs to talk to each other and exchange information. They are connections that allow one system to use certain parts of the other system.
Flight comparison websites, for example, use APIs to get information about available flights and prices from different airlines and combine them all on their website for users to find the most convenient and cheapest option.
---
What are the benefits of using the Online Shop API?
Our API can help you automate processes and gives you access to third-party tools to customise your Online Shop.
Process automation
By connecting a third-party tool to your Online Shop with our API, you can save time in your daily work as a business owner.
Imagine you're using an external accounting tool: Without the connection, you need to manually copy all information from your shop dashboard into the accounting tool to use it. With the connection through the API, the accounting tool gets direct access to the information in your Online Shop and all relevant information will automatically be transferred - no copy-pasting needed!
Access to additional functionalities
With our API, you can connect various external services that you might need for your business. This offers you great flexibility and the possibility to adjust your shop to your individual needs.
Tip: Check out our overview of tools in the section Integrations in your Online Shop dashboard. If the tool you're looking for isn't listed there, we recommend asking the third-party provider if they can help connect their tool with your shop.
---
Which information is the API giving access to?
Currently, our API is allowing third-party tools to access Online Shop data about orders. This includes:
Which products were ordered and in which amount
Customer details, like name, billing address, email, phone number
Delivery details, like shipping address, delivery method
Price, VAT, discounts
Tip: We will add access to other types of information in the future, so come back to this page to keep yourself updated.
---
How can I use the API to connect a third-party tool to my shop?
Connect your favourite app
To connect a third-party tool that we don't have a shortcut with yet, you need to use our API documentation. You can find the technical information that is needed to use the connection here:
Tip: Not sure how to connect? We recommend reaching out to the customer support of the third-party tool that you want to use, and asking if they can create the connection to your shop.
Use available connections
We've already created some shortcuts to a number of different third-party products that we recommend:
You can find these integrations in your admin dashboard and connect them to your store with these steps:
Select Integrations in the menu on the left to get to the overview.
Click the button Get started next to the tool that you want to start using.
Follow the steps shown on your screen. They vary depending on which tool you're connecting.
That's it! The third-party tool and your Online Shop are now connected.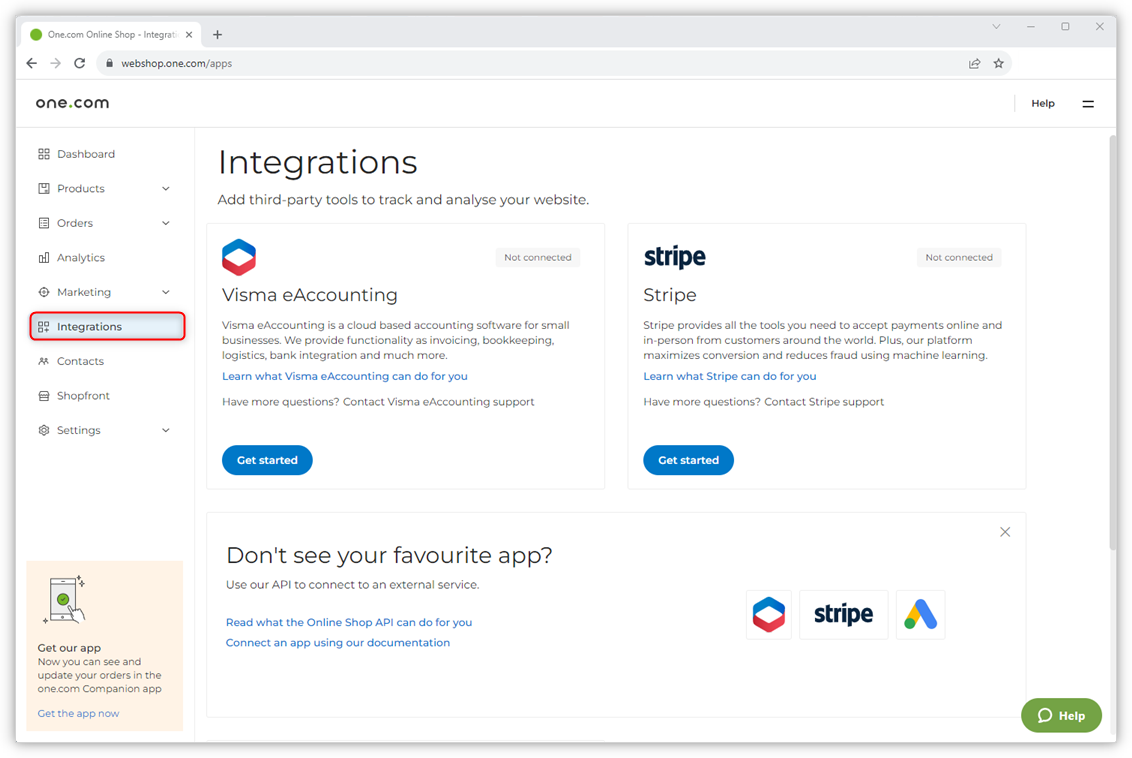 ---
Will I see my connected services in my Online Shop dashboard?
Yes, once you have connected an external service through our API, you will be able to see it in your Online Shop dashboard in the tab Integrations.
---
Related articles: