---
Where can I pay?
When there is an unpaid invoice, there will be a button visible in your One.com control panel.
Log in to your control panel and click Payment of outstanding invoice.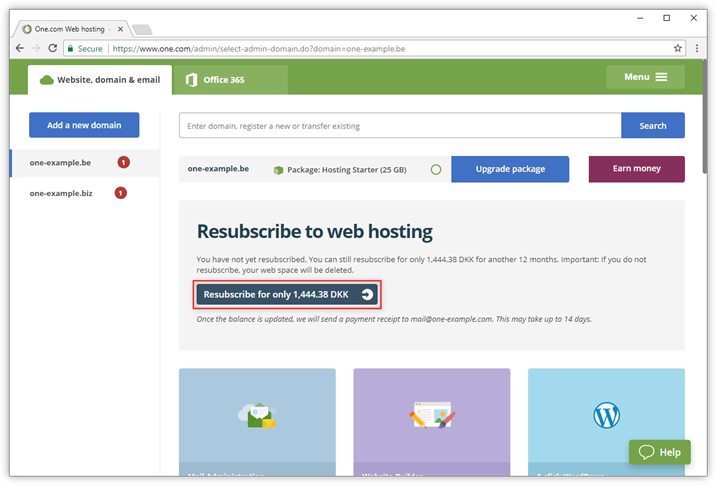 Check the box(es) for the invoice(s) you want to pay; all unpaid invoices for this user are listed.
Select how you want to pay.
Click Approve.
Depending on the payment method that you chose, you need to enter your details to complete the payment.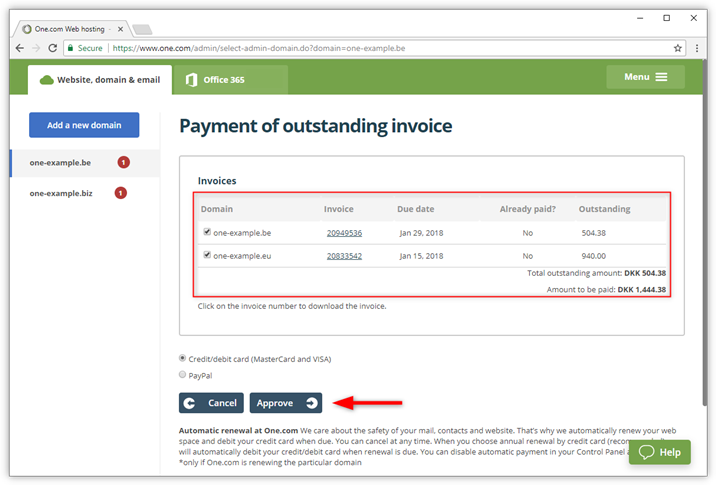 When your payment has been received, this will be updated in the Control Panel. We will also send you a confirmation via email.
---
What payment methods can I use?
You can pay for your subscription(s) or other services online with:
Credit card (VISA, MasterCard, Visa Electron)
PayPal (Only in Euro zone, Scandinavia, UK, Canada, Russia and Mexico)
In the following countries you can choose additional payment methods:
Belgium: Bank transfer
Denmark: Bank transfer, Dankort, EAN, Giro
France: Bank transfer
Germany: Bank transfer, Giropay
Italy: Bank transfer
Mexico: OXXO
Netherlands: Bank transfer, iDeal
Norway: Bank transfer with KID, EHF
Spain: Bank transfer
Sweden: Bank transfer, Plusgiro
United Kingdom: Bank transfer, Maestro
For the following payment methods we charge an extra fee on top of the yearly invoice:
Bank transfers (not iDeal or Giropay)
Paper inpayment forms sent by post, like Giro in Denmark, or Plusgio in Sweden.
If you have selected Bank transfer as your default payment method, our bank account details will be listed on your invoice. If our bank details are not visible on your invoice, please contact our sales and administrative support to get the correct account details.
Tip: Make sure to mention the order number and domain with your bank transfer. Otherwise we don't know where to book your payment.
---
Can I pay multiple invoices at once?
Yes, if you pay your invoices online via the One.com control panel. All unpaid invoices under the same login will be listed when you start a payment. Check the boxes for the invoice(s) you want to pay.
---
Related articles:
Back