With WordPress 1-click migration you can move your existing WordPress site from one location to another. This is handy when you transfer your domain to one.com or change your domain name.
Note: The existing website will remain at its original place. Only a copy of your original is being moved.
Before you continue: During the migration you need to enter the following details. Please make sure you have these at hand, before you start the migration.

The URL where the WordPress site you want to migrate is located. Just open the site in your browser and copy the address.
The Server login details of the web space where the site you want to migrate is currently hosted. If your site is hosted with another provider, we need those details.

If both domains are hosted with one.com, you need to start the migration on the domain where you want to move your site to.
---
Step 1 - Go to WordPress in the one.com control panel
Log into the one.com control panel and click WordPress.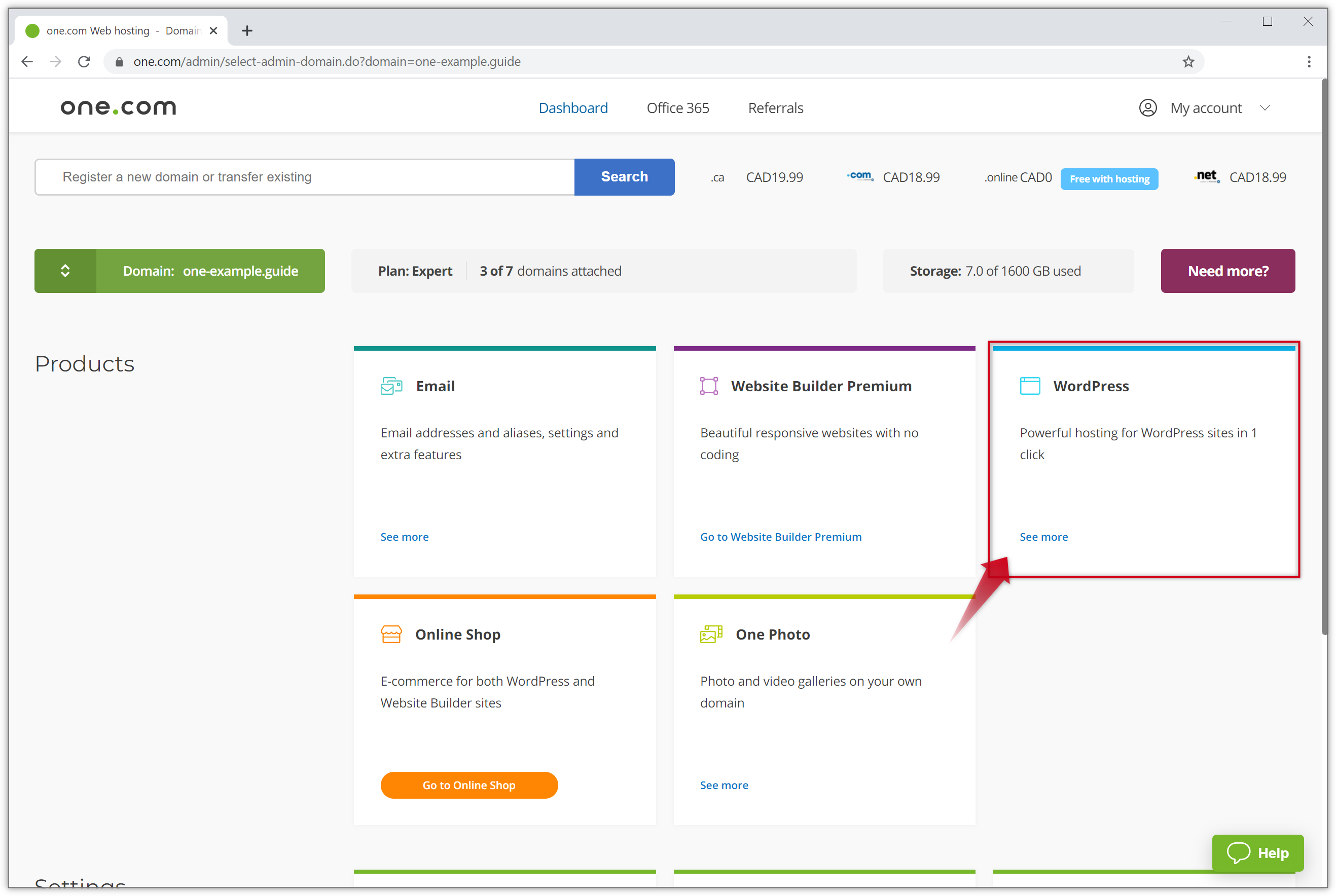 ---
Step 2 - Click New migration
Click New migration to start the process of moving an existing WordPress site to your web space.
Tip: Are you using the Beginner plan? Upgrade your hosting plan to Explorer or higher to use 1-click WordPress migration, or migrate your WordPress site manually.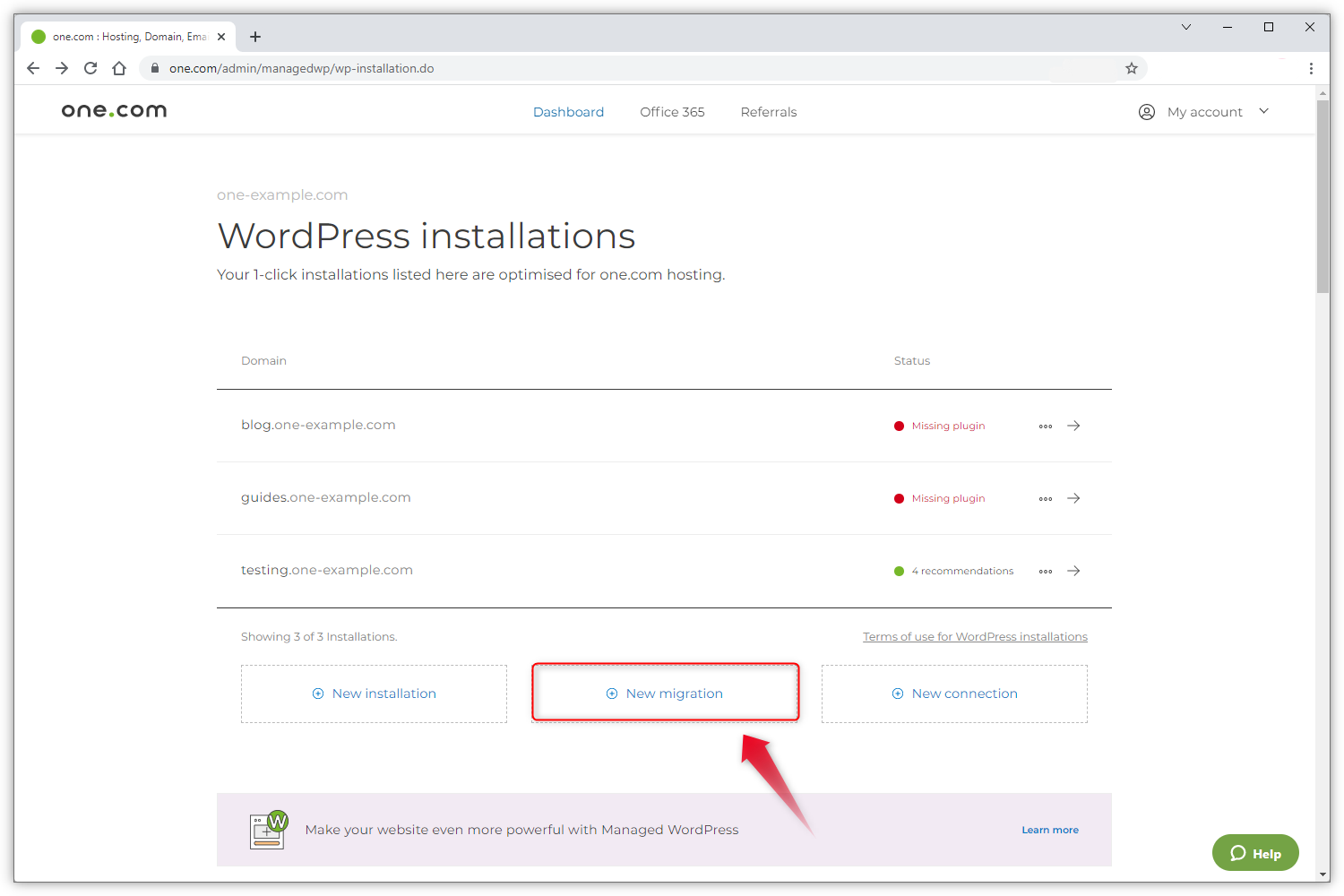 ---
Step 3 - Choose a location
Choose the location for the WordPress installation on your web space and click Next to continue.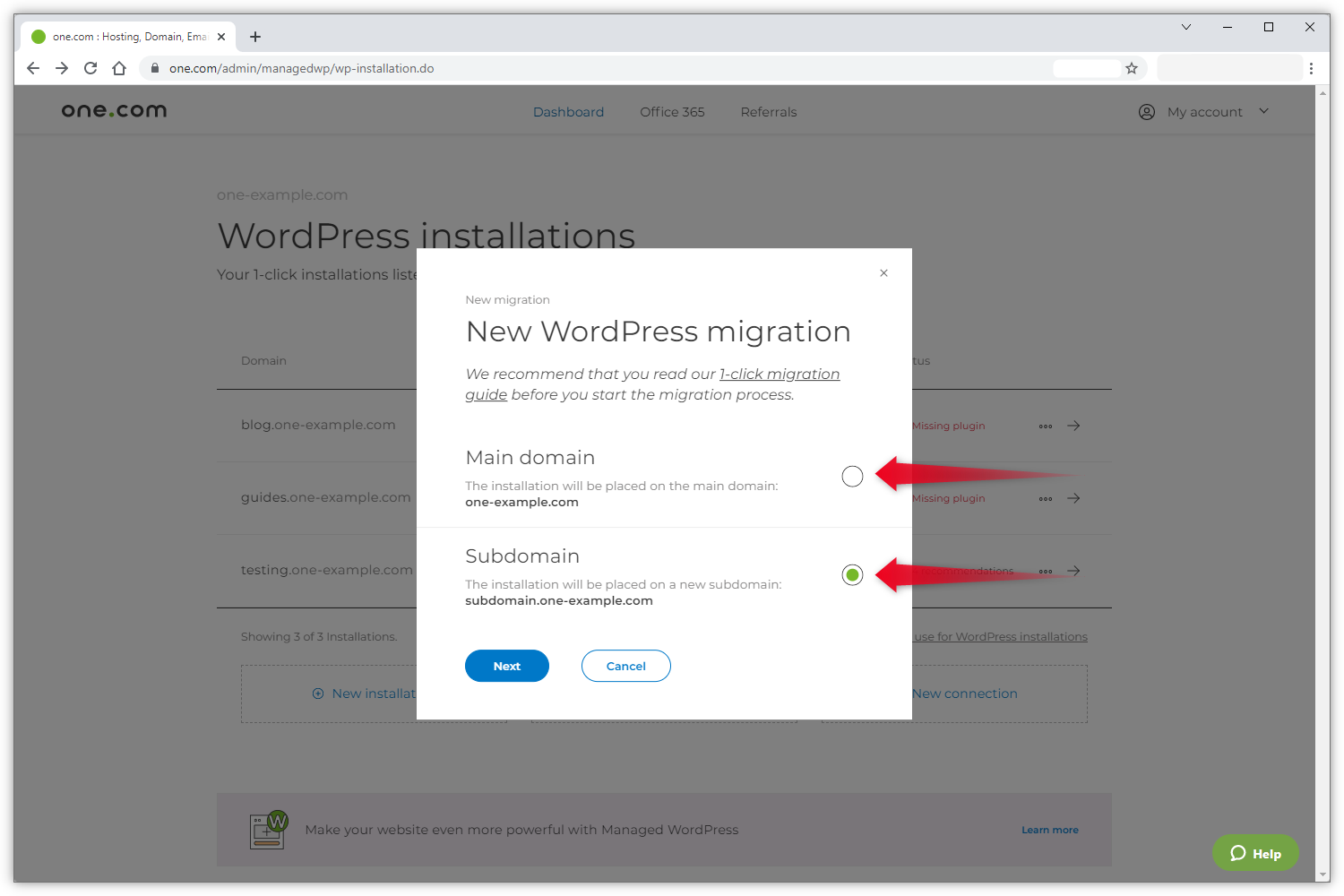 Note: If you choose the option Subdomain you will be asked to give your blog a name in the next step.
---
Step 4 - Enter the source website URL
Enter the source website URL of the existing WordPress site starting with HTTP or HTTPS.
The source URL is the location where the WordPress site you want to migrate is currently available. You can simply open your website in your browser, copy the URL from the browser bar and paste it here.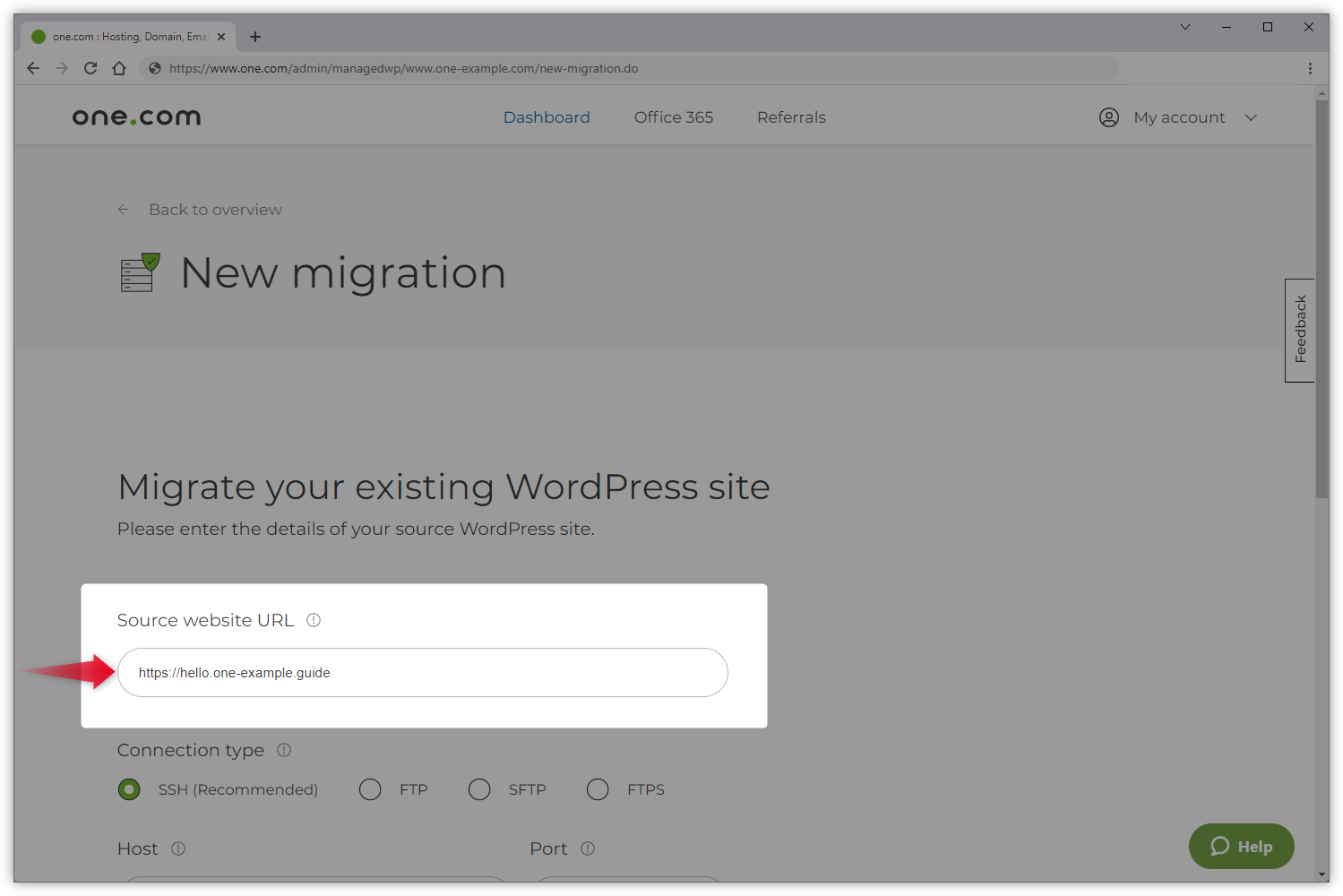 ---
Step 5 - Enter server details
To be able to migrate your site we need to log in to the web space where your site is currently hosted.
Select a connection type
Enter your server login details.
When connecting via SSH use this info:
Host: ssh.one-example.com
Username: one-example.com
Password: the one you chose for SSH in your control panel
Port: 22

Note: Remember to replace one-example.com with your own domain.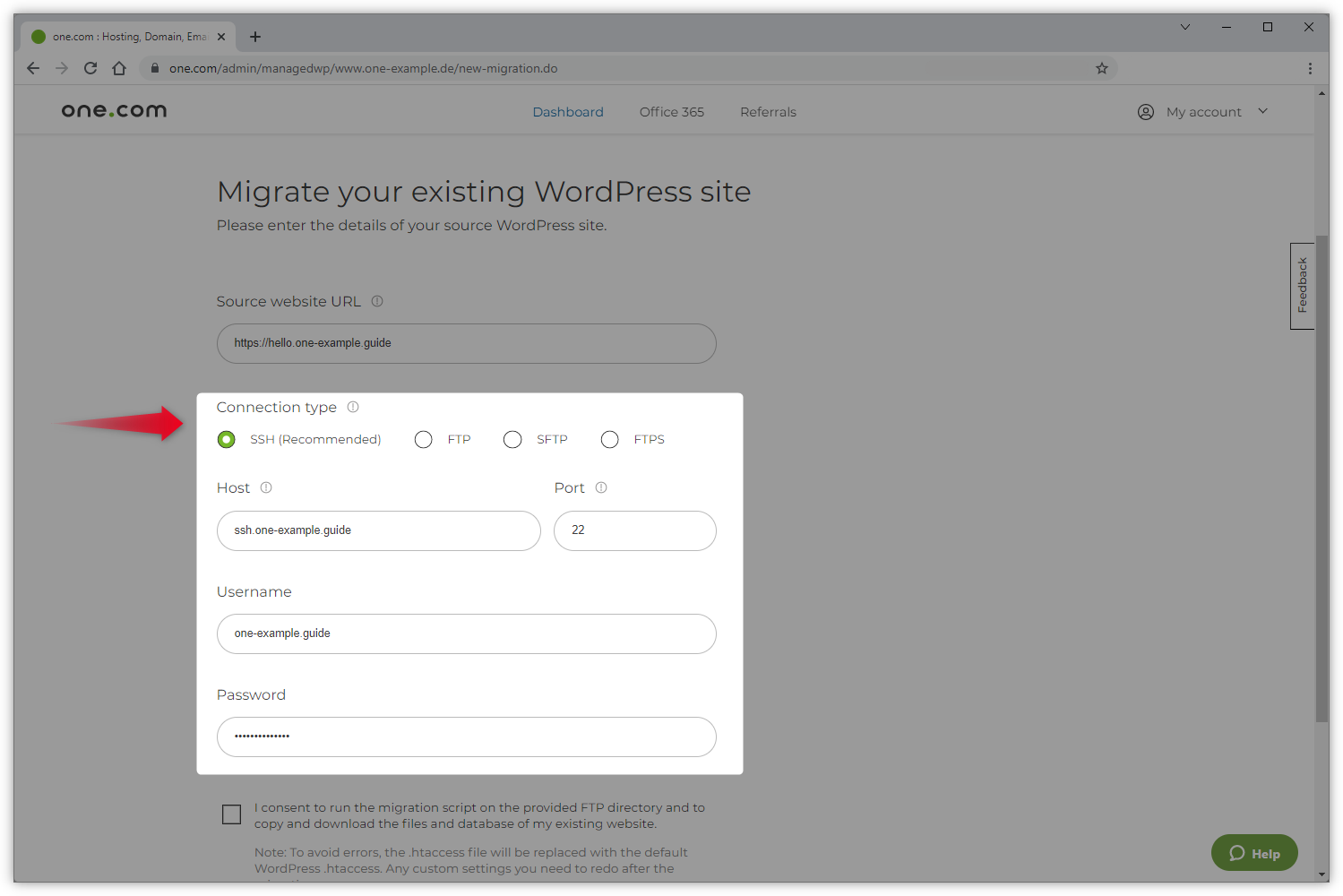 If you are not sure what details to enter, you need to contact the host where your WordPress site is currently hosted. This may not be one.com.
---
Step 6 - Confirm and continue
Check the box to confirm that you allow us to run the migrator script.
Click Migrate site to continue.
Note: The .htaccess file will be replaced with the default WordPress .htaccess. This is to avoid errors during the migration. If you have added custom settings to your .htaccess you need to enter them again after the migration is completed.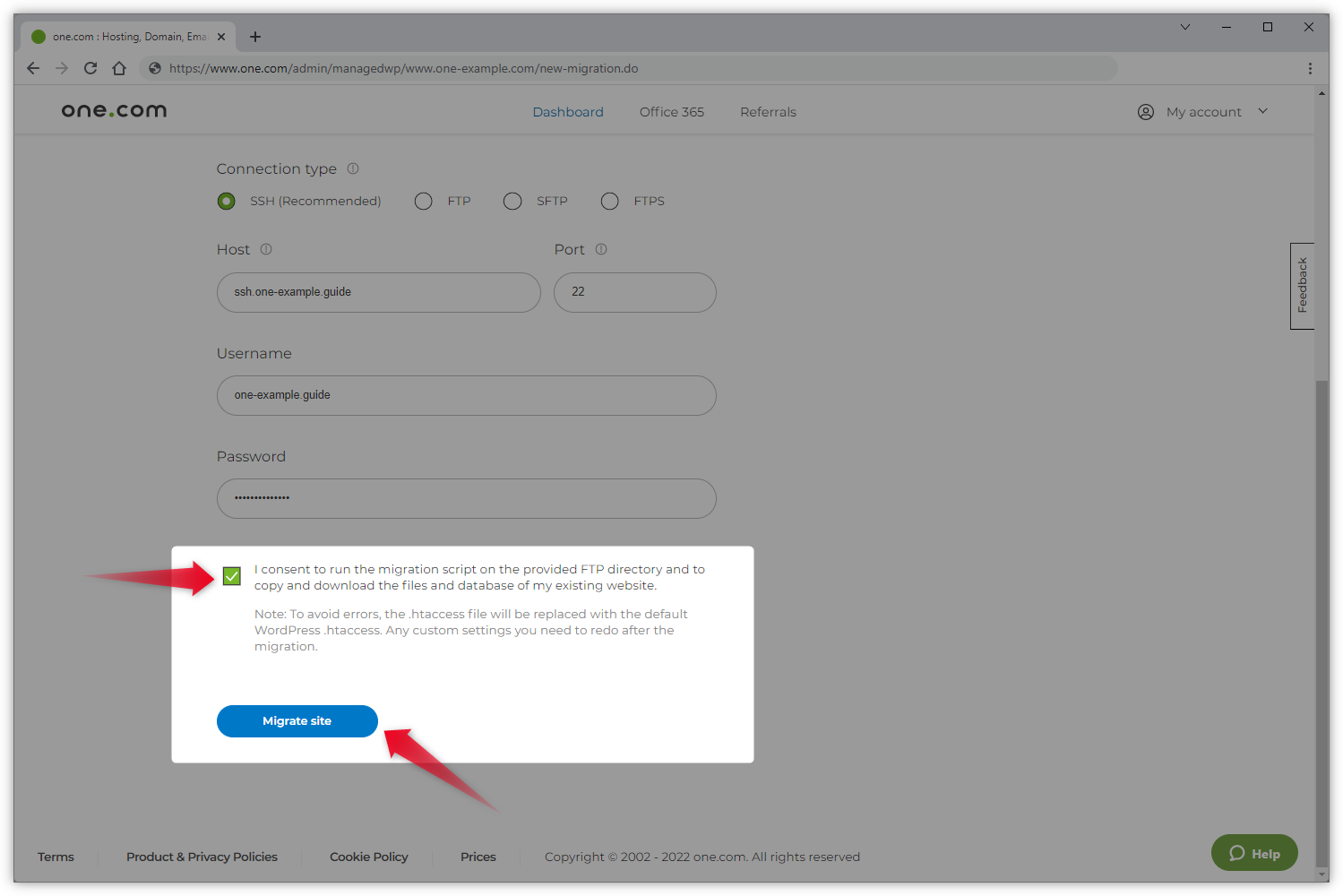 ---
Step 7 - Wait while the migration is in progress
The migration is now in progress. Normally this should not take longer than 10 minutes. We will send you an email to your contact email address as soon as the migration has been completed, so you are welcome to close this window.
If something caused the migration to fail, we will also send you an email, in which we explain what went wrong. Also, check our Migration troubleshoot guide.
Tip: If the 1-click migration fails, you can always move your site manually. We have created a step-by-step guide to help you along the way.
---
Step 8 - Check your inbox for a confirmation
When the migration is completed we will send you a confirmation via email. Click the button Visit site in the email to open your migrated website and check if everything is as expected.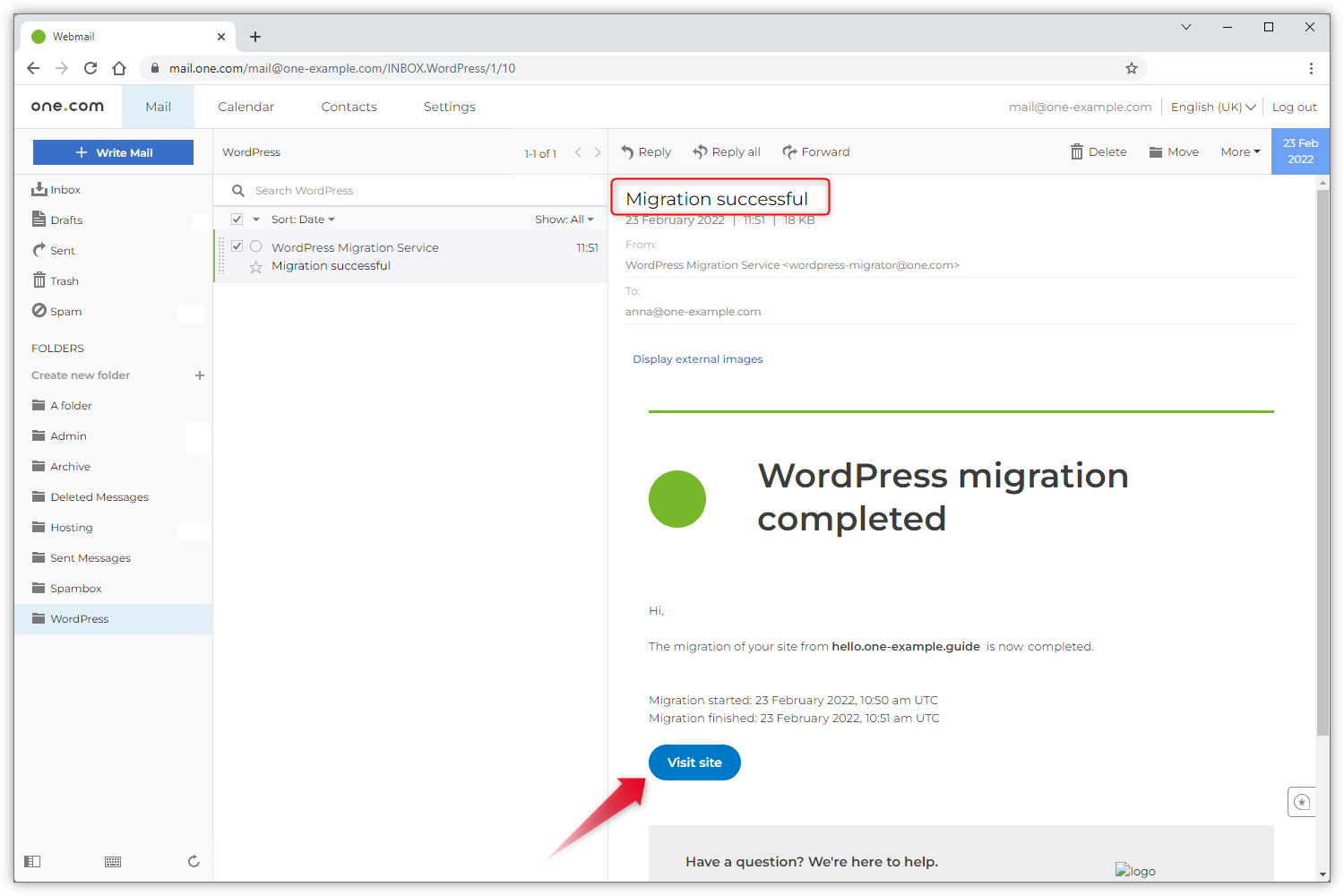 ---
Step 9 - That's it!
Congratulations, you have successfully migrated your WordPress site! You can now check your website inside your browser. In most cases, your website is now successfully moved, including images and links.
If you experience any difficulties, please reach out to our support.
---
Related articles: