---
Step 1 - Go to 1-click WordPress in the control panel
Log in to the One.com control panel and click 1-click WordPress.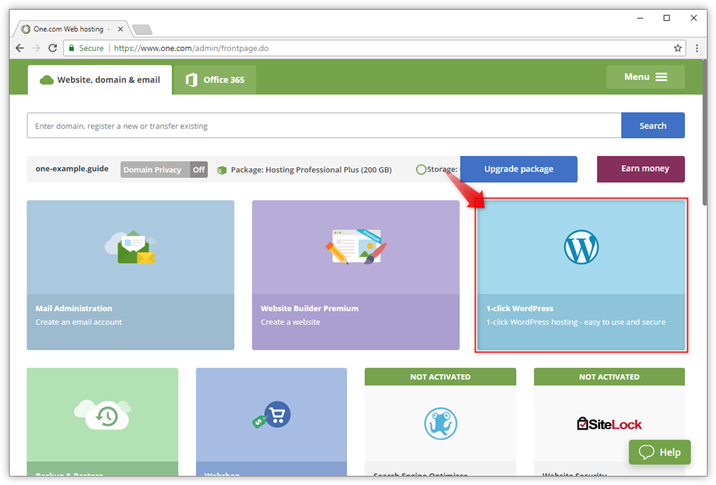 ---
Step 2 - Click Migrate website
Click Migrate website to start the process of moving an existing WordPress site to your web space.
Note: If 1-click WordPress migration is not available on your package, you can upgrade for free for the duration of the current subscription period.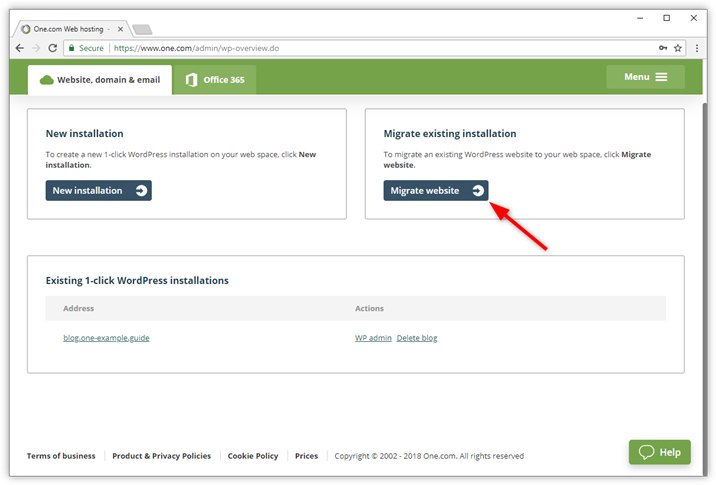 ---
Step 3 - Choose a location
Choose the location for the WordPress installation on your web space.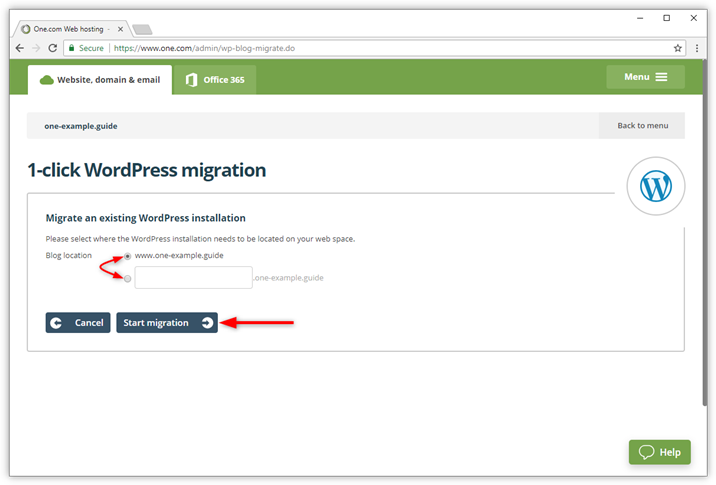 ---
Step 4 - Start the migration
Click Continue.

---
Step 5 - Enter FTP login details
To be able to migrate your site we need to log in to the web space where your site is currently hosted. Please enter all details, check the box to confirm and click Continue.
If you are not sure what details to enter, you need to contact the host where your WordPress site is currently hosted. This may not be One.com.
Note: The .htaccess file will be replaced with the default WordPress .htaccess. This is to avoid errors during the migration. If you have added custom settings to your .htaccess you need to enter them again after the migration is completed.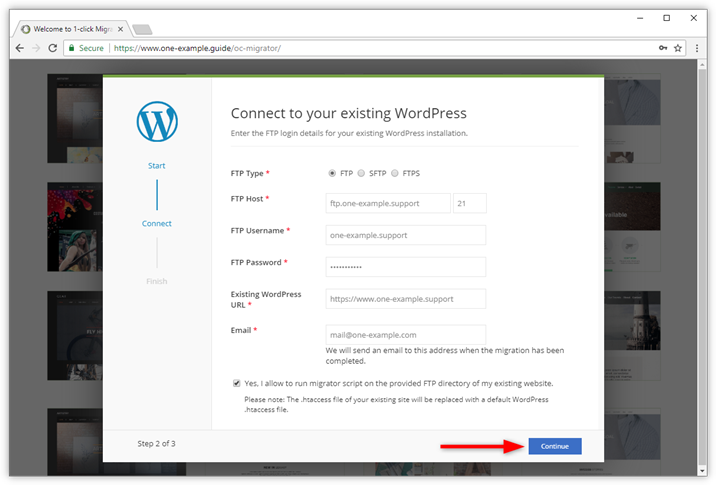 ---
Step 6 - Wait while the migration is in progress
The migration is now in progress. Normally this should not take longer than 10 minutes. We will send you an email as soon as the migration has been completed, so you are welcome to close this window.
If something caused the migration to fail, we will also send you an email, in which we explain what went wrong. Also check our Migration troubleshoot guide.
Tip: If the 1-click migration fails, you can always do it manually. We have created a step-by-step guide to help you along the way.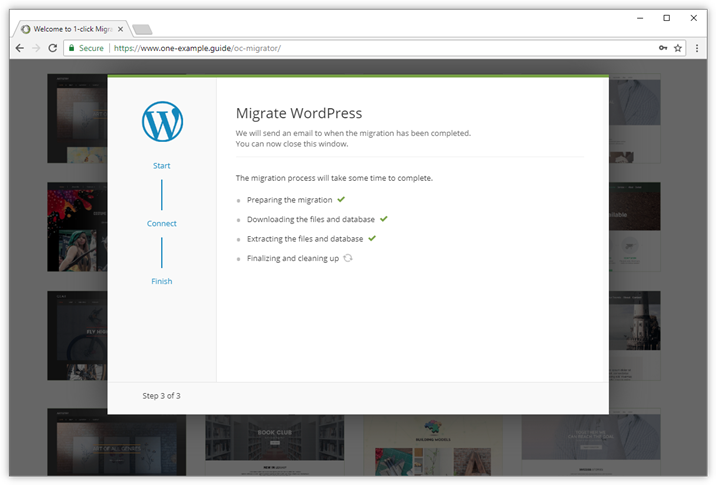 ---
Step 7 - Check your inbox for a confirmation
When the migration has completed we will send you a confirmation via email. Click the link in the email to open your migrated website and check if everything is as expected.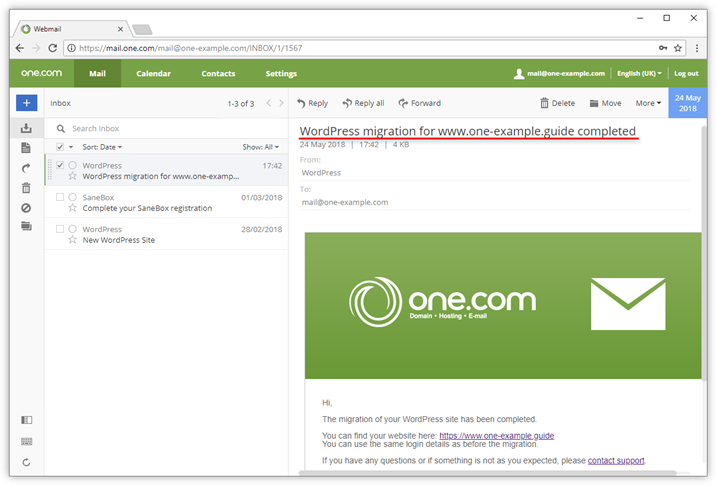 ---
Step 8 - Fix permalinks (Optional)
If you experience that you get a 404 error when you try to open links on your site, the Permalinks are broken. Luckily it is very easy to fix this.
Log in to your WordPress dashboard.
Click Settings and then Permalinks
Scroll down and click Save Changes.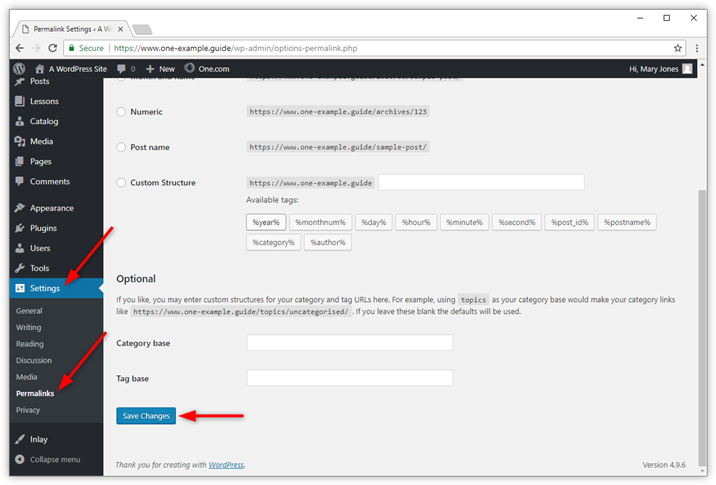 ---
Step 9 - Fix broken images (Optional)
If you experience that images don't show correctly, this means that the links are still referring to the old domain. You can fix this by reinserting images manually.
When you have a website with a lot of images you can try a plugin called Better Search Replace. It automatically replaces your old domain with your new domain in your database.
Note: Plugins are third party products and not something we can help you with. Please contact the maker of the plugin if you have any problems. We recommend you to make a backup of the files on your website and your database before making any changes.
Log in to your WordPress dashboard.
Click Plugins and then Add new.
Search for Better Search Replace and install the plugin with that name.
Click Activate to make the plugin active.
Click Tools and Better Search Replace.
Search for the old domain name and Replace with the new domain name.
Select the tables that you want to search in. Your posts are located in the table wp_posts, but usually you can safely select all tables.
Uncheck the box for Run as dry and click Run Search/Replace. If you want to do a test run before making changes, leave the box for Run as dry checked.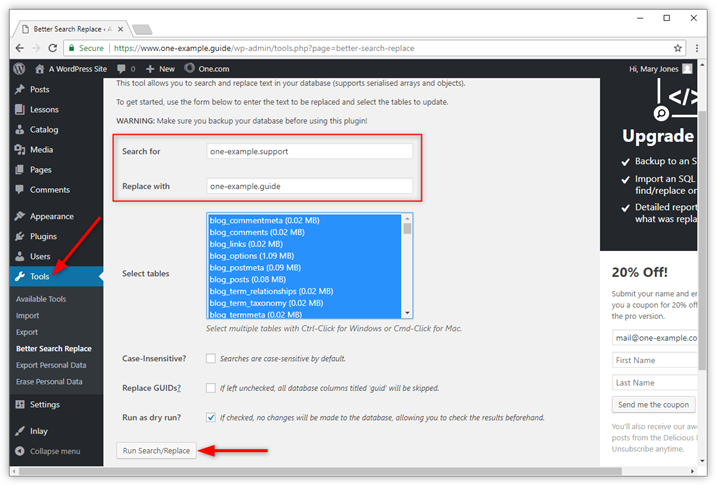 ---
Step 10 - Check your site again (Optional)
In most cases, your website is now successfully moved, including images and links. If you still encounter problems, we recommend you to check the WordPress codex for more help.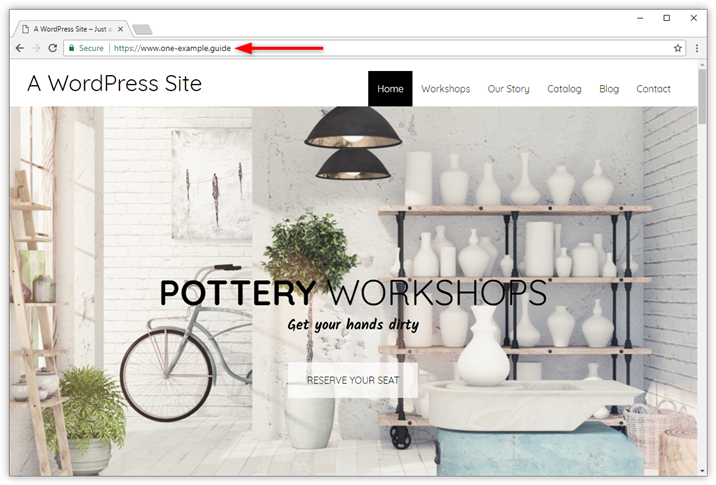 ---
Related articles:
Back