You can easily add the Google Analytics tracking ID to your site from the Website Builder dashboard. In this guide, we'll show you how.
Note: Google Analytics is a Business + Ecommerce feature. If you're currently on the Starter or Premium tier, you can upgrade your plan and get Google Analytics and other Business + Ecommerce features free for the remainder of your current subscription period.
---
Add the Google Analytics tracking ID to your site
Find the tracking ID. Check this guide from Google on how to find it: Set up Analytics tracking
Open Website Builder from the one.com control panel.
You will now see the Website Builder dashboard. Click Website settings in the menu on the left.
Select Connections.
Paste in the tracking ID you retrieved earlier in the field on the right.
Click Save and remember to Publish your site to make the changes live.
If you want to stop tracking you can remove the ID again, but don't forget to republish your site.
When you add a tracking code to your site, you need to inform your visitors about this in a cookie banner. You can find more information about this in our guide How do I add a cookie banner to my website?
Tip: You can also manage tracking for the Facebook pixel and Google Ads. The latter can be done under the Marketing & SEO tile on the left-hand side of your screen.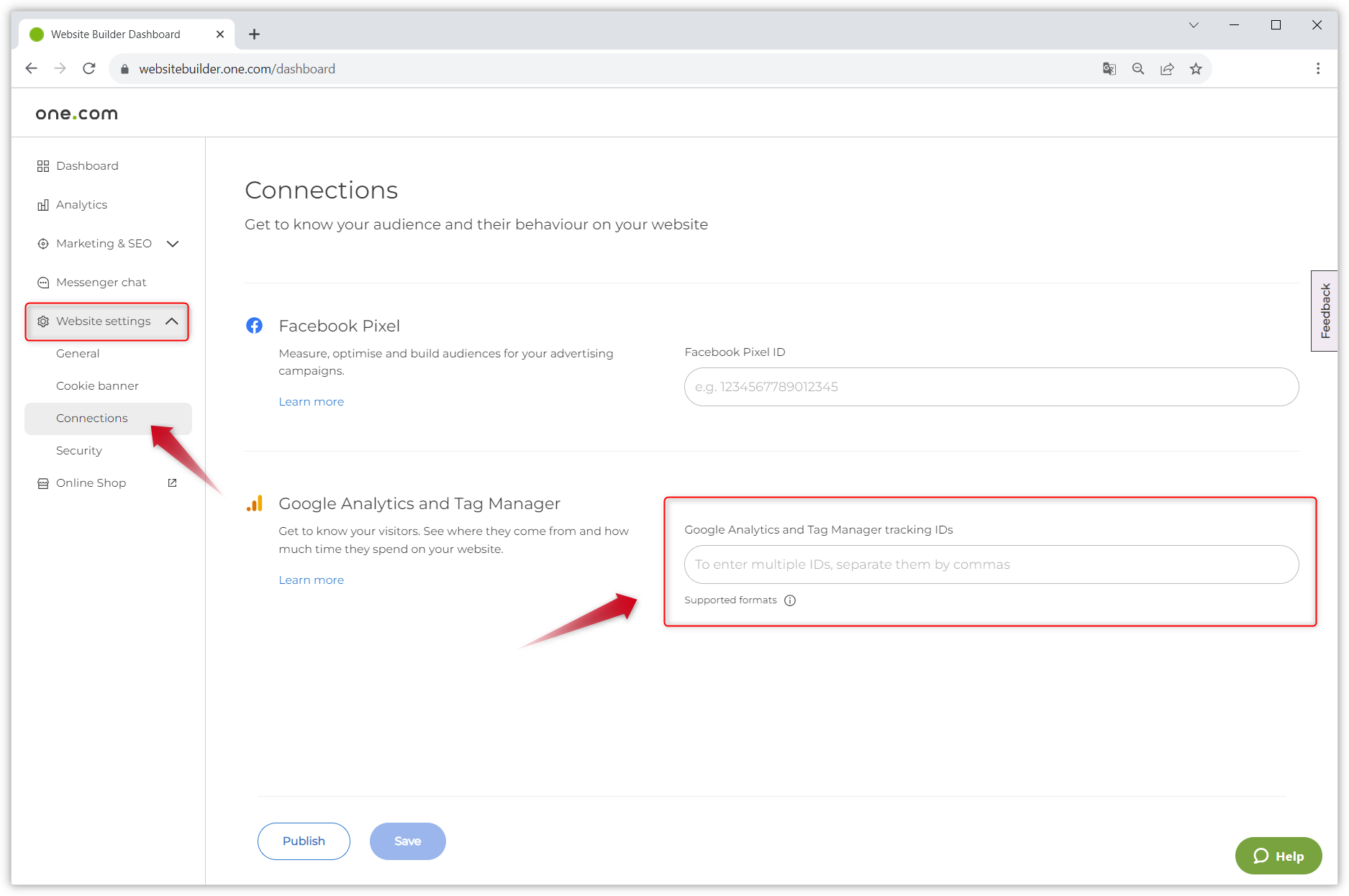 Note: IP anonymization is active by default for all GA4 (Google Analytics 4)users, so you don't need to activate it yourself.

By anonymizing the IP address of your visitors, the location of the actual IP address of your visitors of the website will not be stored, which complies to GDPR. When anonymizing the IP, the last numbers in the IP address will be removed.
---
Related articles: