Use the Gallery component to add multiple images to your page, perfectly aligned in a grid.
Open Website Builder from the One.com control panel.
Drag the Gallery component into your workspace, from the menu left on your screen.
Select the images that you want to insert or upload them from your computer or an external URL.
Adjust the size and placement of the image component to your liking.
Click Gallery settings to adjust settings of the image.
Click Save and Publish to make the image visible on your site.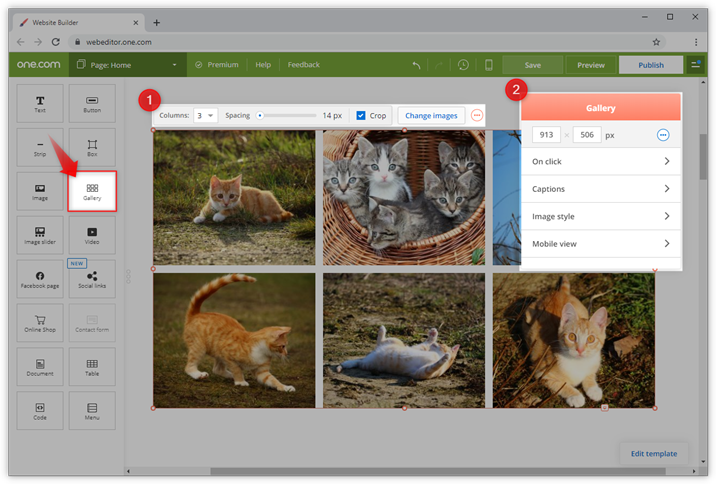 ---
Settings of the gallery component
You can set how your gallery should be displayed on your website from the menu that appears above or below the image and in the floating menu that you can move around on your workspace.
1 - Top/bottom menu
Columns - Adjust the number of columns.
Spacing - Adjust the white space between the images.
Crop - Check this box if images should be cropped so they all have the same size in the gallery.
Change images - Change the images that are shown in your gallery.
2 - Floating menu
On click - Select what should happen when a user clicks the image. Choose nothing, show a larger image or open a link.
Captions - Select if you want to add captions to the images in the gallery. Click "Manage captions" to enter text and alt text. Choose if a caption should be outlined left, right or centred.
Image style - Here you can change the ratio of your image, for example, to landscape or portrait. You can also add borders and rounded corners.
Mobile view - If the image is part of your template, you can lock it to the bottom of the page. Open the Mobile view editor, if you want to do other things, like hide an image in mobile view.
---
Related articles: