Microsoft has changed where you can view and edit the server settings of your existing email accounts in Outlook 2016. In this guide, we show you where you can find them now.
---
Step 1 - Open Windows Control Panel
Click the search icon in the taskbar and type "Control panel".
Open the Control Panel (Desktop app).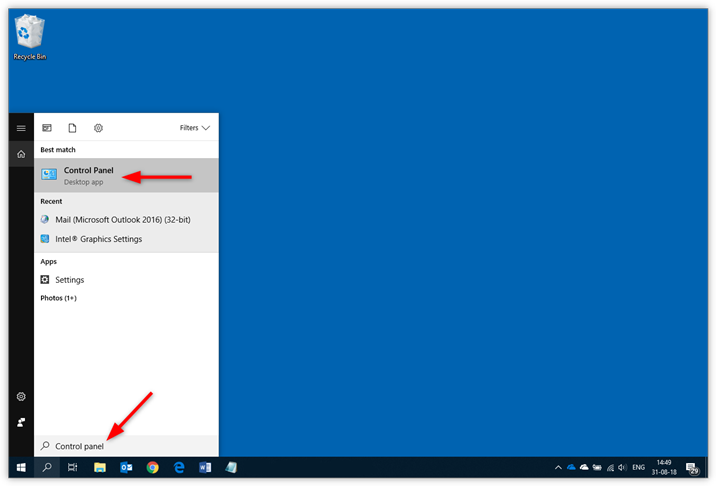 ---
Step 2 - Click Mail (Microsoft Outlook 2016)
Sort the Windows Control Panel by Large icons.
Click Mail (Microsoft Outlook 2016).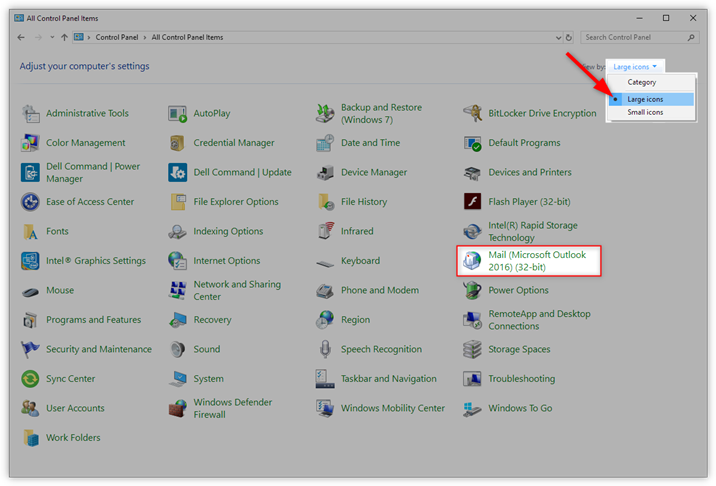 ---
Step 3 - Click Email Accounts ...
Click Email Accounts... in the window that opens.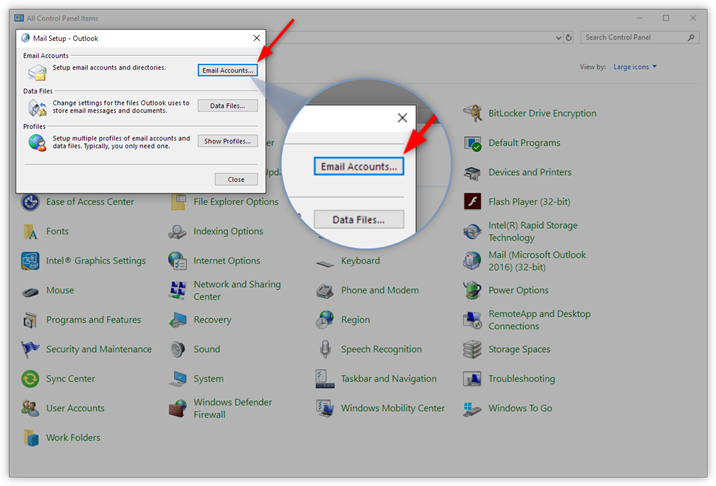 ---
Step 4 - Select an email account and click Change
Select the email account that you want to check the settings for.
Click Change in the menu right above it.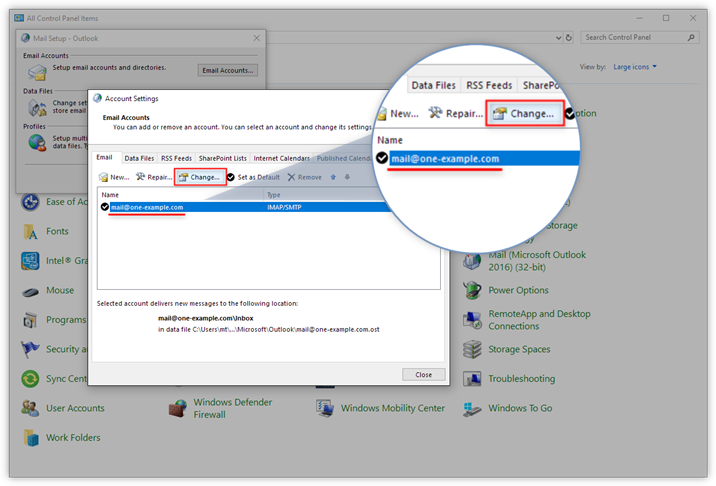 ---
Step 5 - Check your incoming and outgoing server and user name
Check if your settings are correct:
Account type: IMAP (can also be POP, but we recommend IMAP)
Incoming server: imap.one.com (or pop.one.com if you have POP as account type)
Outgoing server: send.one.com
User name: your email address
Password: the one you also use for Webmail.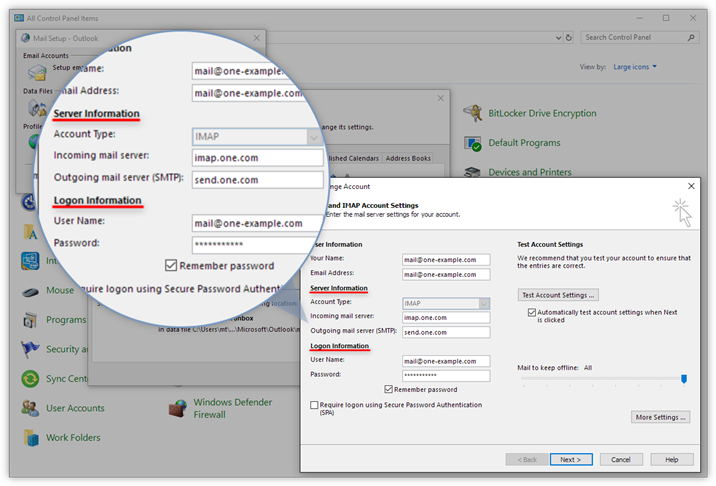 ---
Step 6 - Go to More Settings ...
Click More Settings ...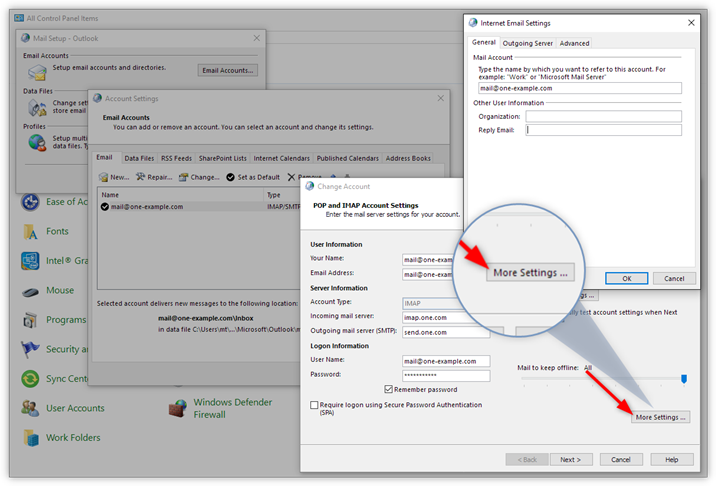 ---
Step 7 - Check additional outgoing server settings
Click the tab for Outgoing Server.
Make sure the box for "My outgoing server (SMTP) requires authentication" is checked.
"Use same settings as my incoming mail server" needs to be selected.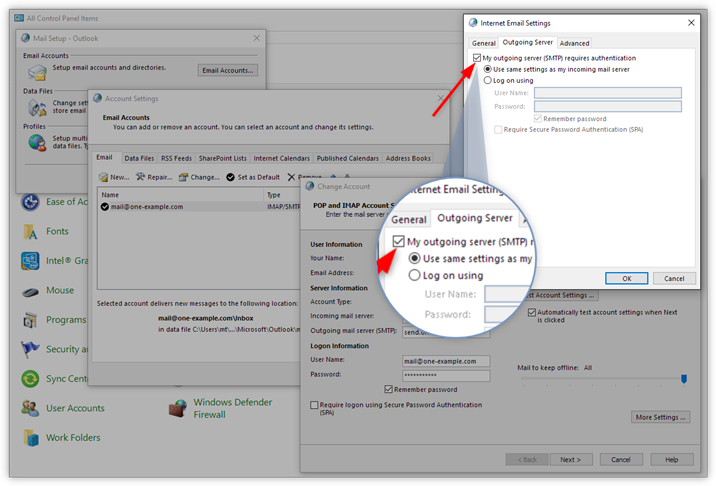 ---
Step 8 - Check ports, encryption and root folder path
Click the Advanced tab.
Check if you are using the correct ports and encryption. The default settings are:

Incoming server (IMAP) - port 993 - encryption SSL/TLS
Outgoing server (SMTP) - port 465 - encryption SSL/TLS

Check if you have entered INBOX (in capitals) as the Root folder path.
Click OK.
Note: If you use POP as account type, you need to use port 995 for the incoming server with SSL/TLS encryption.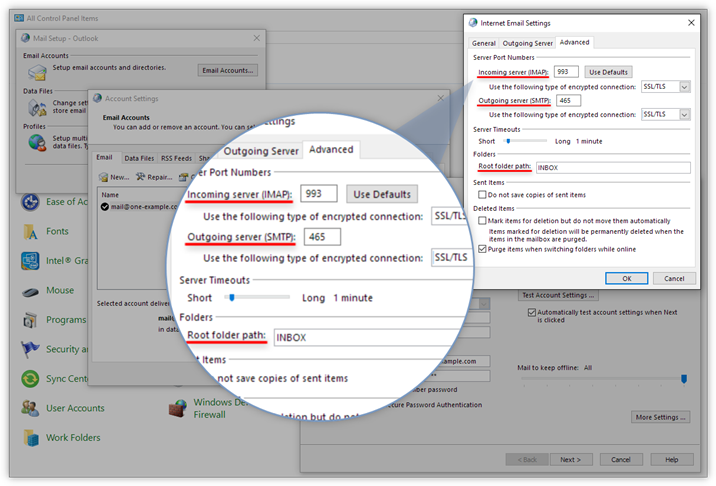 ---
Step 9 - Save your settings
Click Next to continue.
Outlook will now test the account settings. Click Close when they are completed.
Click Finish to complete the setup.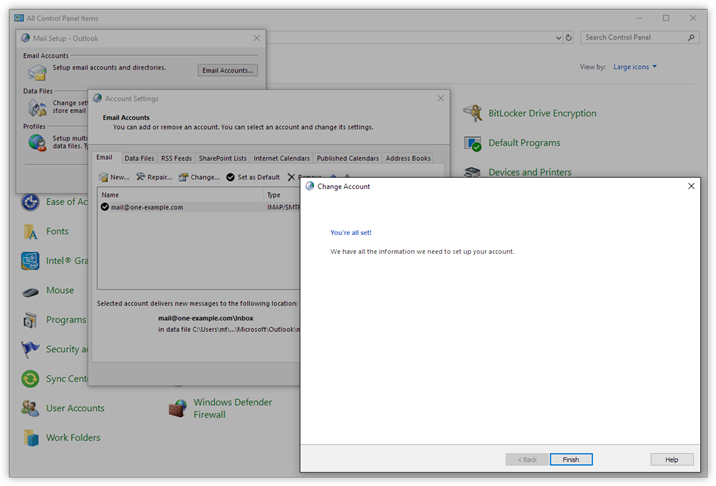 ---
Related articles:
Back