---
Step 1 - Log in to the control panel and go to Google Ads
Log in to your one.com control panel and click Google Ads on the Marketing tile.
---
Step 2 - Click Start now
Click Start now to create your first ad.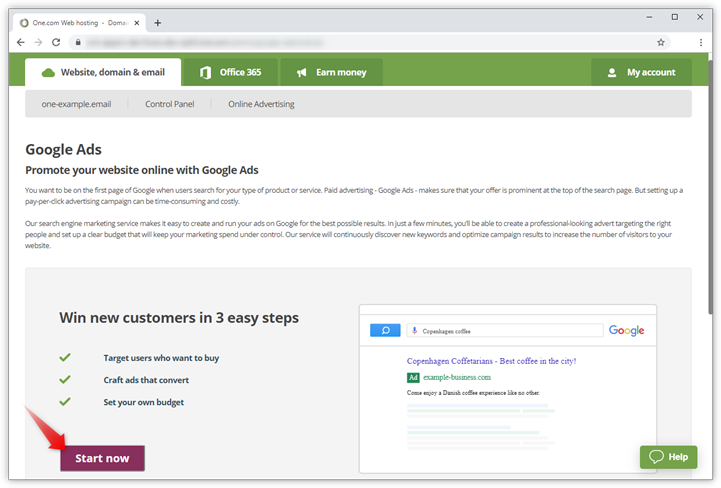 ---
Step 3 - Enter your company name
Type in the name of your company, how it should appear in your ads.
Tip: By default, your domain is selected as the URL where visitors are sent to when they click one of your ads. Click it, if you want to select another location.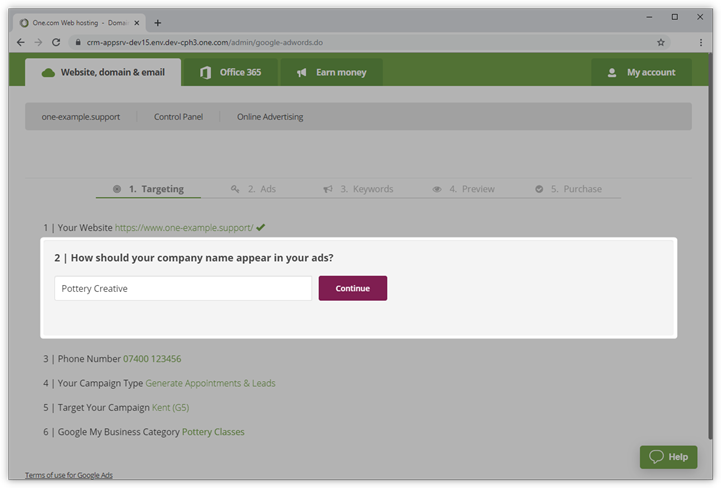 ---
Step 4 - Enter your phone number
Enter a phone number where new customers can call you. Click Skip Phone Number, if you don't want to list a phone number.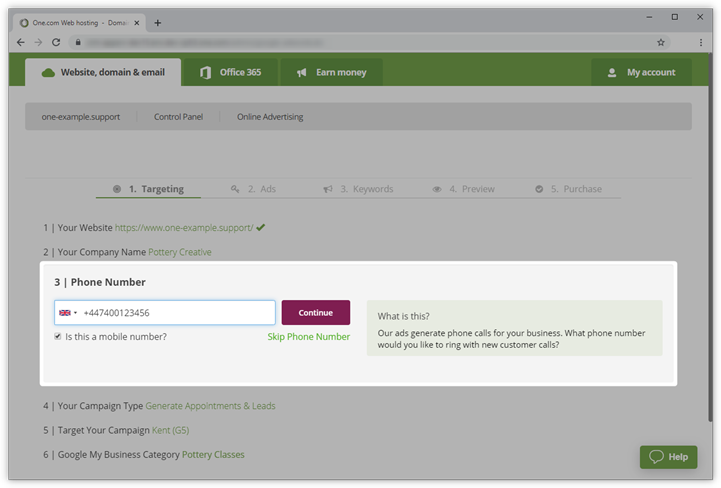 ---
Step 5 - Select the purpose of the campaign
Select the purpose of your campaign:
Generate Appointments & Leads - Select this option if you want to attract visitors to your business, so they can learn more about the services you offer and make an appointment.
Sell products online - Select this option if you have a webshop, and you want to increase online sales.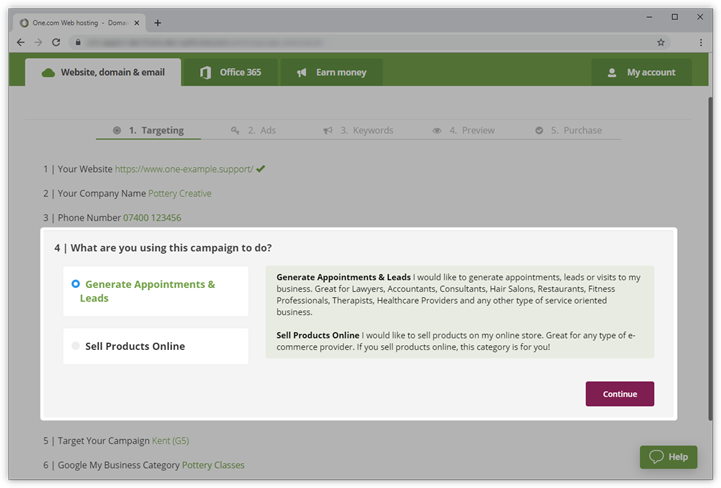 ---
Step 6 - Select the target area of the campaign
Select the area you want to target with your campaign. You can choose Radius targeting, based on the distance from your business, or Country/Region targeting, allowing you to target countries, states or cities.
The regions that are available for you to choose from are the ones that are supported by Google.
Tip: Limit the target area to where your potential customers are located. If you have a webshop you can target the whole country, but if you sell workshops and courses, most of your customers will probably live close by.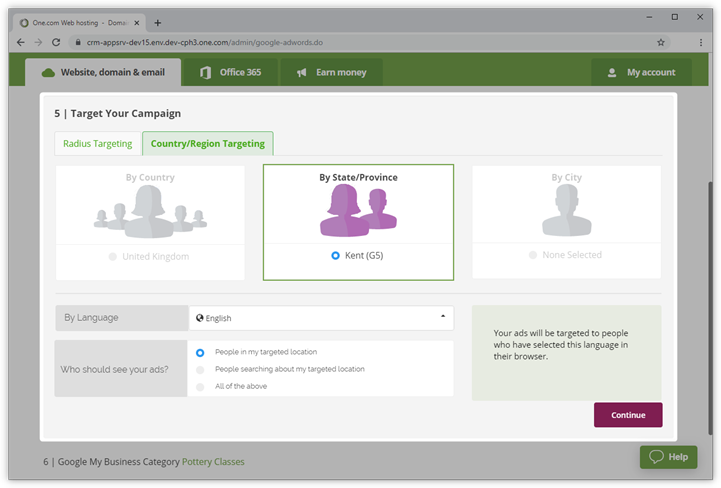 ---
Step 7 - Select a Google My Business category
Select a category for Google My Business. Start typing what business you have and select the option that fits best.
The available categories are picked by Google and cannot be altered. Check this article from Google to learn more about business categories: Choose a business category.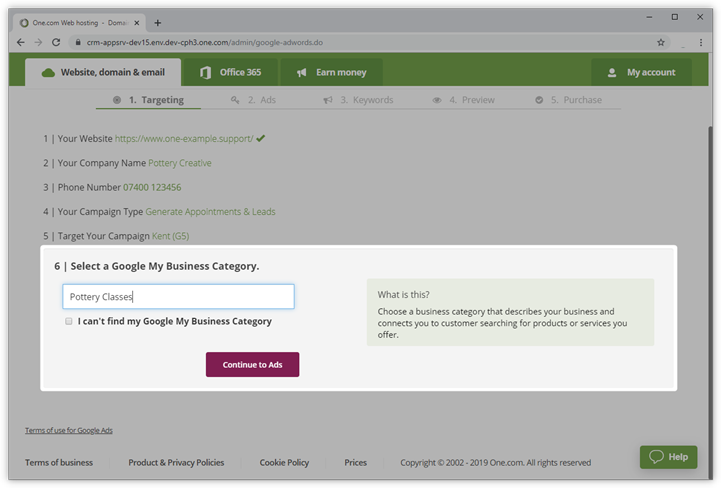 ---
Step 8 - Start building your ad
It's now time to start building ads; we recommend adding at least three. Keep in mind that you can always change the ads later, also while your campaign is running.
Select your main product or service from the available options and click Continue.
Select the business value that best describes your business and click Continue.
We will now generate six potential ads based on the information you've added. Review the ads and select the ones that you want to use. Click the pencil icon in the top-right corner of the ad, to manually adjust the text.
Click Continue to keywords when you are done.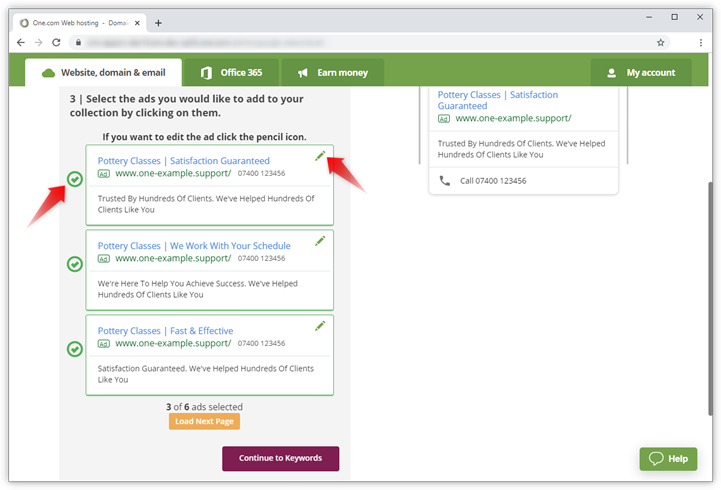 ---
Step 9 - Select keywords
You need to select at least five keywords for your campaign. When potential customers are typing in these keywords, your ad could be shown.
Based on the category you selected for Google My Business, three "themes" are generated, and ten keywords for each theme.
Select the theme that you like best; click I don't like this theme near the bottom to navigate to a different one. If you don't like any of the themes, you may want to change the category for Google My Business.
Select the keywords that you like; you need at least five. Move your mouse over a keyword and click the pencil icon to edit it, or click + Add Keywords to add up to 30 additional keywords manually.
Click Continue to Preview when you are done adding keywords.
Tip: You can always change the keywords you selected, also when your campaign is active.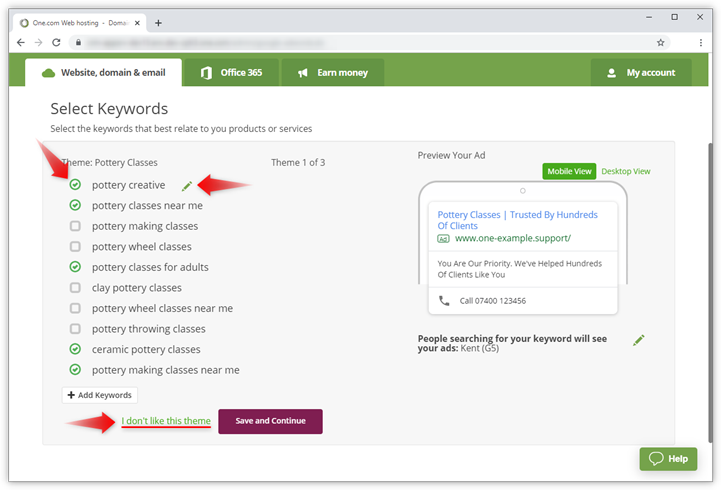 ---
Step 10 - Review your keywords and ad
You can now preview how your ads could look when someone types in one of the keywords you selected. Click Continue to purchase a package and start your campaign.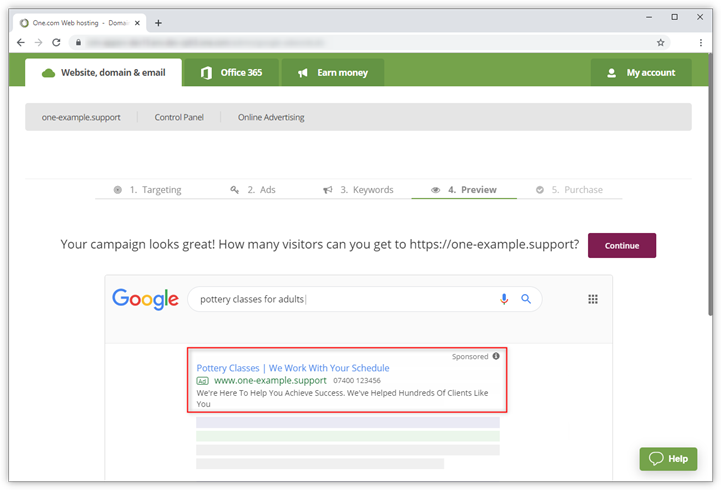 ---
Step 11 - Choose a package
You now need to choose which package you want to purchase. The larger the package, the more clicks you can expect.
Google Ads is billed per month, starting on the day you purchase your campaign. For more information about billing, check this guide: How does billing work for Google Ads?
Tip: If you are creating your first campaign, Google Ads Starter has the best value. Google offers a discount, making the second month free.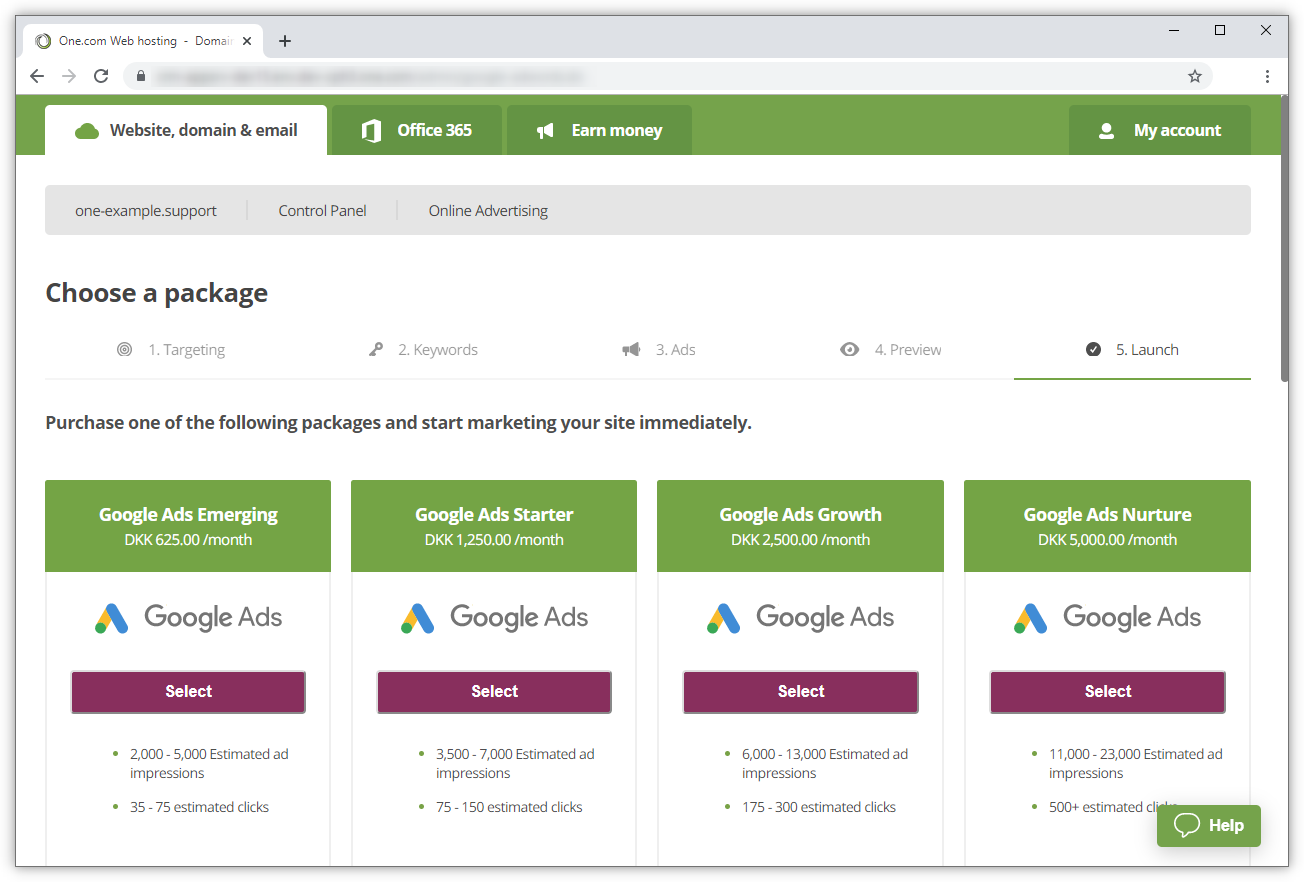 ---
Step 12 - Enter credit details
You need a credit card to sign up for Google Ads. Click Approve and then enter your card details to complete your purchase and start your campaign.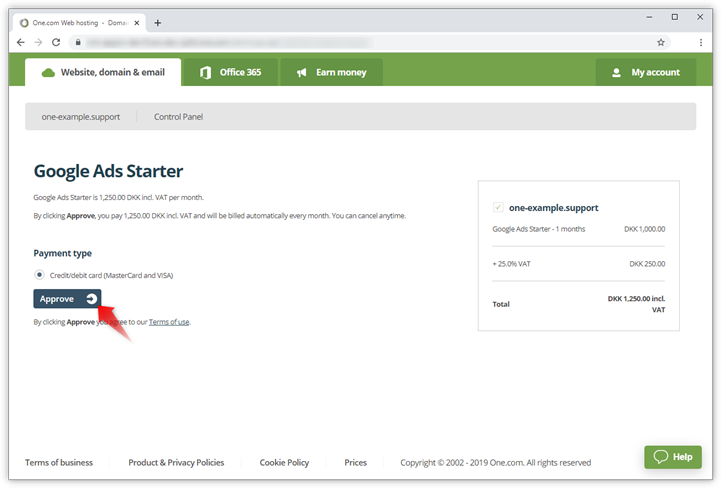 ---
Related articles: