---
Step 1 - Log into the control panel and go to Google Ads
Log into your One.com control panel and click Google Ads on the Marketing tile.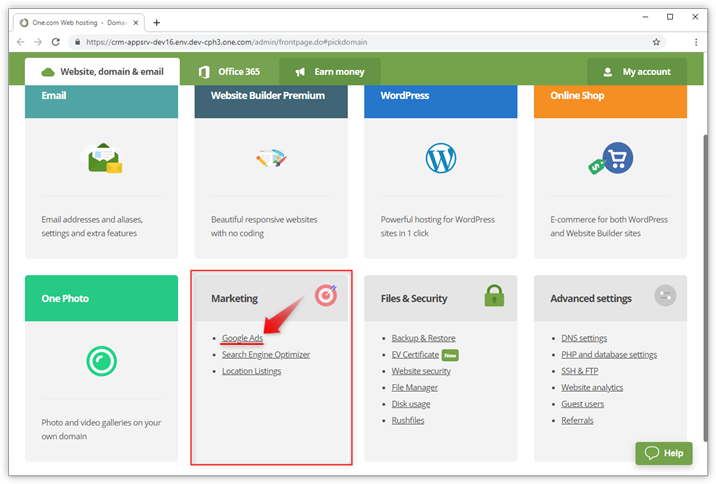 ---
Step 2 - Click Start now
Click Start now, to create your first ad.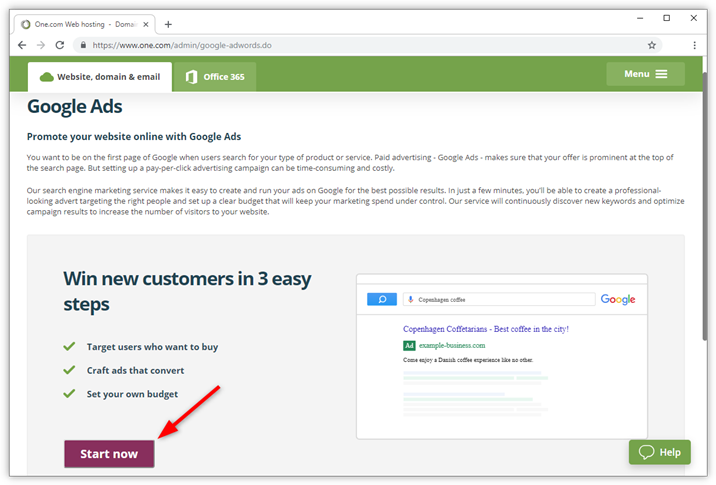 ---
Step 3 - Enter your company name
Type in the name of your company, how it should appear in your ads.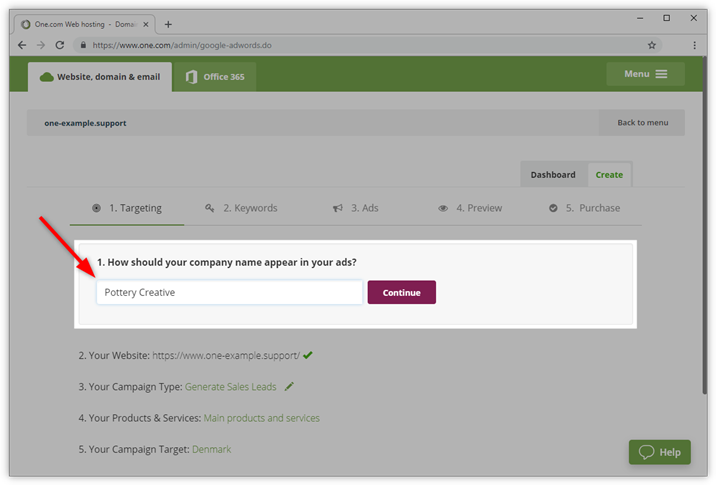 ---
Step 4 - Confirm your site address
Confirm the URL to your site, or change it to a specific URL on your site you want your visitors to enter. You could, for example, create a special page where you give visitors a discount or have a special offer.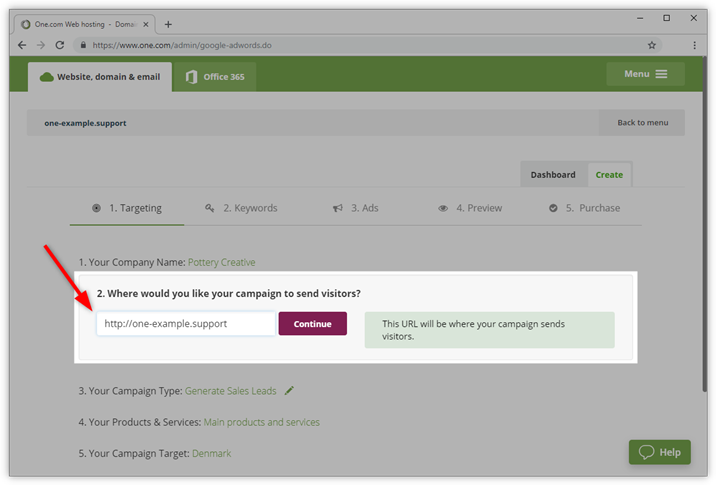 ---
Step 5 - Select the purpose of the campaign
Select the purpose of your campaign:
Generate sales leads - Select this option if you want to attract visitors to your site where they can learn more about the services you offer.
Sell products online - Select this option if you have a webshop and you want to increase online sales.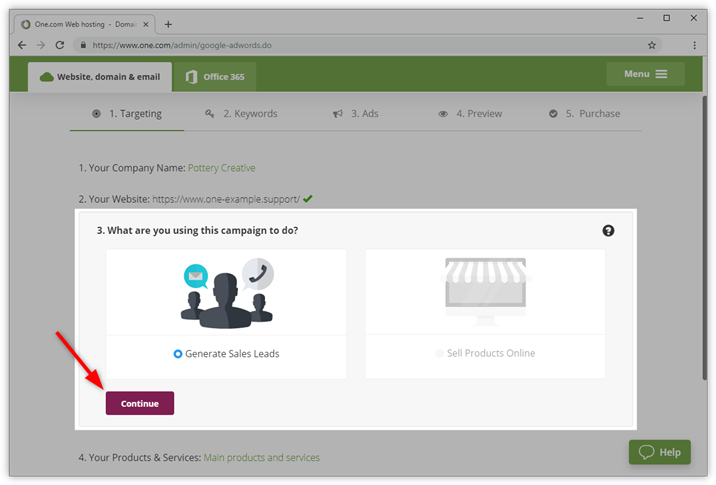 ---
Step 6 - Describe your main products and services
Add at least one description of the services you offer. A description can have 2-4 words.
Tip: Answer the question "My business sells/provides... to describe what you are offering.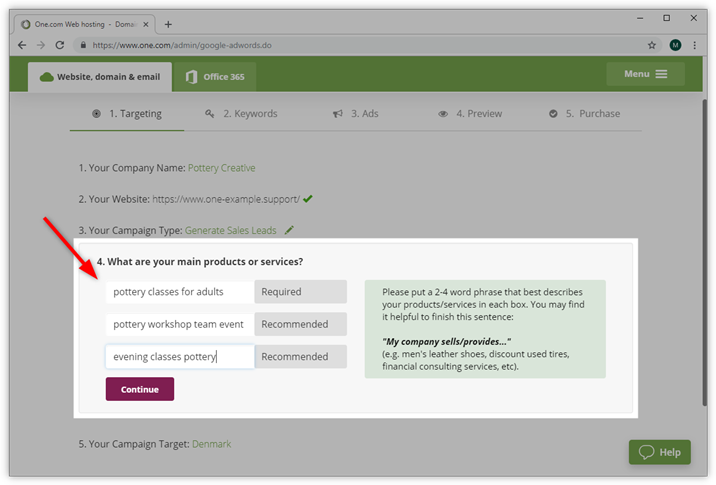 ---
Step 7 - Select the target area of the campaign
Select the area where you want to target your campaign. You can choose a country, region or one or more cities. The regions that are available are the ones that are recognised by Google.
Tip: Limit the target area to where your potential customers are located. If you have a webshop you can target the whole country, but if you sell workshops and courses, most of your customers will probably live close by.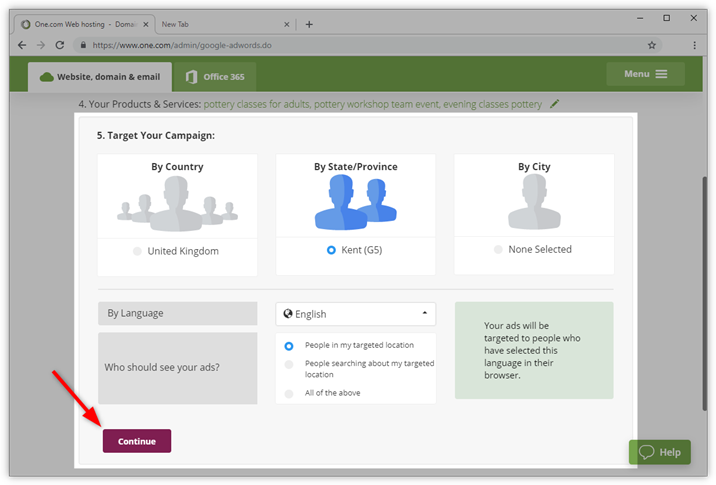 ---
Step 8 - Add keywords
Select at least five keywords for your campaign. When potential customers are typing in these keywords, your ad could be shown.
You are served with several options, based on the product and services you described earlier and content on your site.
Click thumbs up and Add Keywords, if you want to use it.
Click thumbs down and Discard Keywords if you don't like it.
Click Continue when you are done adding keywords, you need to add at least 5.
You can always add more keywords or remove them again, while your campaign is running.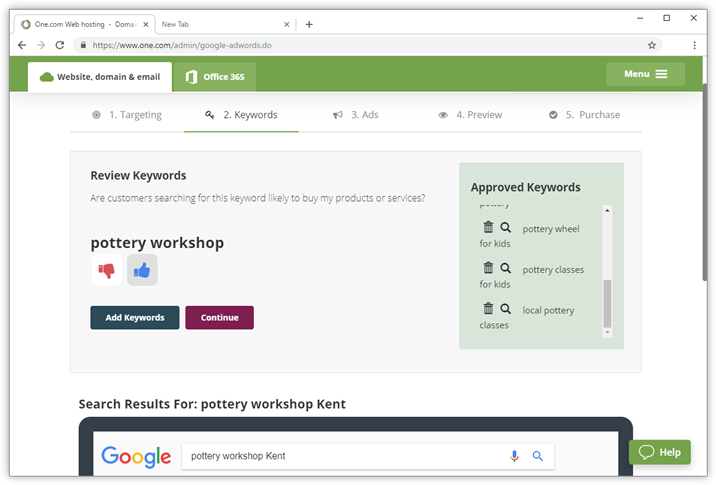 ---
Step 9 - Create an ad for your campaign
It's now time to create an ad for your campaign. You can see the ad on the right of your screen, while you type in the text to the left.
You need to add 2 headlines and a description. Google Ads also comes with suggestions, based on the keywords that you have added. You can change the ad later, also while the campaign is running.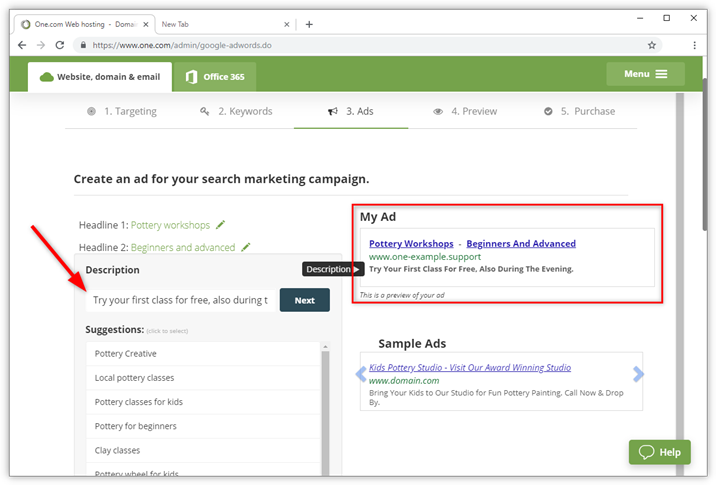 ---
Step 10 - Click Preview
When you are done with creating the ad, click Preview to continue.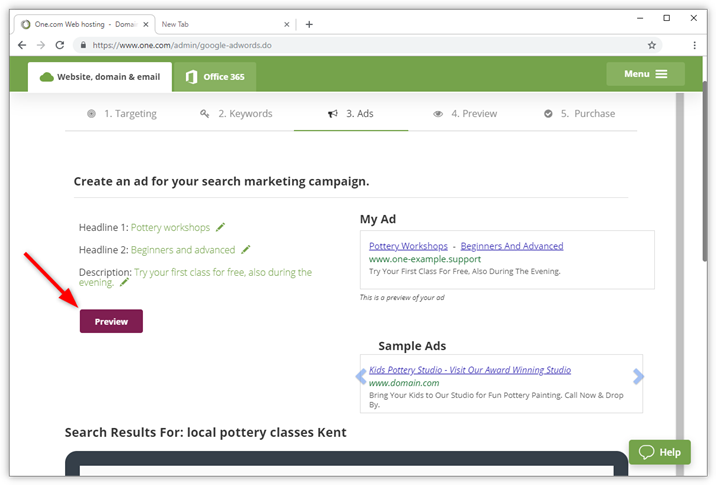 ---
Step 11 - Review your keywords and ad
Review the keywords you have chosen and the ad you just created. Click on the pencil to edit them. Click Continue to choose a package for your campaign.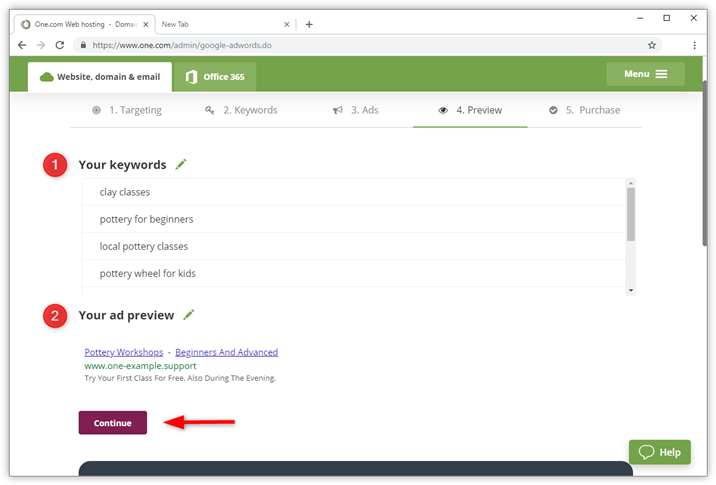 ---
Step 12 - Choose a package
You now need to choose which package you want to purchase. The larger the package, the more clicks you can expect. You can cancel Google Ads monthly, by deleting the campaign.
If you are creating your first campaign, Google Ads Starter has the best value. Google offers a discount, making the second month free.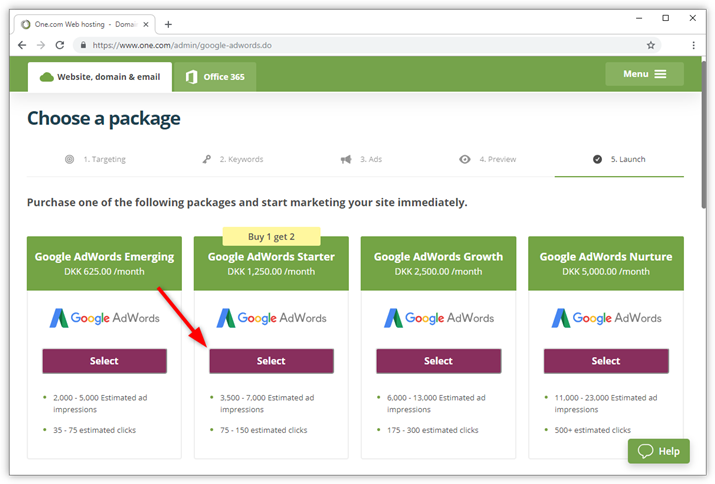 ---
Step 13 - Enter credit details
You need a credit card to sign up for Google Ads. Click Approve and then enter your card details to complete your purchase and start your campaign.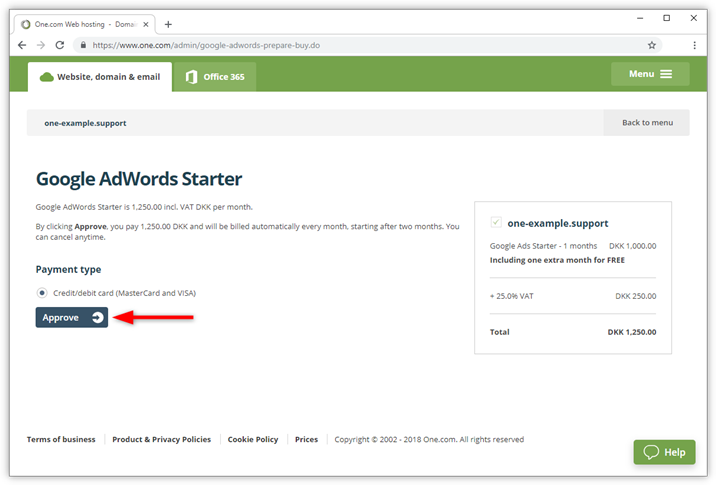 ---
Related articles:
Back