In this guide, we show you how to get started with your new WordPress blog. We guide you through the most basic steps, like how to log in, how to add a post, and how to invite other users.
Tip: Do you still need to install WordPress? Then check these guides first:

---
Access your WP Admin
Your WP Admin is where you manage your blog. Here you can create new posts, review comments, add new users, etc. After installing the one.com plugin you can easily access it from the WordPress section inside the one.com control panel.
Log into the one.com control panel.
Click on the WordPress tile.
Click WP Admin for the blog that you want to manage.
Tip: You can also access your blog via the login page of your WordPress installation. Simply add /wp-admin after the location of your blog, for example: blog.one-example.com/wp-admin.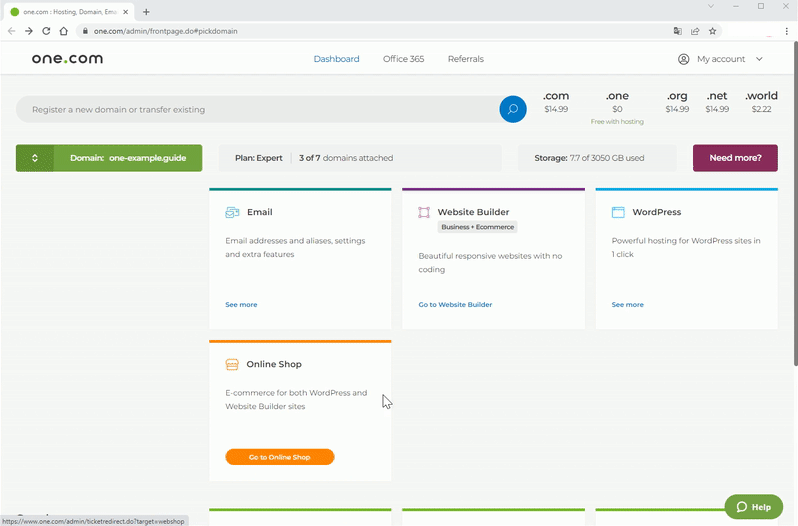 ---
Write and publish a post
WordPress works with blocks to create a post. You can add different types of blocks, depending on what you want to add; a paragraph, image, header, quote, video, etc.
Go to your WP Admin.
Click Posts in the menu to the left, to see an overview of all blog posts you currently have.
Click Add New at the top of the screen.
Start by typing in a title. Add paragraphs, headings and other content by clicking on the + icon.
Click Preview to check how your post will look online.
When you are satisfied with the result, click Publish, to make the text visible on your blog.
Learn more about blocks in this official WordPress.com support guide: Working With Blocks.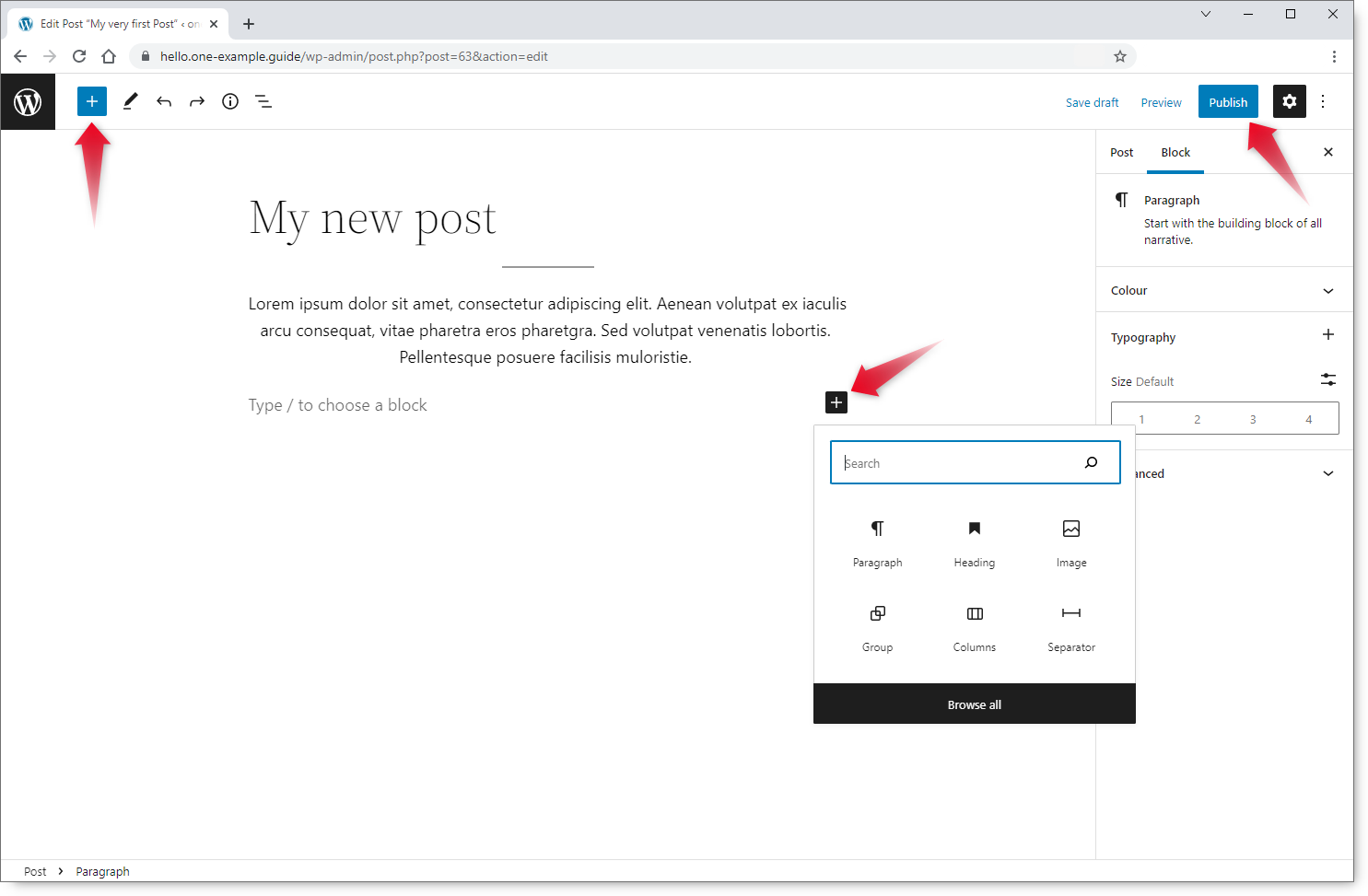 Tip: If you don't like to work with the block editor you can install a plugin called Classic editor, which allows you to use the editor from previous versions.
---
Include an image or other media
It is very easy to add images or other media to your posts in WordPress. You can upload an image, choose one from your media library, embed an image from Instagram, or even include a video from Youtube and Vimeo.
If you want to add it while editing a post:
Click the + icon or simply type /image or /gallery.
Select an Image, Gallery, or another block for adding media.
Upload the file(s), select from your media library or add a URL.
Click Preview to check how your post will look online.
When you are satisfied with the result, click Publish, to make the text visible on your blog.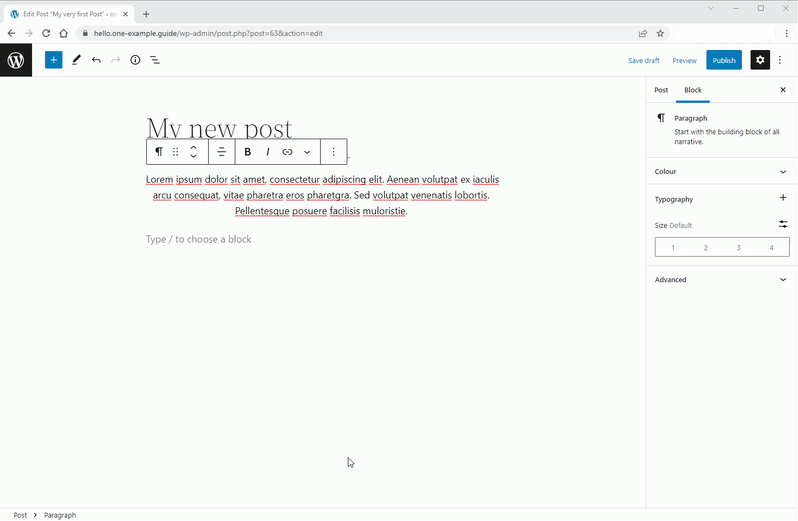 ---
Add a new page
With WordPress, you can have multiple pages, for example, a contact page or a page with information about the blog and you.
In your WP Admin, click Pages in the menu to the left.
Click on a page to edit an existing one, or click Add New to add a new page.
You can edit pages the same way as posts, by adding blocks for the different types of content.
Tip: Under Settings > Reading you can select which page should be your landing page, if you want another page than the one where your posts are located.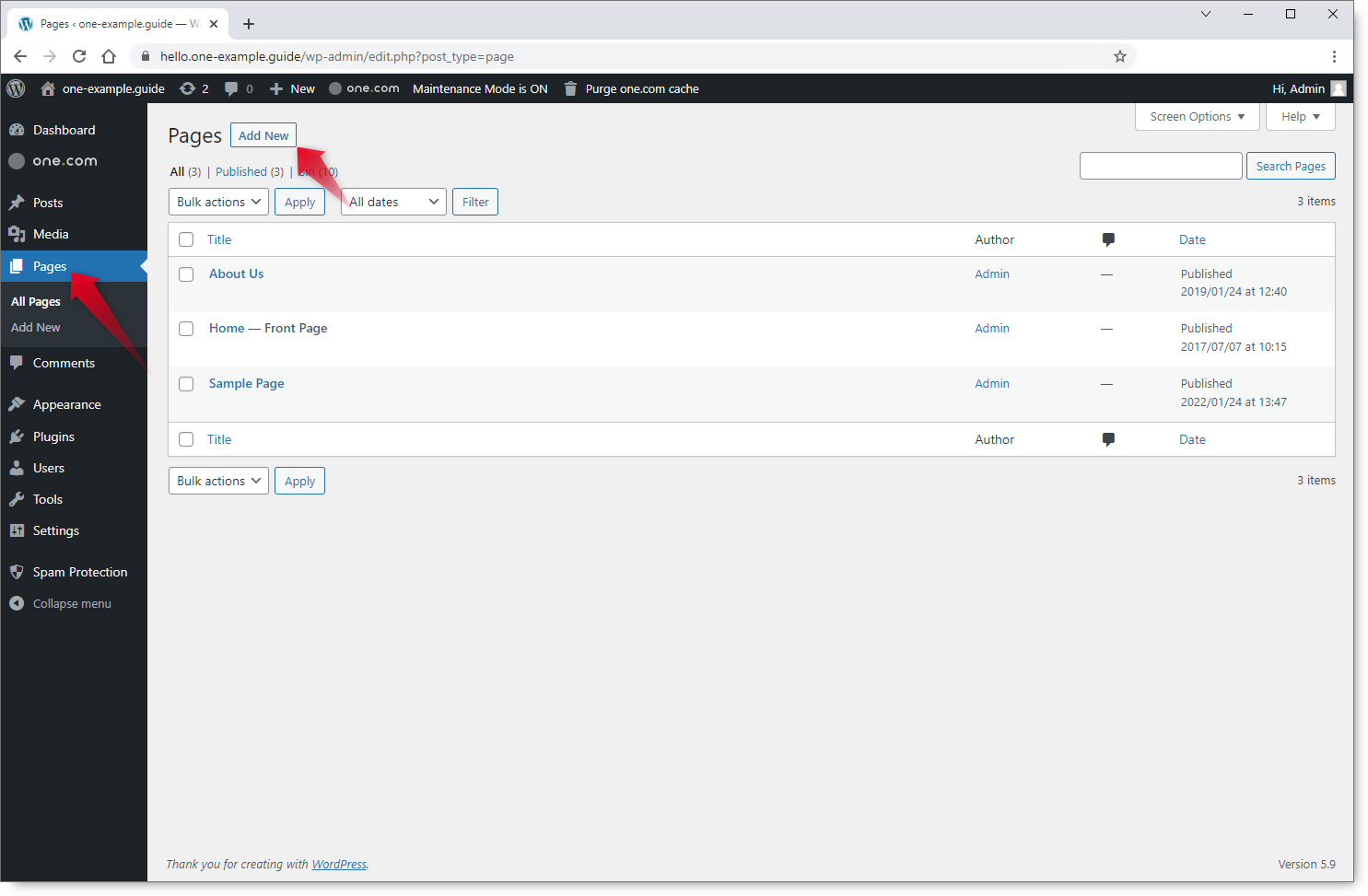 ---
Manage and invite other users
You can easily add new users to your blog. You can select different roles that each have a certain level of access. By default, the blog owner is the Administrator. Only an Administrator can invite new users or change the roles of existing ones.
In your WP Admin, click Users in the menu to the left.
Click Add New to add a new user.
Type in a username and email and select a role for the user.
Click Add New User to save your settings and to send an email to the new user, if you have selected this option.
Learn more about the different roles: Roles and capabilities.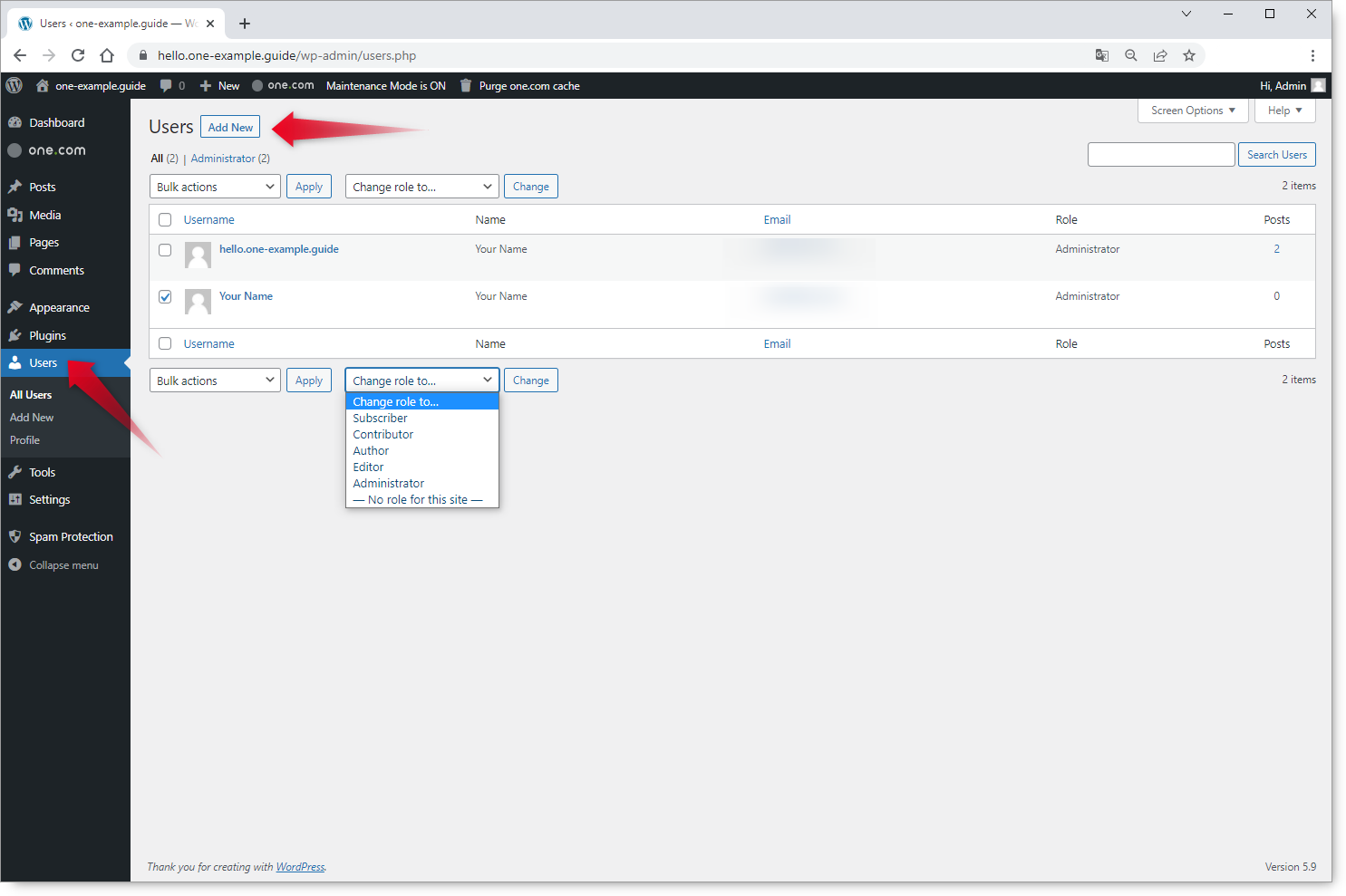 ---
Edit your profile settings
Under "Profile", you can change the colour scheme, add a picture, or change your password.
In your WP Admin, click Users and then Profile, in the menu to the left.
Change your settings and click Update profile at the bottom of the page.
Tip: To add a profile picture, you need to log in with your WordPress account on Gravatar. Once you have uploaded a picture, it will automatically become visible on your WordPress profile.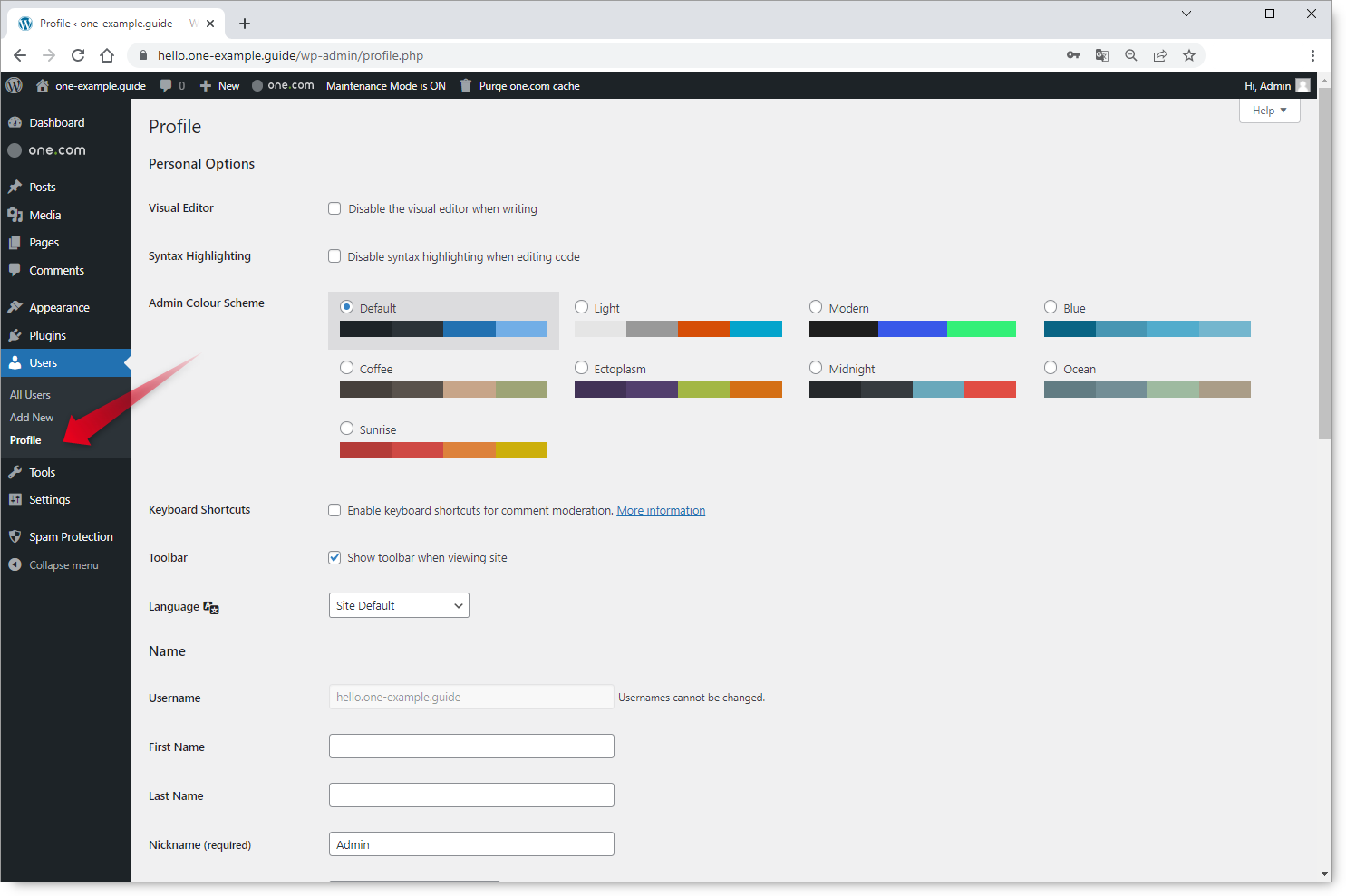 ---
Change your theme
There exist thousands of WordPress themes that you can install on your site. As a one.com customer, you have exclusive access to the one.com themes for WordPress. We have created separate guides for this:
---
Install additional plugins
One of the big advantages of WordPress is that you can easily add extra features and tools by installing plugins. For example, a contact form, improved SEO, or anti-spam measures. There are some premium plugins that you need to pay for, but most are completely free.
In your WP Admin, click Plugins and then Add New in the menu to the left.
Browse the available plugins, or search for keywords or functionality.
Click Install now, if you have found a plugin that you like.
Go to Installed plugins, to find the plugin you just installed and click Activate.
Under one.com Plugins you can find several plugins that we have developed for WordPress. You can also find a list of plugins that we recommend and a list of plugins that we advise you not to use.
Tip: Not sure what plugin to pick? Check our blog post: What are the best WordPress plugins?.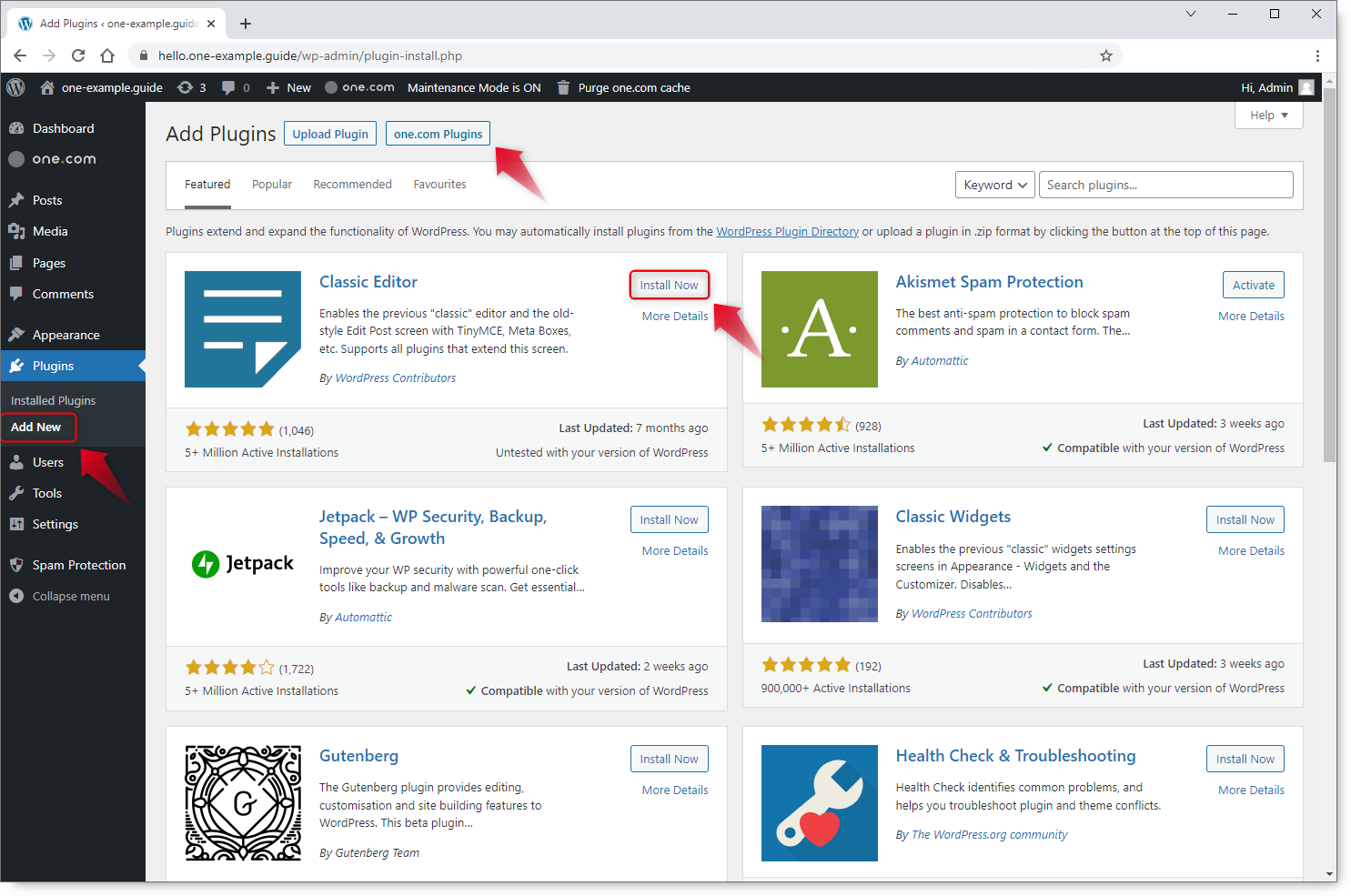 ---
Manage comment settings
One of the characteristics of a blog is that readers can comment on the things you write about, so of course, this is also an essential feature in WordPress. However, to avoid spam abuse, we recommend that you limit commenting to users that are logged in.
In your WP Admin, click Settings and then Discussion in the menu to the left.
Check the box for "Users must be registered and logged in to comment", if you want to enable this setting.
Change other settings, for example, when to be notified about new comments or list terms that aren't allowed in comments, like abusive language.
Click Save Changes.
Tip: When a new comment is waiting for your review, a notification will be visible in the menu to the left and at the top of your WP Admin.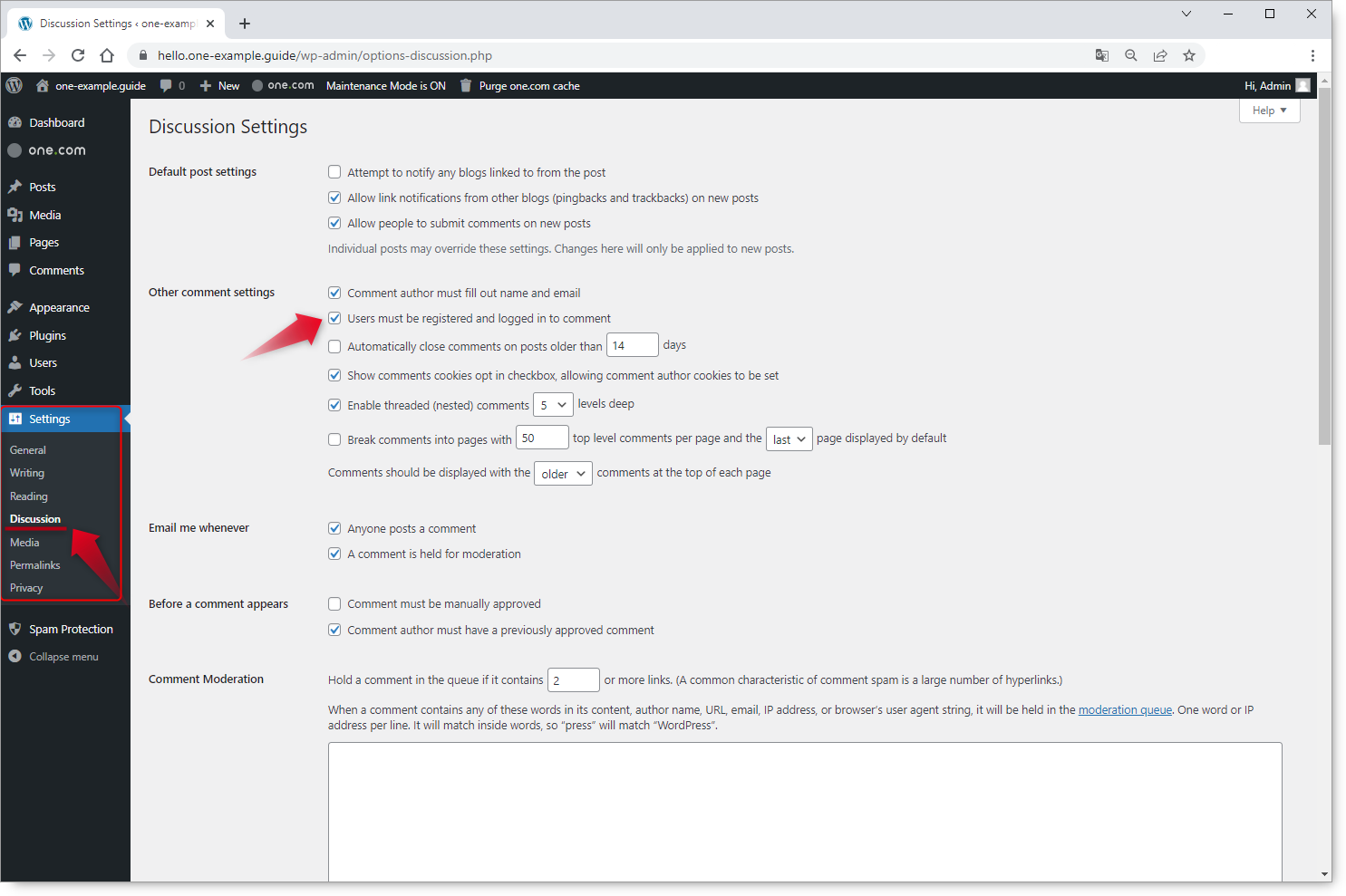 ---
Related articles: