Smart Shopping campaigns can help you boost sales in your online shop. If you're using the one.com Online Shop in Website Builder, you can easily set up a shopping campaign from your control panel in a few steps.
---
What are Smart Shopping campaigns?
Smart Shopping campaigns place your product ads on various Google platforms, such as at the top of Google's search results, on YouTube and Gmail. The ads include the product's image, price and a link to your shop. When potential customers search for a specific product, your shop will show up as one of the main suggestions. That's how Smart Shopping campaigns can not only help you sell more of your products but also attract potential new customers.
Tip: Want to learn more? Watch this video to see how Google explains it: About Smart Shopping Campaigns
---
Smart Shopping campaigns with one.com
With our Smart Shopping integration for the one.com Online Shop, setting up a campaign is easier and faster than creating it with Google directly. The integration leads you through all necessary steps and helps you set up everything that is needed to promote your products on Google.
On top of Smart Shopping campaigns the integration also gives you statistics for your shop. You can see them in your Online Shop dashboard under Analytics.
---
How can I set up a campaign?
You can set up and manage your campaigns from the Online Shop tile in the one.com control panel.
In your Online Shop dashboard, select Marketing.
Select which country you want to show your products in, which category your shop belongs to and which condition your products are in. Then, click Continue.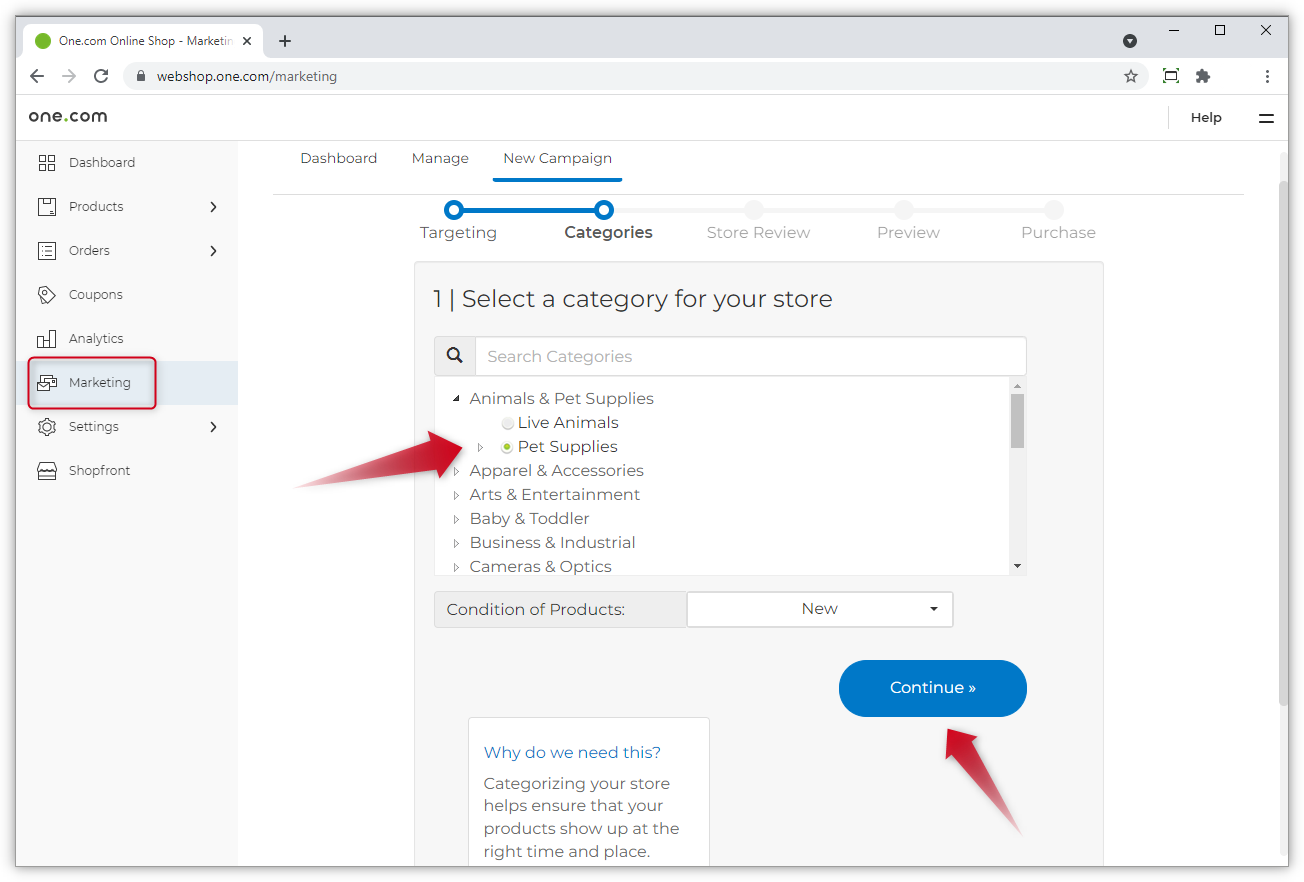 Pick the products that you want to advertise and click Continue to Store Review.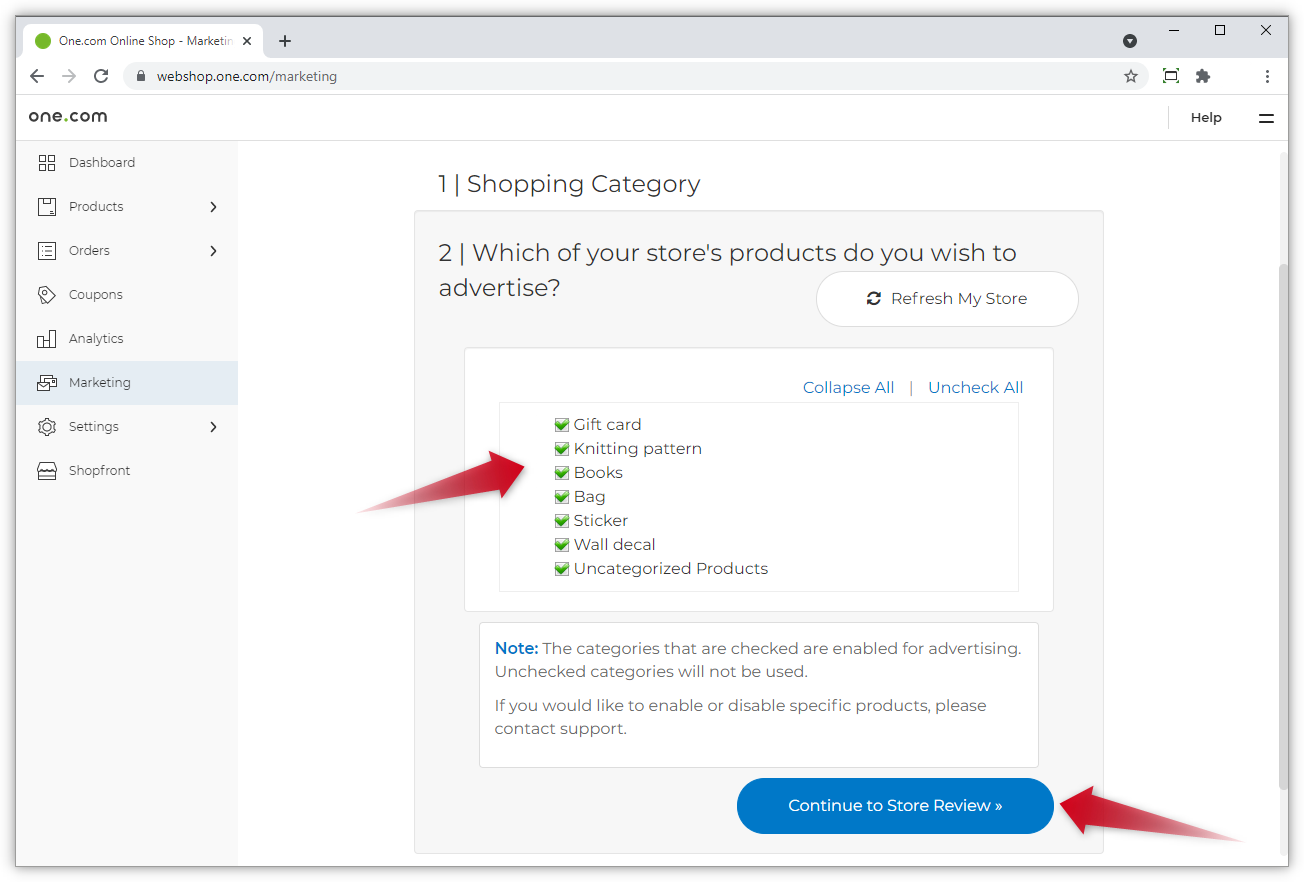 Your store will now automatically be checked and you will see a notification if any information is missing, for example, your shop address or phone number. Fix any potential issues, click on I fixed this, refresh my store to get it checked again.
Then click Continue to Preview.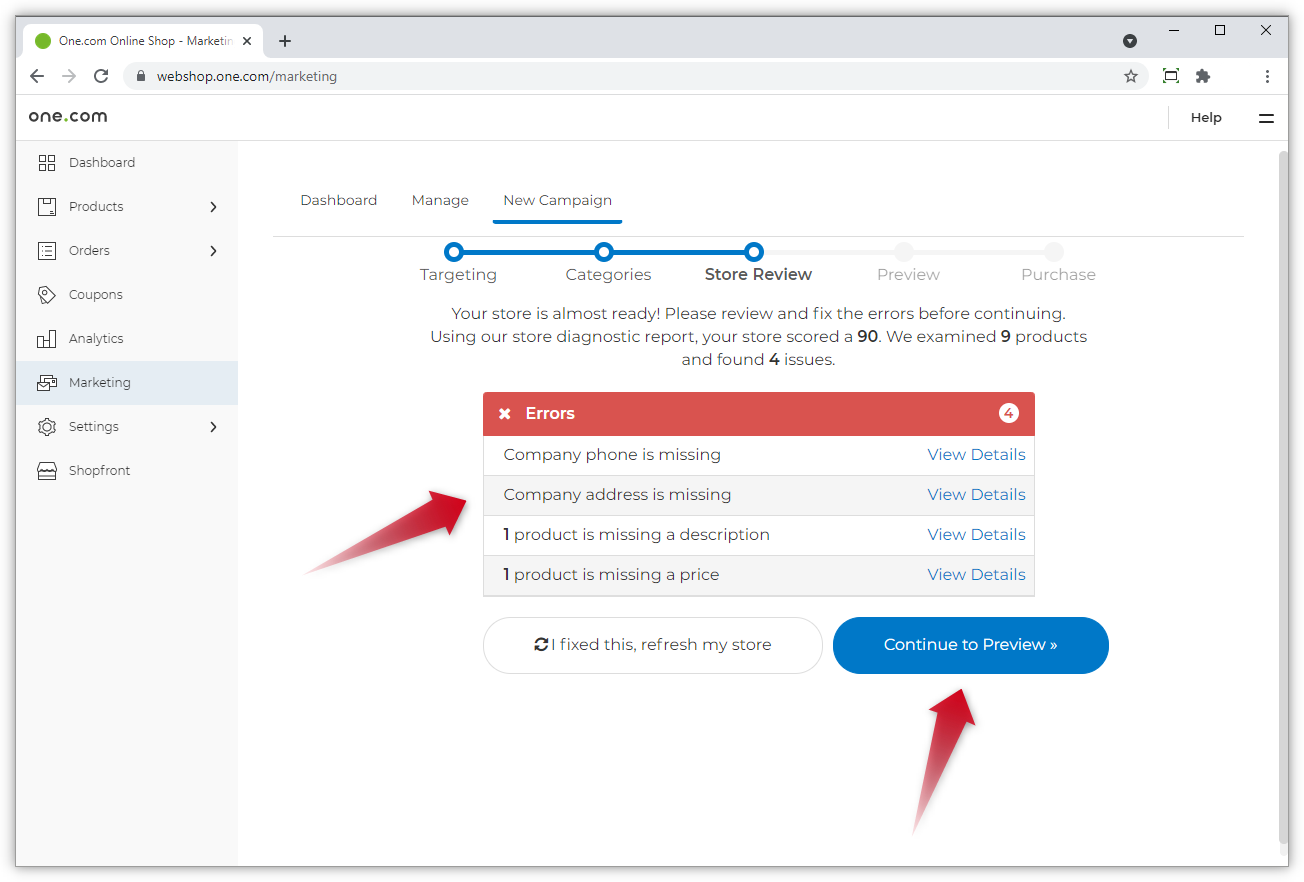 You'll see a quick overview of how many products you will advertise and in which country. Click Get my store on Google.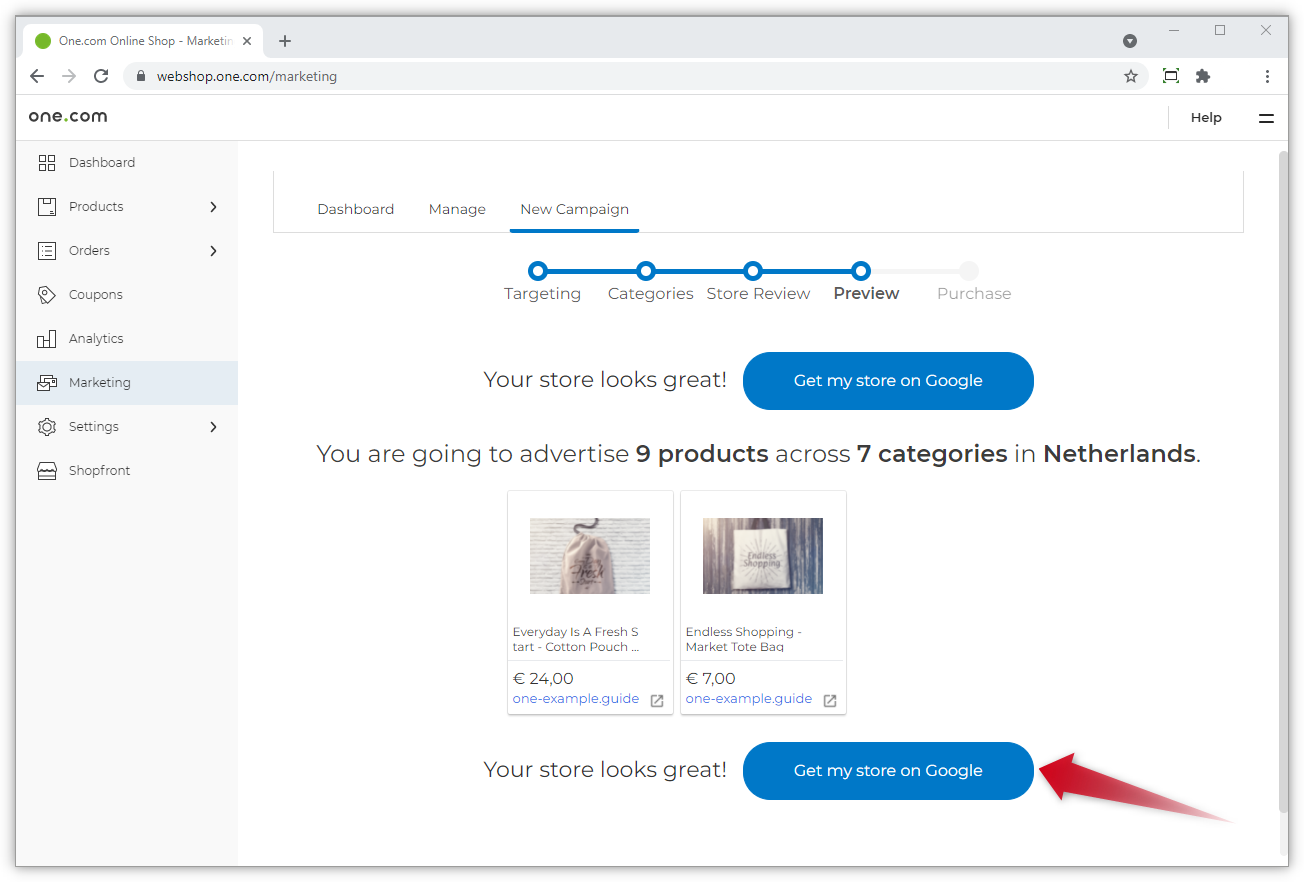 Choose the package that you want to use.
That's it! Your Shopping campaigns will now be live on Google.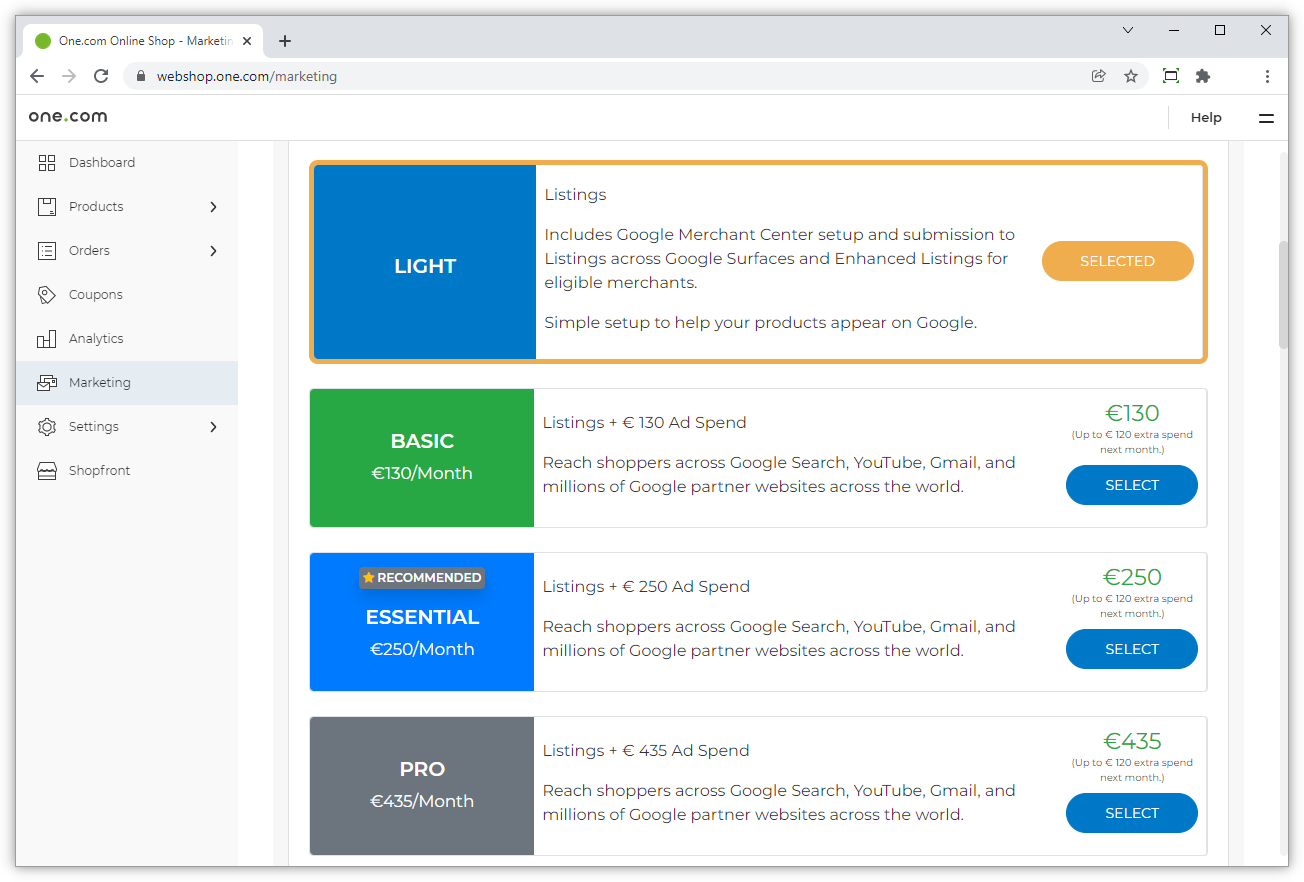 ---
Which statistics are shown?
In the Analytics tab in your Online Shop dashboard, you can find various statistics about your shop. For example:
Number of visitors
Revenue
Number of orders
Number of items per order
Top products
Top categories
Locations that the visitors are ordering from
You can choose if you want to see the statistics for one day, a week, a month or a customised period.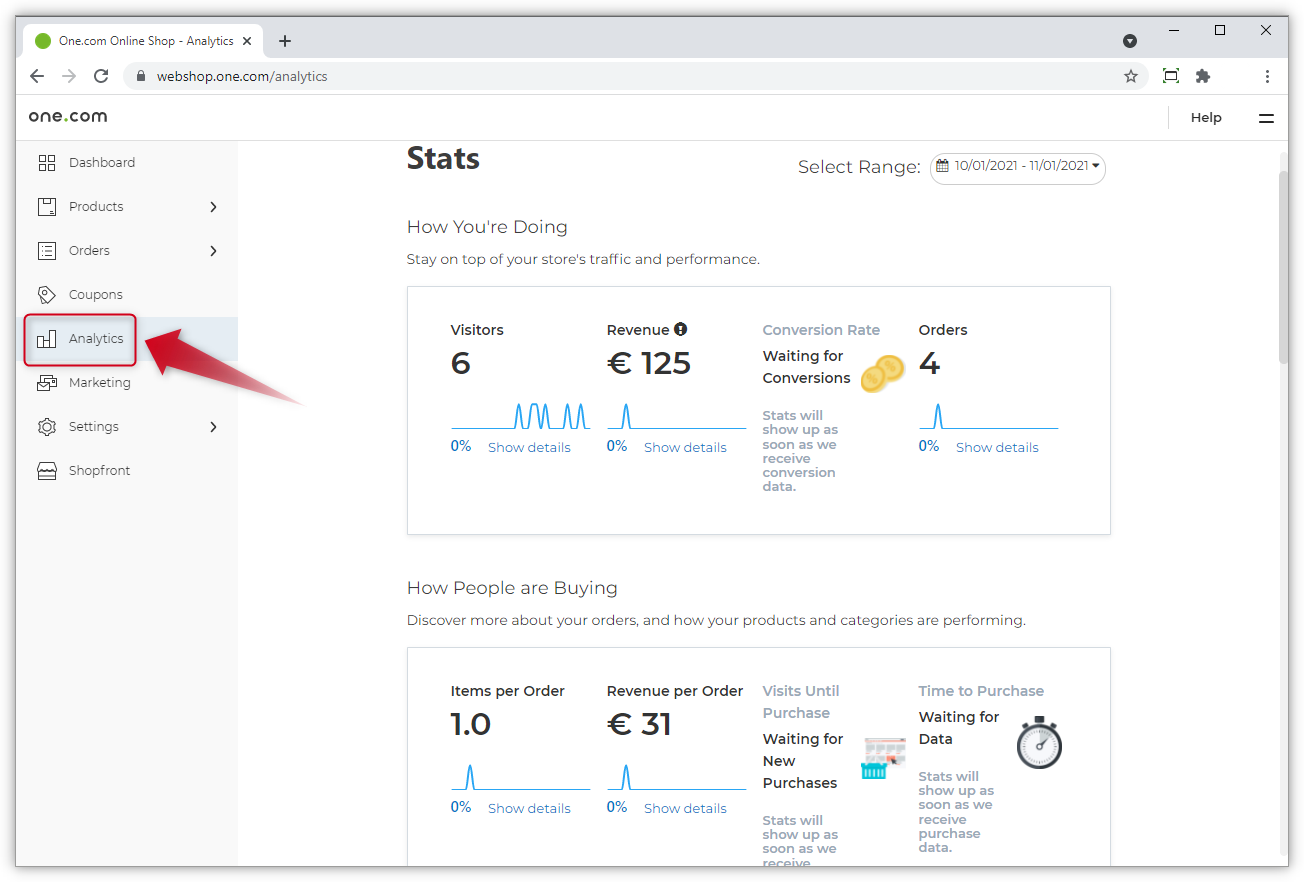 ---
Related articles: