Every day, customers search online for a product or service like the one that you are selling. With Google Ads, you can create an ad that shows up at the top of the search page when someone is searching for a product or service like yours. This helps your business to stand out in online search results by popping up at the right time for the right audience.
With more people than ever before shopping online, there's never been a better time to try Google Ads for your business.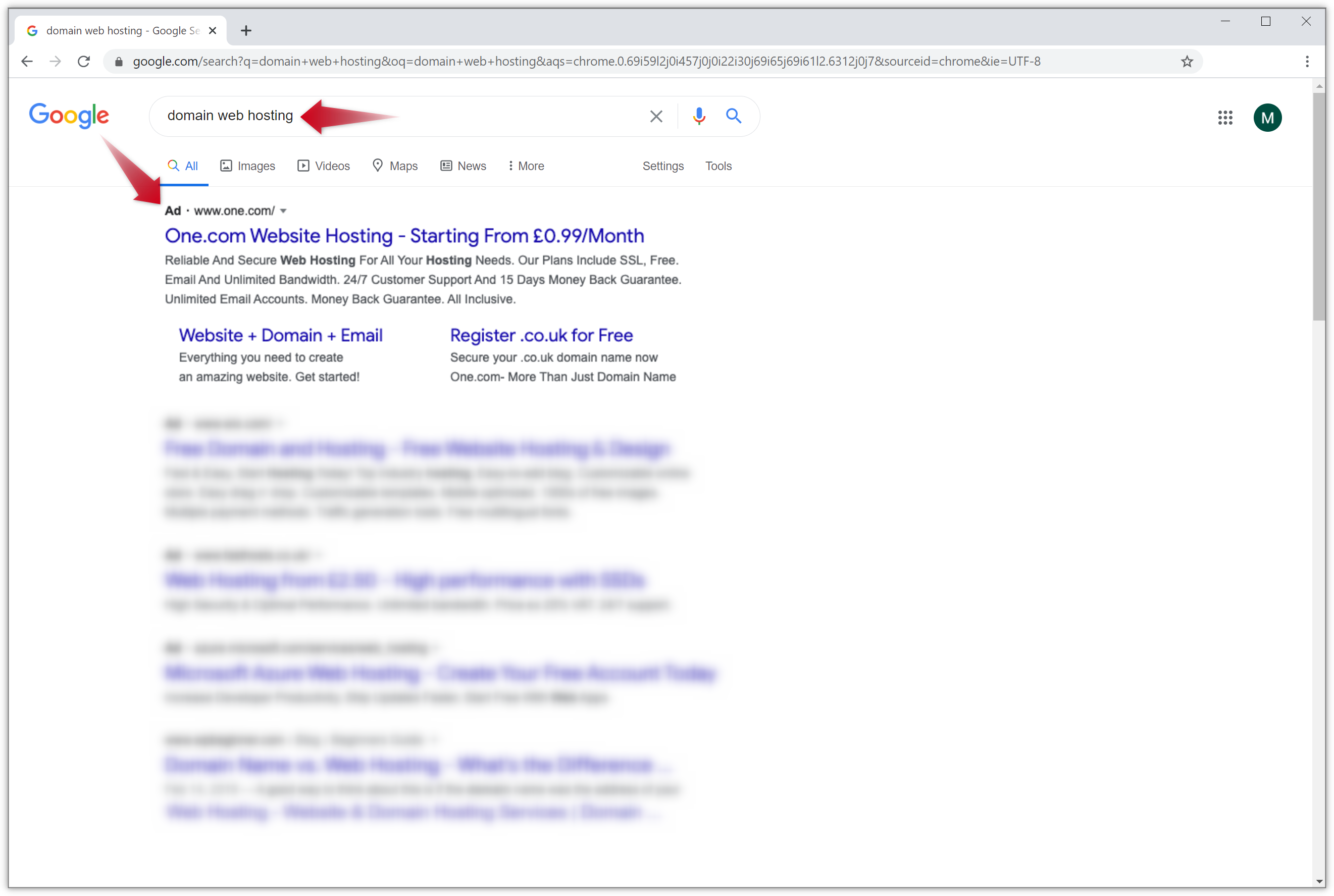 ---
How does Google Ads work?
Google Ads is a form of pay-per-click (PPC) advertising, meaning that you only pay when someone clicks your ad. The ads are shown on the search engine results page when someone has searched for the relevant keywords.
To determine which advertisements are shown, the lightning-fast Google Ads auction is run for each search. Each ad is given a score based on the maximum bid (the maximum amount you are willing to pay for a click on your ad), the quality of your ad (relevance and usefulness) and additional information (phone number, links) you've included. The ad with the highest score will be shown at the top of the page.
---
Buy Google Ads through your one.com control panel
Working directly with Google Ads can be confusing and time-consuming, especially if you have no experience with online marketing. That's where our Google Ads service makes things easier.
We help you create your ad, make sure that it looks good and contains the relevant information. Based on the information you entered, we suggest relevant keywords that give the best return on your investment. Once your ad is set up, our algorithms automatically do the bidding for you, while staying within your monthly budget.
All you have to do is sign up via the one.com control panel and follow the easy step-by-step instructions.
Here's the information you need to create your first ad:
Your website's URL (link).
How your company name should appear in your ads.
Your business's phone number.
Your campaign type; lead generation or sales.
Your target campaign (eg. radius, region, country, language).
Your business category (eg. shoe-maker, florist, restaurant).
---
Choose the right level to suit your business and your budget
At one.com, we offer four different Google Ads packages (levels) to choose from: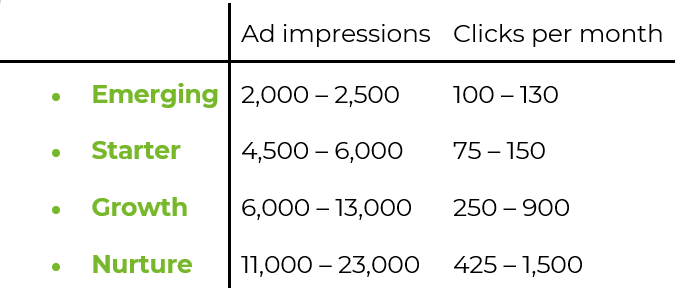 "Ad impressions" indicates the number of times your ad will be shown, and "Clicks per month" is an estimate of the number of times that a potential customer clicks your ad and ends up on your website.
Google Ads is billed per month so that you can adjust or cancel your package on a monthly basis.
Tip: As a one.com customer, you benefit from a special discount if you're new to Google Ads; a 'two-for-one' offer with the Starter package, giving you the second month for free!
---
Monitor your campaign with the tracking code
By adding a tracking code to your website, you can monitor the effectiveness of your campaign in the Google Ads dashboard. It tells you how your keywords are performing, the type of engagement visitors have on your site, and the landing page they enter. This information can help you tweak your campaign, and get more out of your clicks.
If you use Website Builder you can easily enable the tracking code under settings. If your site is made with WordPress you need to download and install a plugin.
---
The main advantages of using Google Ads through one.com
We created our Google Ads service to be simple and cost-effective. Our step-by-step tool gets you started in minutes, even if you're completely new to online advertising.
To sum it up, below an overview of the main advantages of online advertising with Google Ads using one.com's service:
Reach your target customers when they search for a product or service online.
Add your business phone number to your ad so your customers can call you.
Select the right keywords to connect with your target audience, with our help.
Automatic bidding and optimizations for the best return on investment.
Measure the success of your ad through a simple dashboard monitor.
Control your advertising budget and pay only when you get results.
Edit, pause or cancel your Google Ad campaigns at any time.
Tip: Want to learn more? Watch the video to see how Google explains it: Get Started with Google Ads: What are Search Ads?
---
Related articles: