In this article, we have listed all the new and improved features in our Webmail. We've completely redesigned our Webmail, making it more intuitive and user-friendly.
Don't hesitate to contact our support if you can't find your answer here.
---
More intuitive and user-friendly
We've designed the new Webmail for you, with quick access to all your tools, easier use, and a more precise design. We've improved readability with a new layout with more contrast. All these changes will help you get the most out of Webmail with less effort.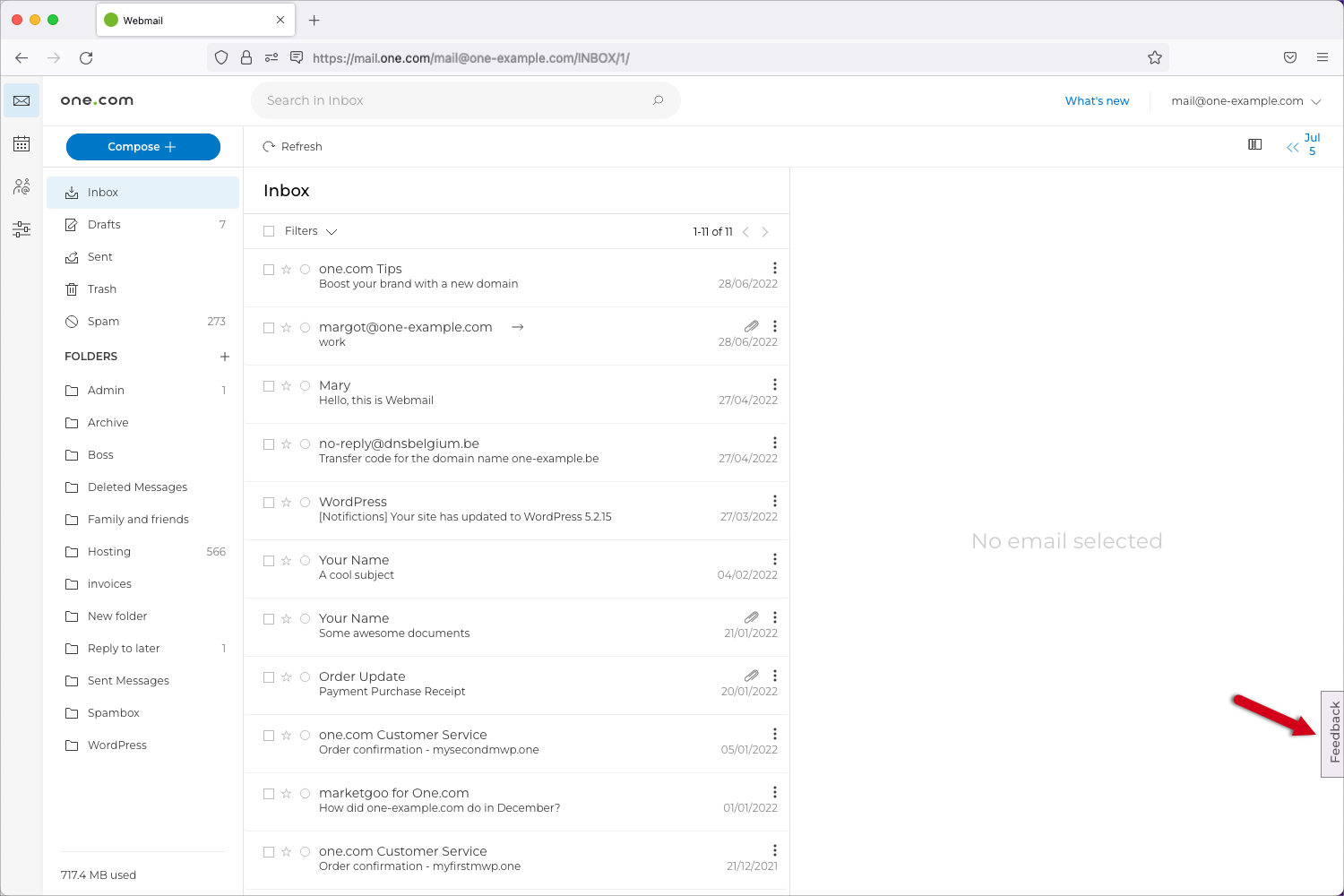 We hope you like our new Webmail as much as we do! You can let us know what you think by using the feedback button in the bottom right in Webmail. We appreciate all feedback.
---
Change your colour theme
You can customise Webmail's appearance by changing the buttons and text colours, and you can choose between blue, pink, turquoise and dark theme.
Click on your email address in the upper right corner of your Webmail and choose Colour theme to change it to the colour of your choice.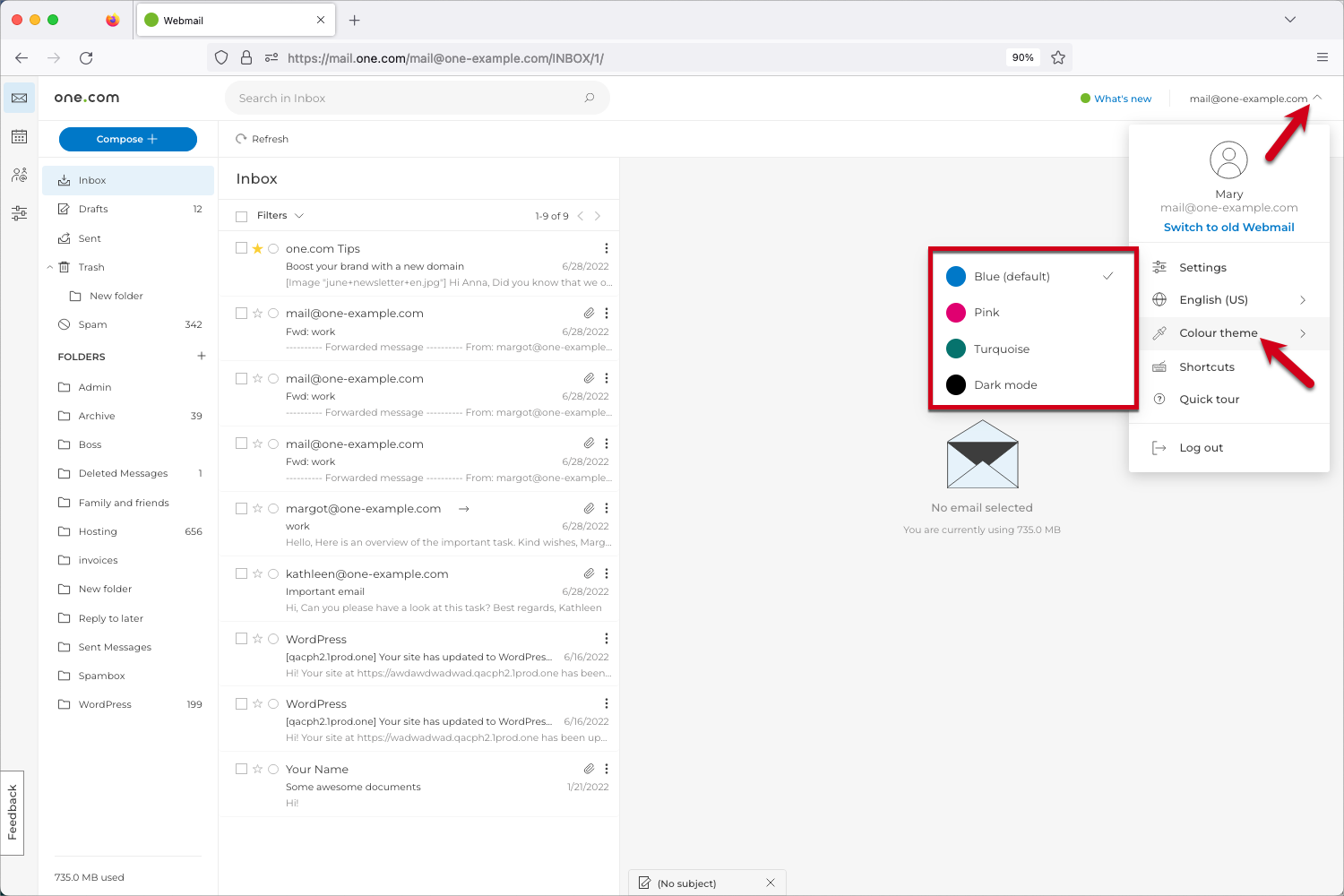 ---
Attachments are easier to find
Email is a powerful and secure way to share files, and now we've made file attachments easier to find so that you won't miss any important ones.
Before you even open an email, you can see whether it includes attached files. You will now find the attachments at the top before the message text when you open the email.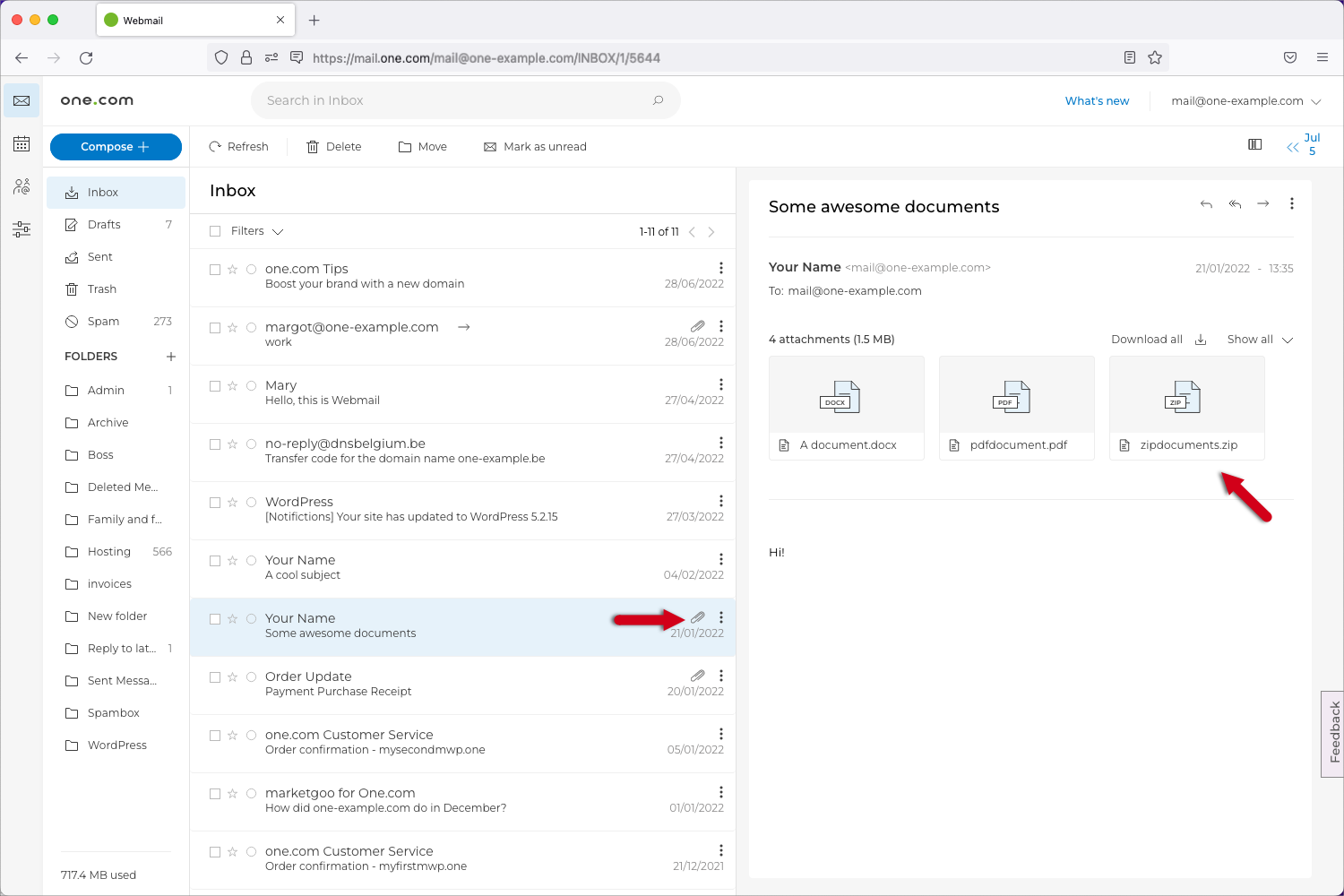 ---
Easy email actions
We've gathered all the most common functions in one place for easy access. Right-click any email in the list and take action without opening it, or click the three dots to the right.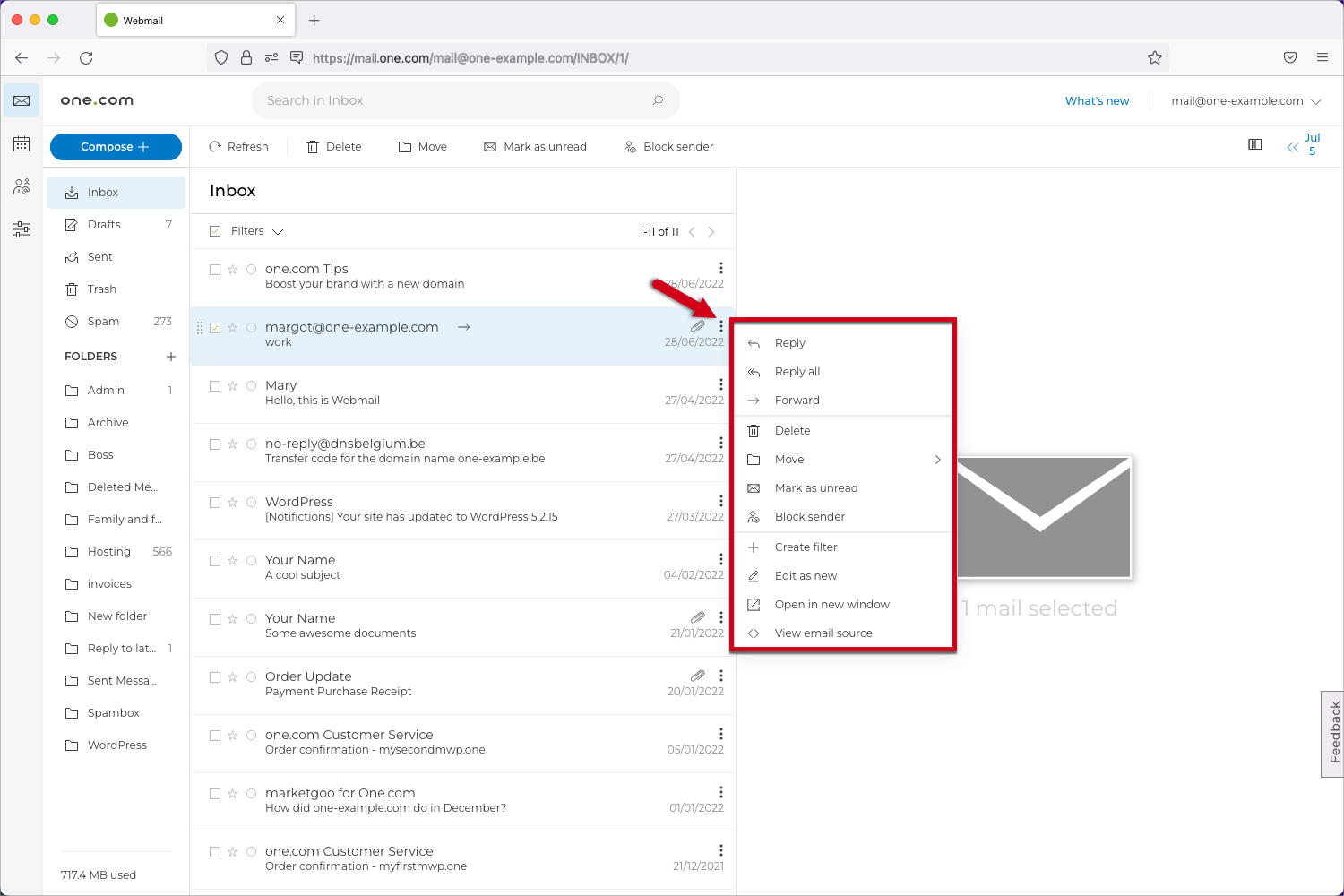 ---
More security with Login alerts
With Login alerts enabled, you'll receive an SMS whenever someone logs in to Webmail from another country.
Travel frequently? Add trusted countries to the list to avoid receiving SMS alerts when logging in to Webmail from these countries.
Click on the Settings icon in the menu to the left and select Login Alerts to enable Login Alerts.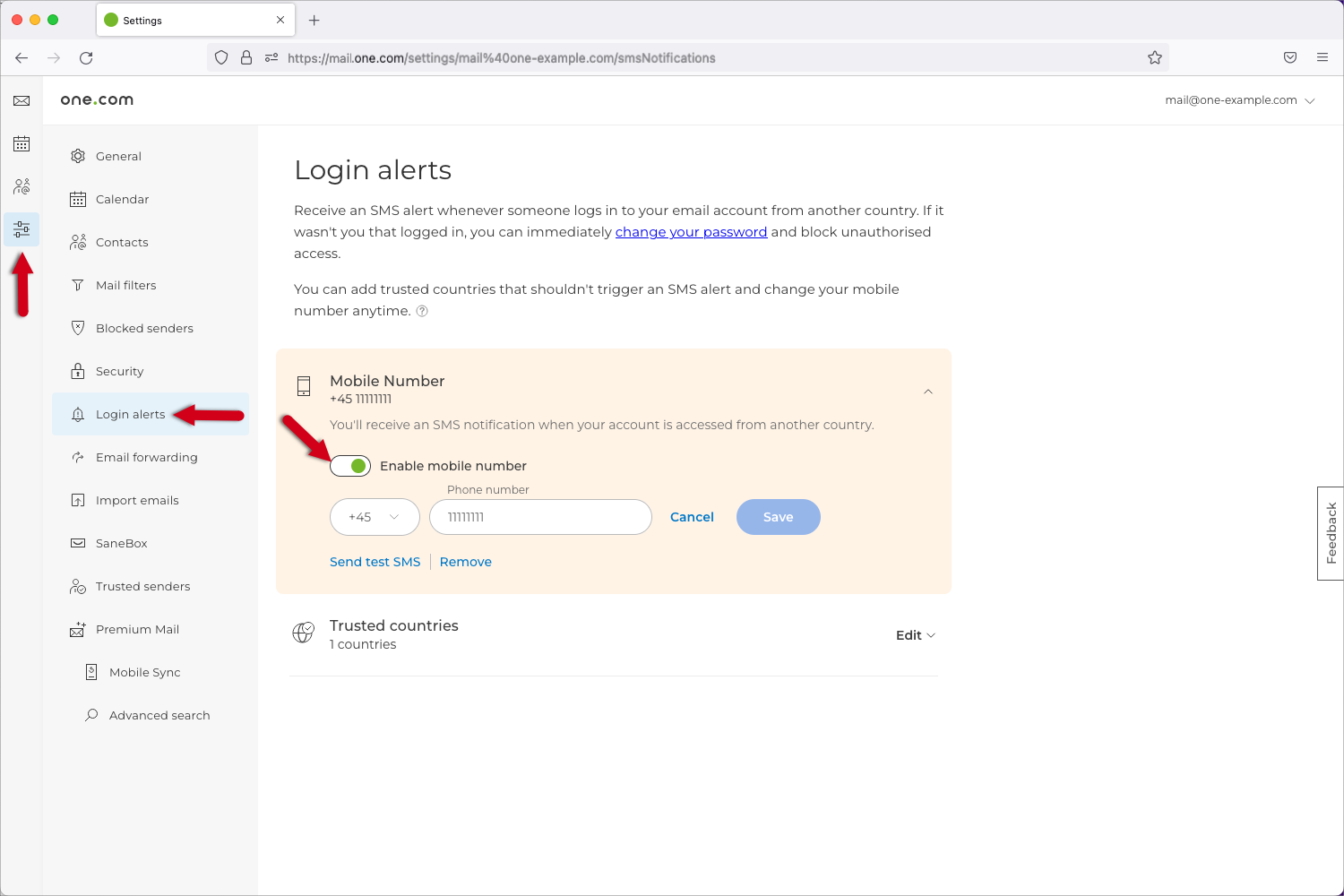 ---
Improved drag and drop functionality
With enhanced drag-and-drop, you can click and hold selected messages or folders and move them to other folders. It is an intuitive way to organise your Webmail.
You can, of course, also move emails by clicking the three dots on the email → Move → Choose a folder.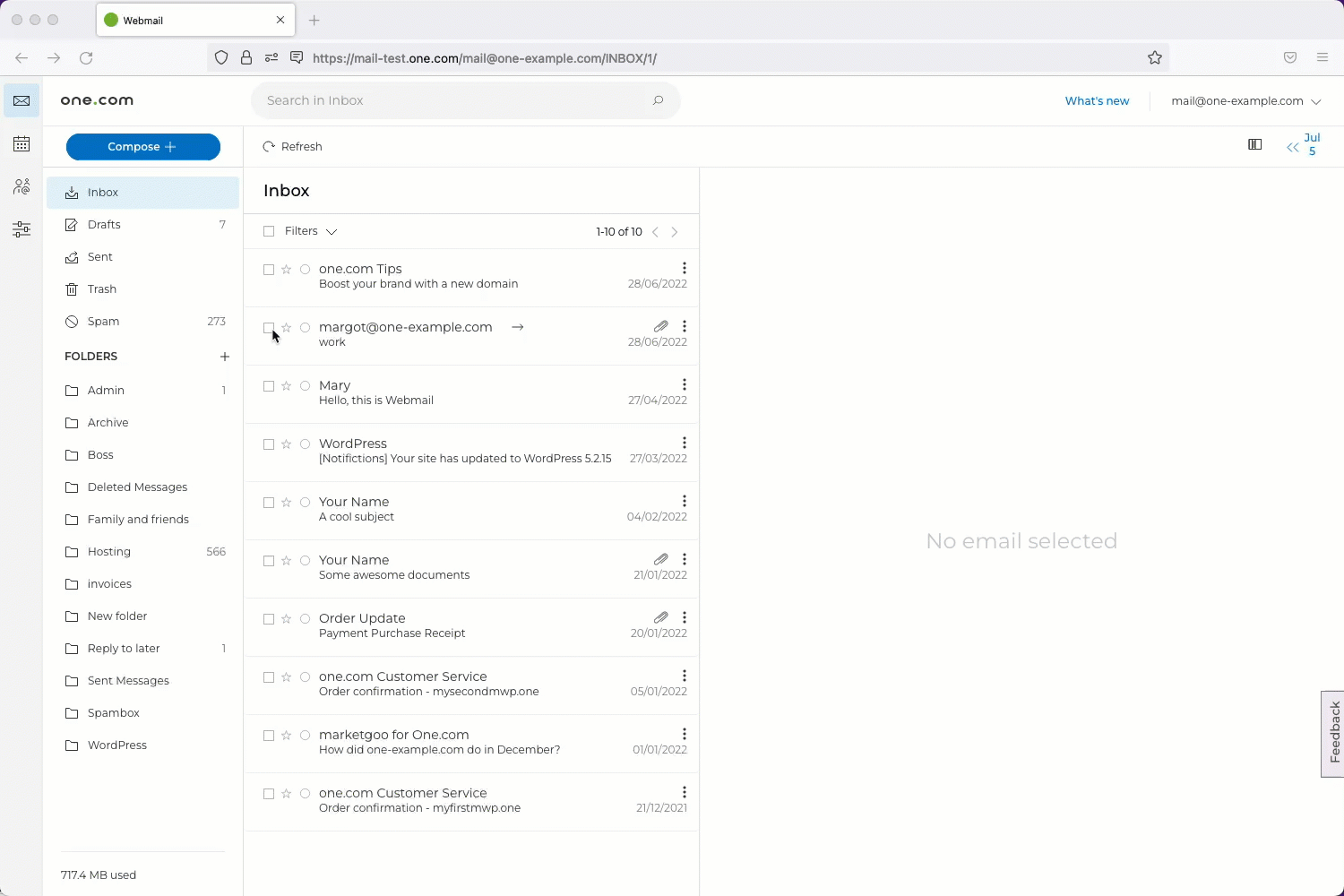 ---
Create filters even more easily
Webmail filter automation helps you to save time. With a few clicks, you can set up custom actions and filtering.
You can, for example, send all future emails from a specific sender automatically to a chosen folder or mark messages from important senders with a star, so you don't miss them. Filters can also read the subject of an email, and for example, move all messages including the word "invoice" to a given folder. To learn more about when filters are helpful, check out this guide.
There are two ways to create filters: Click the Settings icon in the menu to the left → Mail filters → Add mail filter.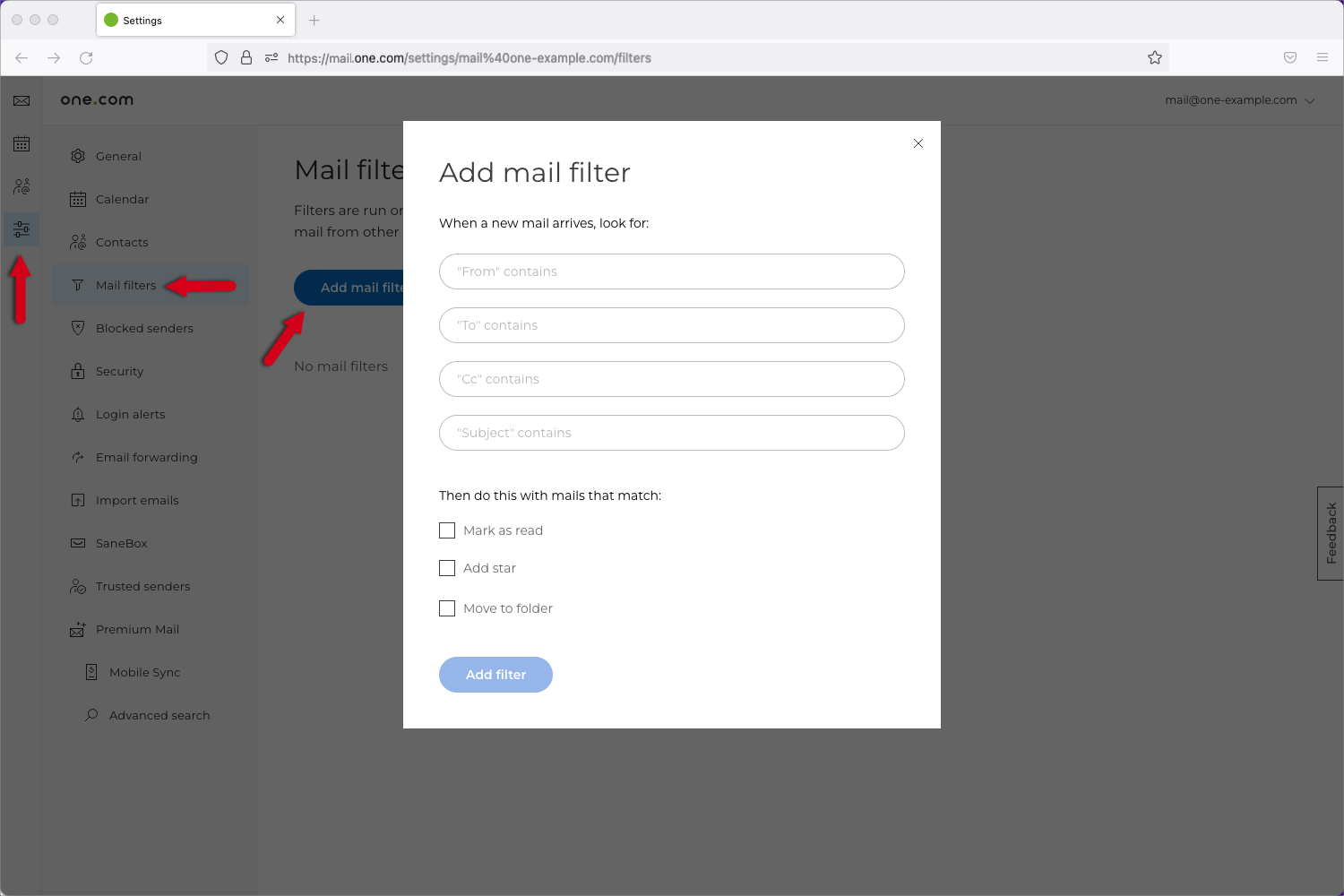 The email can also be filtered by right-clicking and choosing Create filter, or by clicking the three dots to the right.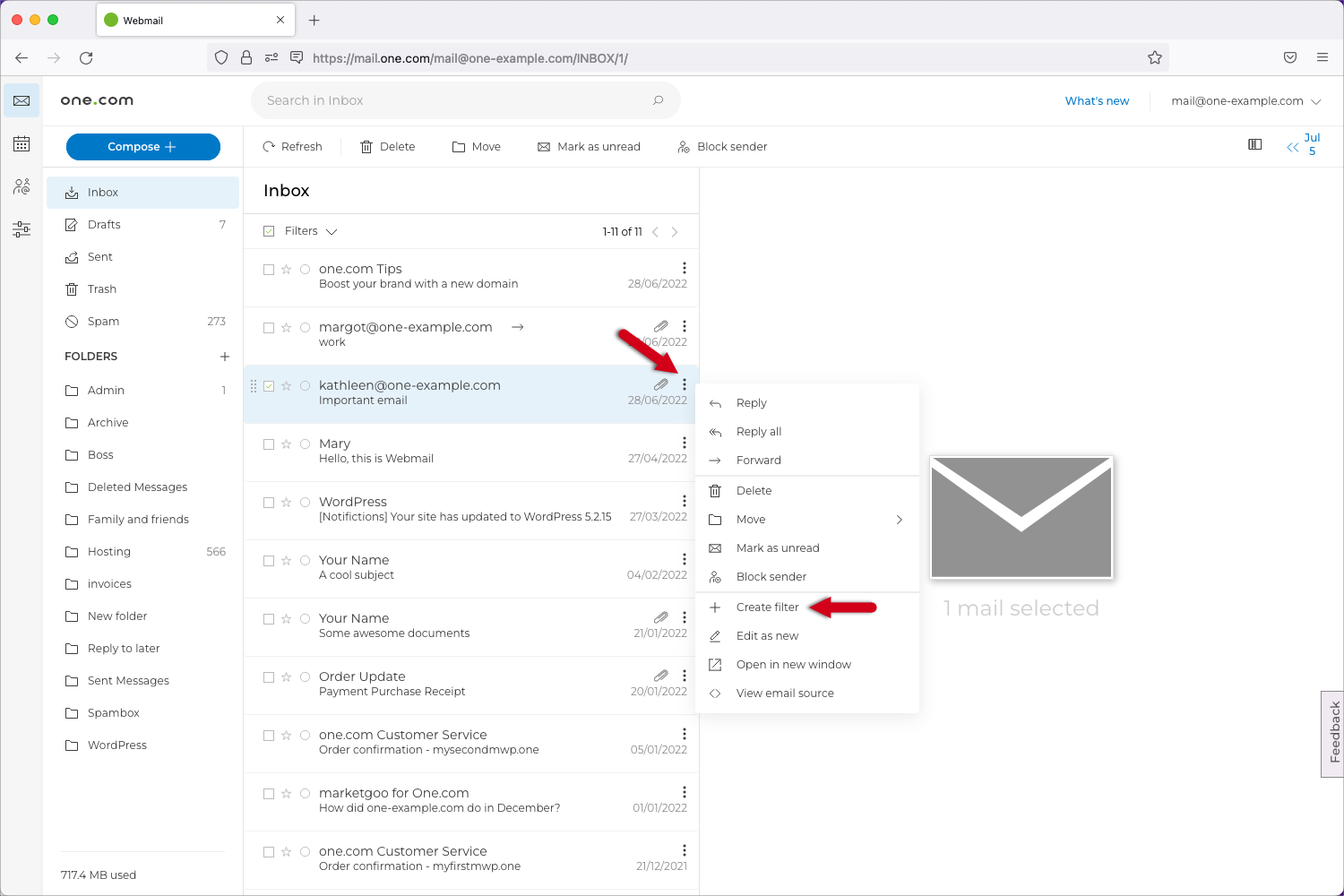 ---
See how much storage you're using
To see how much storage space your mailbox currently uses, check the size of your email account in the lower-left corner. Your usage will be refreshed when you log in again.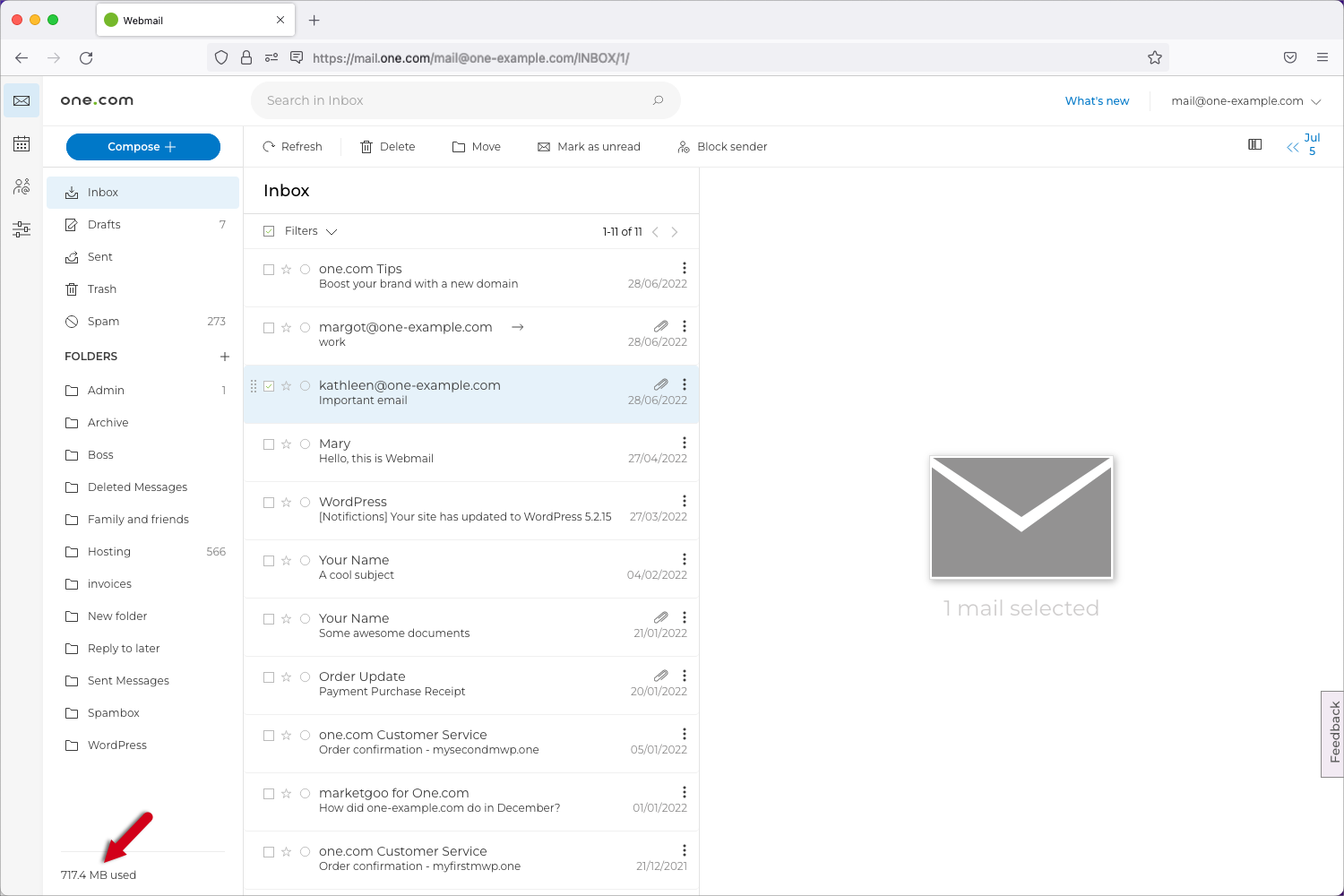 ---
Add Trusted senders
By adding an address to Trusted senders, it'll skip the spam filter, and you're sure that the sender's email always reaches you. In this way, you don't miss out on important emails, and they will not end up in your spam folder.
To add Trusted senders to your list, click the Settings icon in the menu to the left → Trusted senders → type in the email address, and click Add.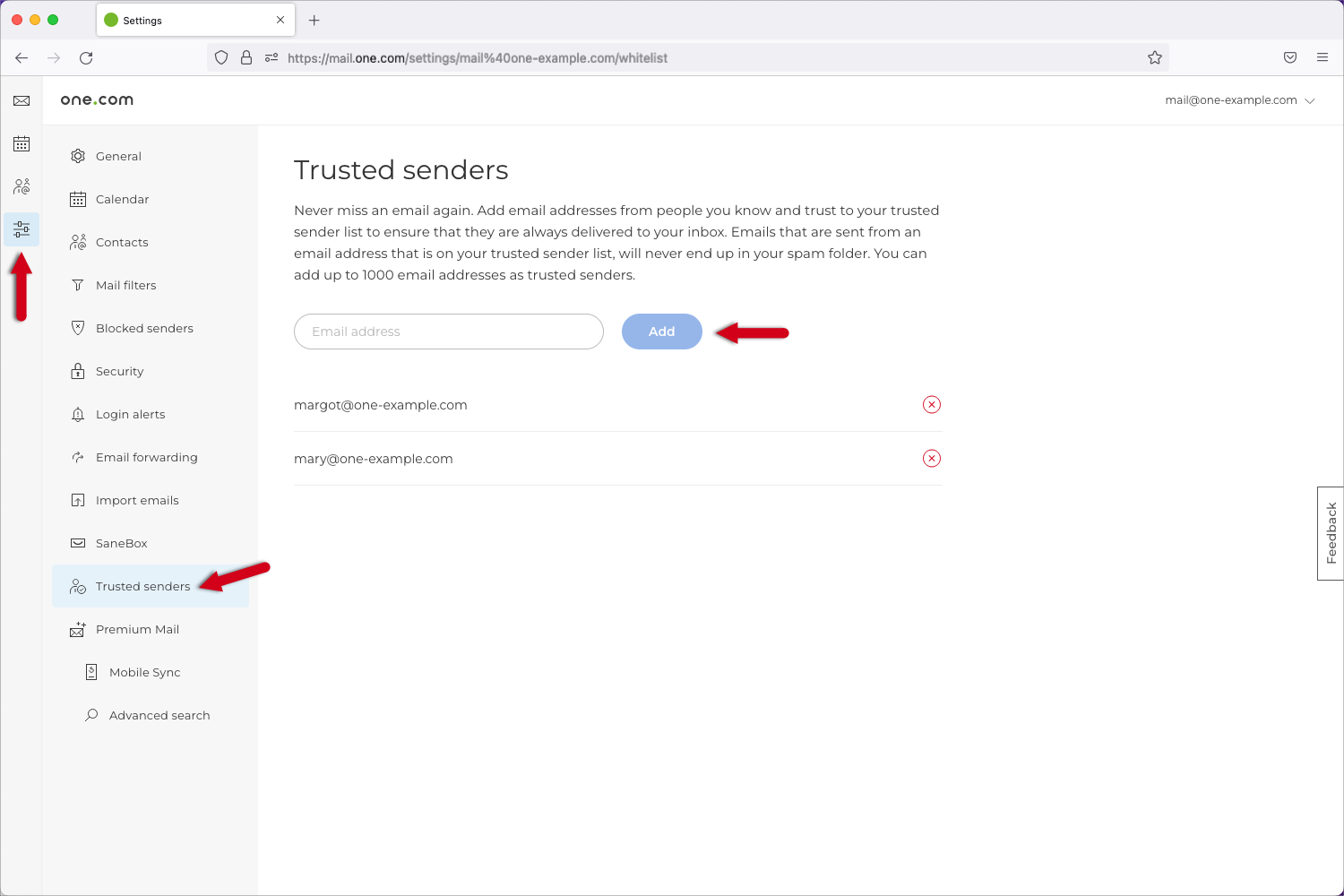 ---
Related articles: