Normally you can update WordPress with one click from the WordPress dashboard. Minor updates are even done automatically. It may happen that you cannot access the WordPress dashboard. In that case you can update manually via FTP.
In this guide we use an FTP client. There are several clients you can use to connect to FTP, however we recommend using FileZilla. Download the latest version from the FileZilla website.
Note: Before you continue we recommend that you make a backup of your site and disable active plugins. Check out our guides below if you are unsure how to do this.


---
Step 1 - Download WordPress
Download the newest WordPress installation files from the WordPress website to your computer.
---
Step 2 - Extract WordPress files
Extract the zip file that you just downloaded to a location on your computer.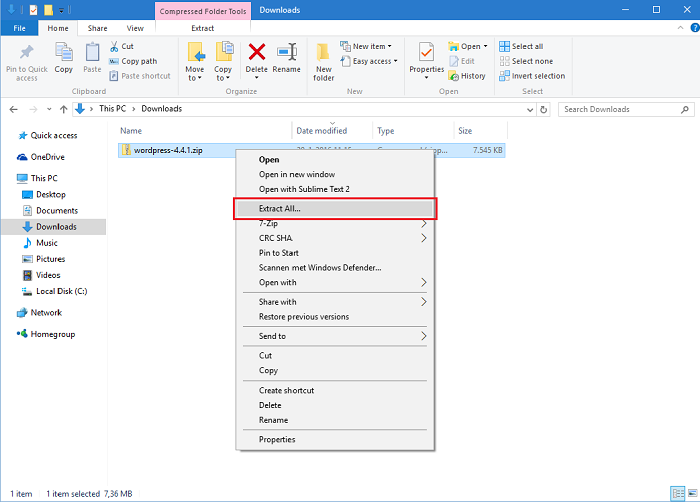 ---
Step 3 - Locate the files in your FTP client
Open FileZilla, or another FTP client of your choice and locate the folder where you saved the WordPress files.
---
Step 4 - Log in via FTP
Log in to your web space via FTP.
---
Step 5 - Delete two folders
Delete the following folders from your web space:
---
Step 6 - Upload folders
Upload the folders wp-includes and wp-admin from your computer to your web space, replacing the ones you just deleted.
---
Step 7 - Overwrite files in wp-content
Open wp-content and upload the files and folders in this folder from your computer to the corresponding folder on your web space. You overwrite the existing files, but keep any other files and folders that are there.
Note: The wp-content folder contains your plugins and themes so make sure not to delete any files and folders that are already there!
---
Step 8 - Upload individual files
Upload all individual installation files that are not in a folder from your computer to your web space, replacing the existing files.
---
Step 9 - Congratulations!
You have now done a manual update of WordPress.
If you have updated to a newer WordPress version you might need to update your database. If this is the case, you will be prompted to do so when you log in to WordPress for the first time.
Tip: Check for updates for your plugins and themes and remember to reactivate all plugins once you are logged in.
---
Related articles:
Back