You can cancel your web hosting subscription via a cancellation link. The link will be sent to your contact email address, and you can request it from the control panel under "My Account" > "My products".
In this article, we guide you step-by-step through the online cancellation process.
Tip: If you don't have access to your contact email address, you can fill out and sign our cancellation pdf-form to confirm your cancellation.
---
Step 1 - Send a cancellation link to your email
To start the cancellation procedure you need a cancellation link. You can request it from your control panel.
Log in to the one.com control panel.
Click on My account in the top-right corner, and then My products.
Click Manage for the Plan that you want to cancel; all the way to the right on your screen.
Click Cancel domain or hosting in the menu that appears.
On the next screen, click Get the cancellation email.
An email with a cancellation link has now been sent to the registered email address, the same as you use to log in to the control panel. If you don't receive the mail, try contacting our chat support and ask them to (re)send it.
Note: You need to settle any unpaid invoices on your subscription, before you can request the cancellation link. Not sure why you still need to pay them? Read our guide for more information.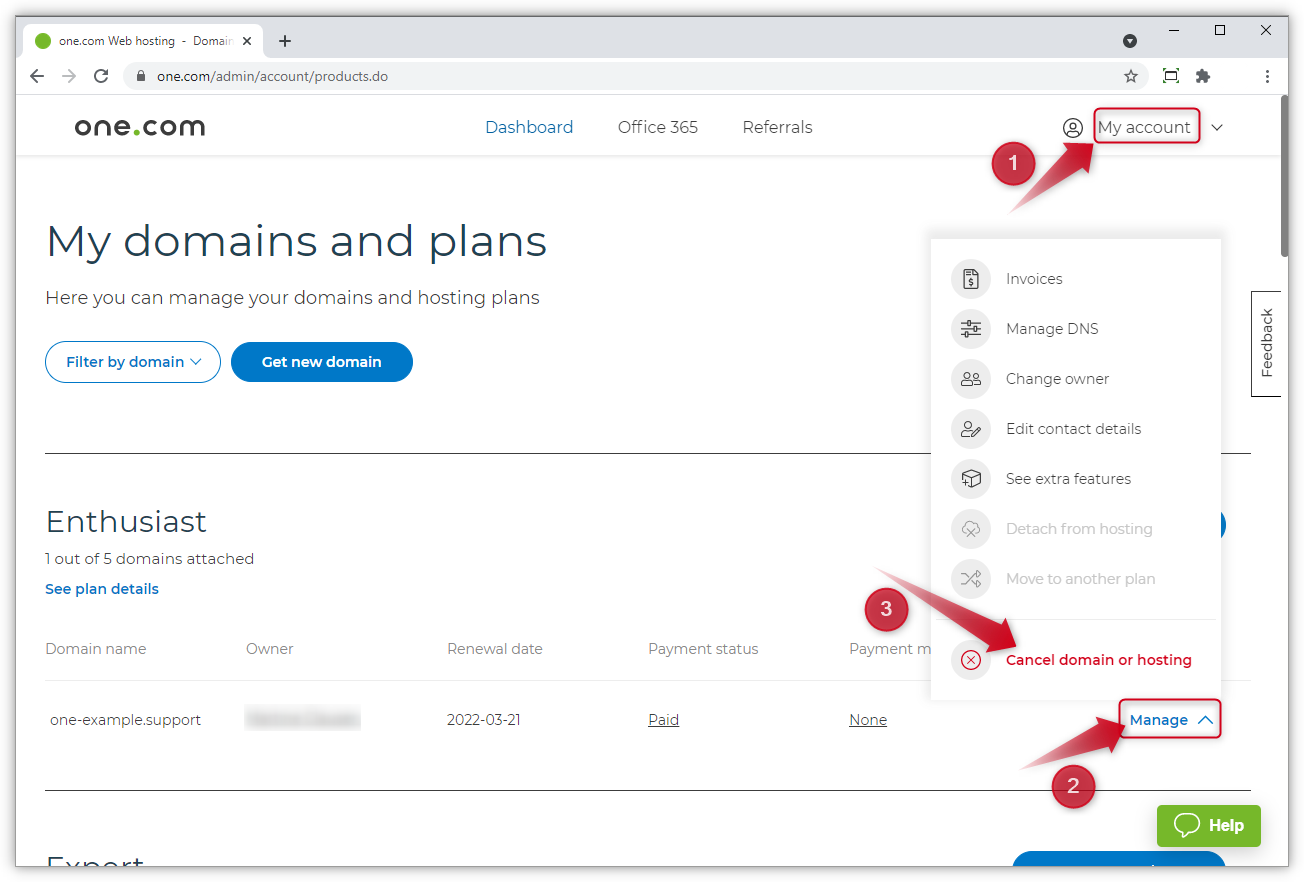 ---
Step 2 - Open the email and click the link
In your inbox, open the email with the cancellation link and click Start cancellation.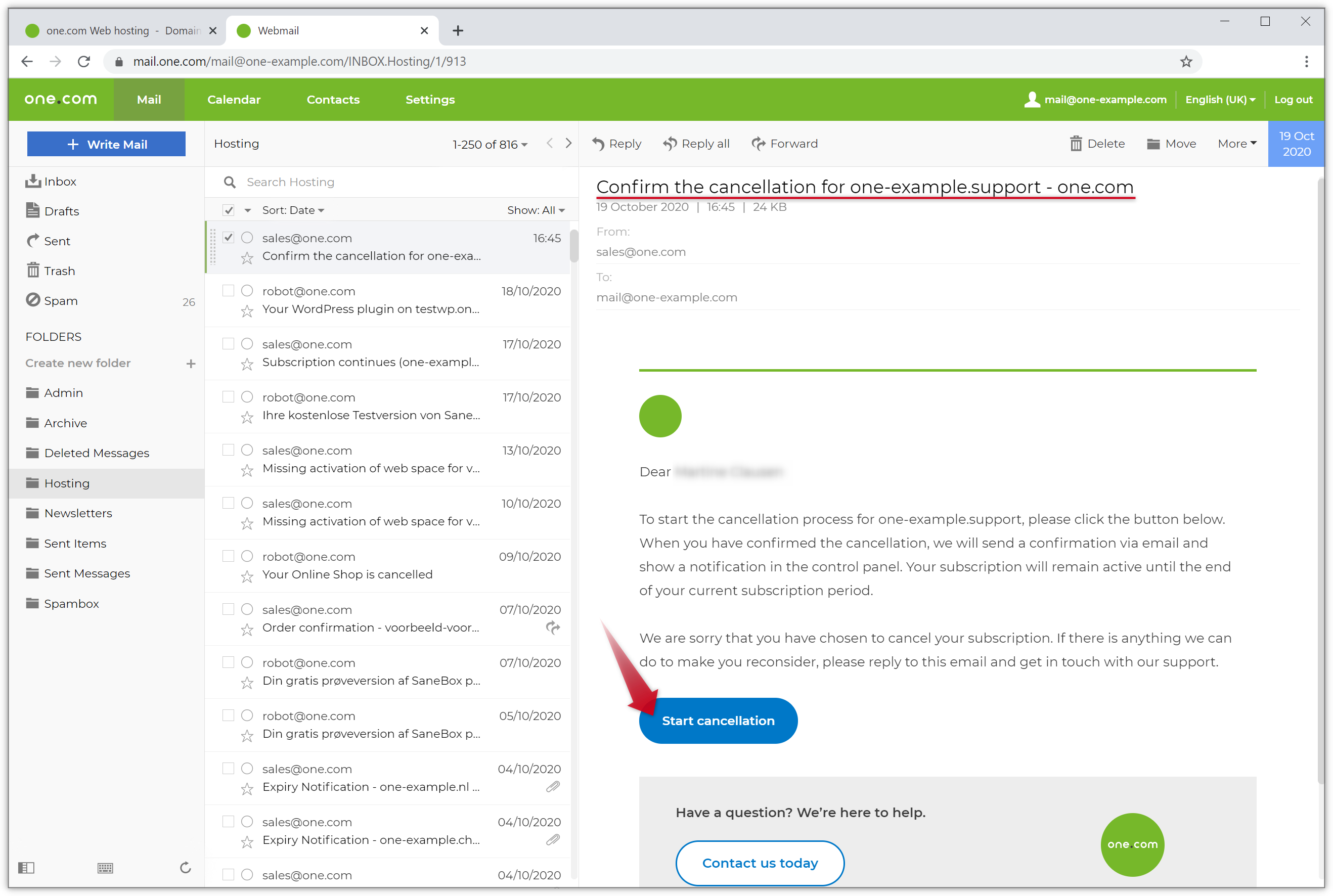 ---
Step 3 - Type in your control panel password to start the cancellation
Type in your control panel password and click Next to start the cancellation procedure.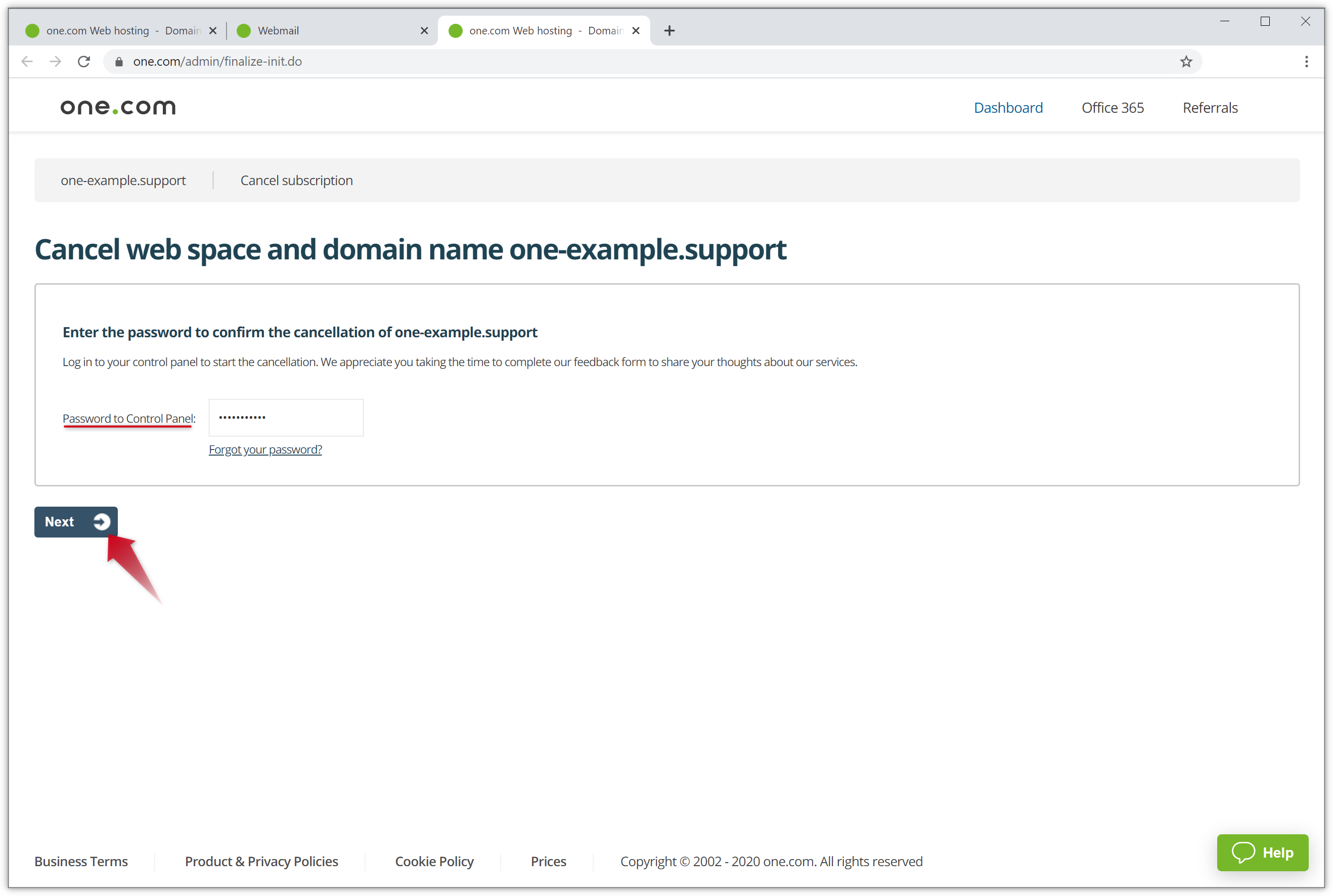 ---
Step 4 - Choose if you want to keep hosting the domain with one.com
If you want to keep the domain hosted with one.com and only cancel the web space, click Keep domain - note that all content on the web space will be deleted. Click Cancel hosting and domain if you want to cancel both, or if you want to transfer the domain to another provider.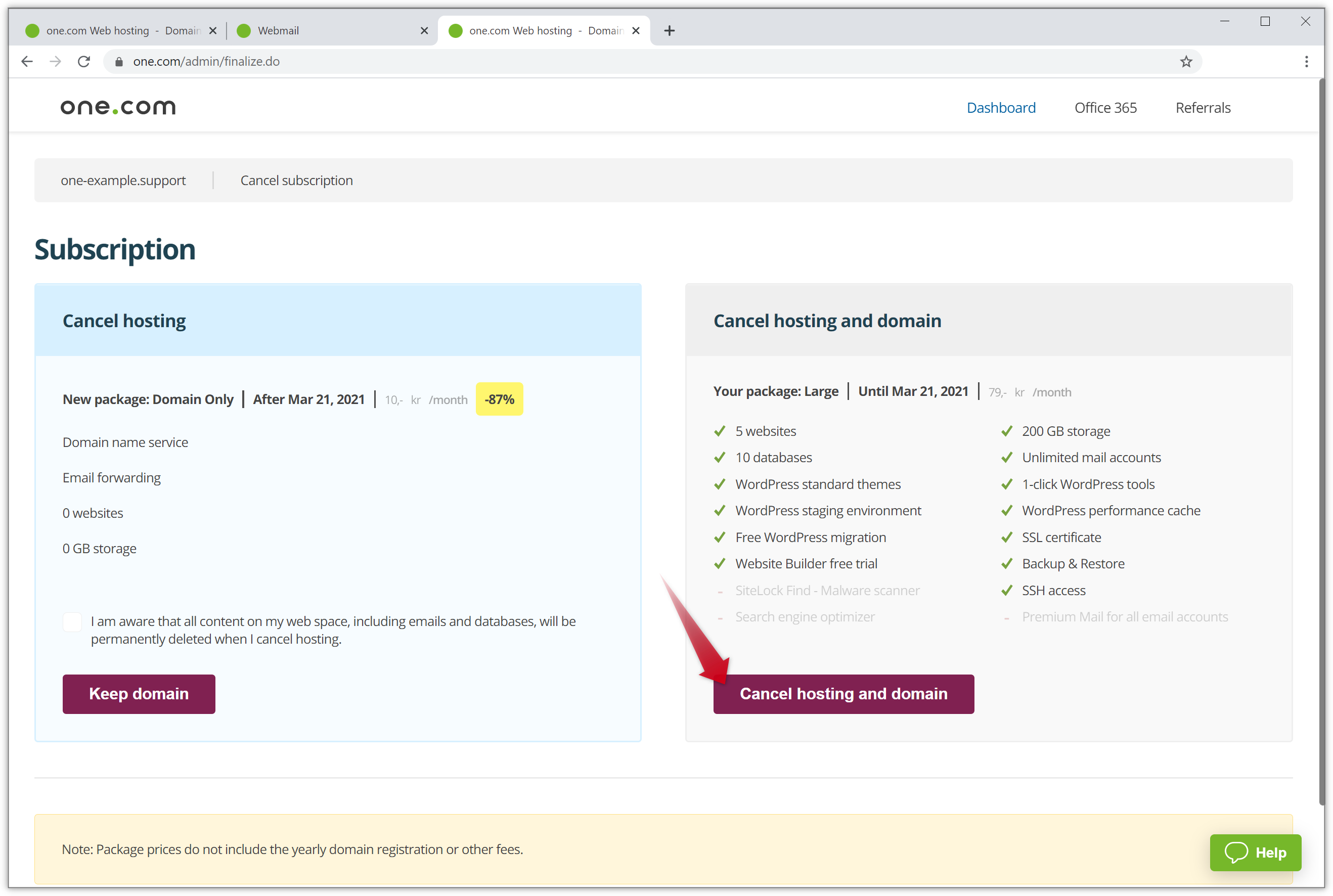 ---
Step 5 - Share your feedback about one.com
We would love to know what you think about us and our products, so we can keep improving our services.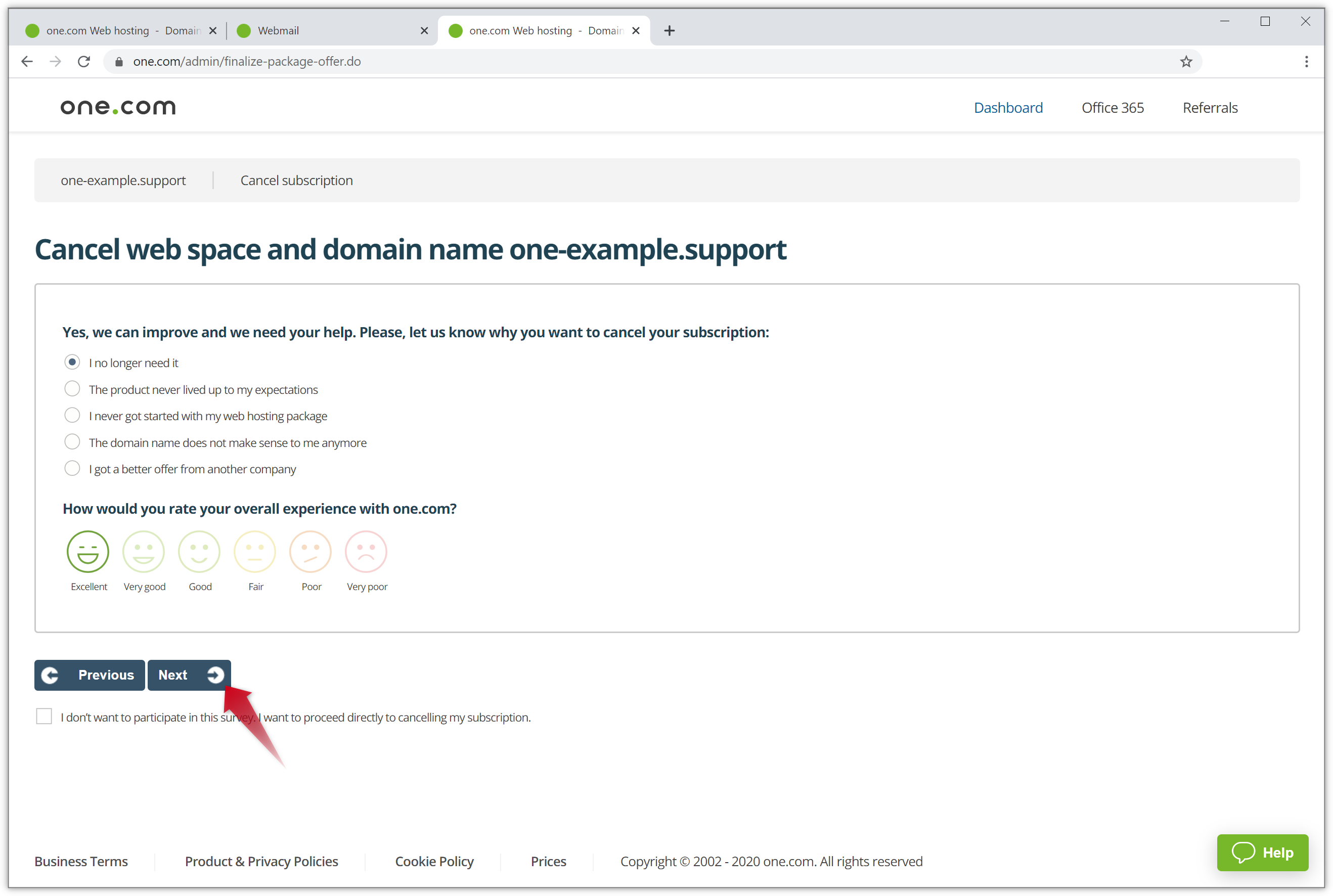 ---
Step 6 - Choose if you want to transfer or expire the domain
Select whether you want to expire the domain or intend to transfer it to another provider. If you want to transfer it to another provider we will send you an Auth ID.
Click Cancel subscription to complete the cancellation.
Note: If the domain is registered on a different owner, you don't need to select what to do with the domain. Instead the owner of the domain will receive an email, after the web hosting subscription has been cancelled.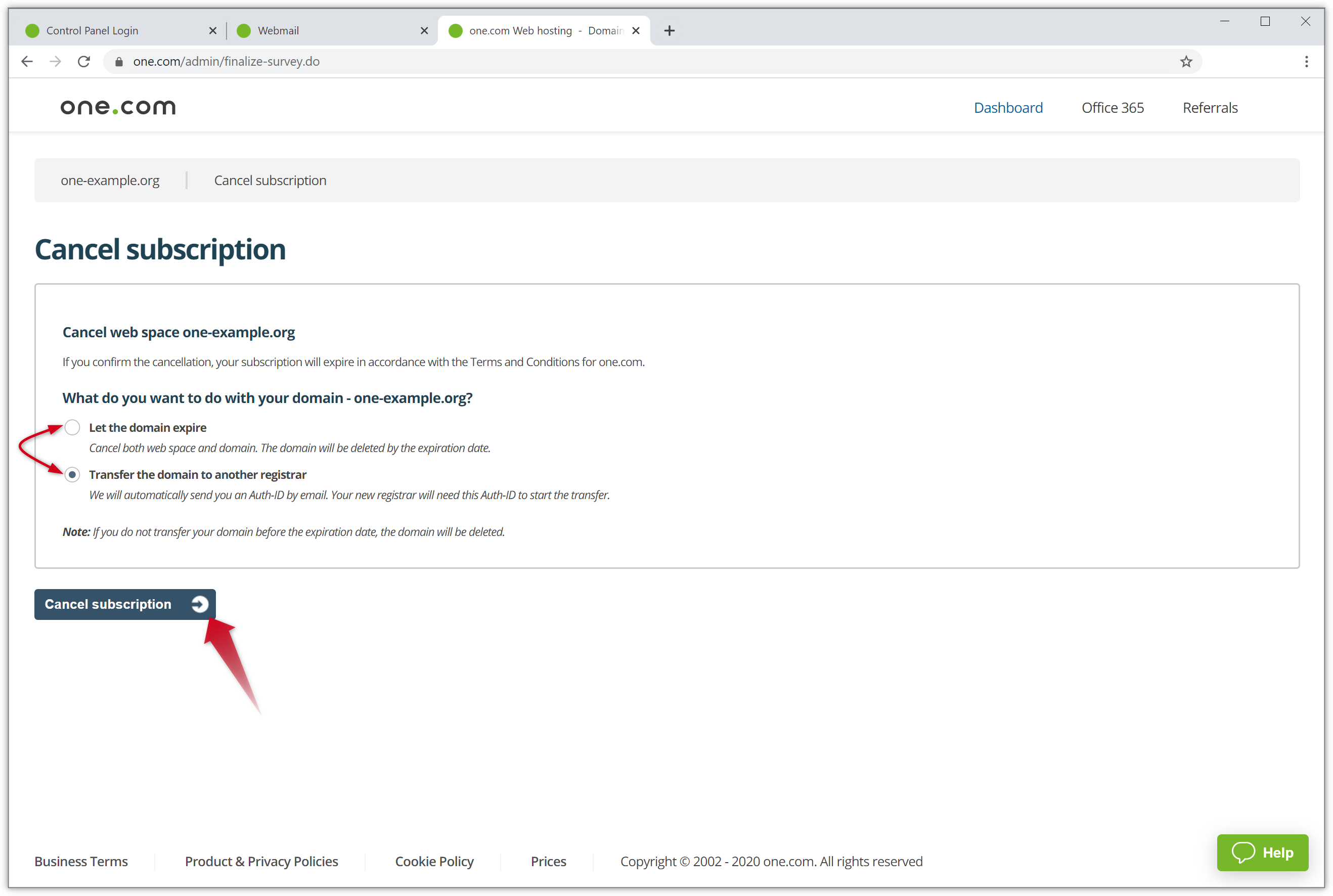 ---
Step 7 - Verify that your subscription is cancelled
As soon as your cancellation is processed we will send you a confirmation via email. There will also be a notification in the control panel with the date that your subscription will expire.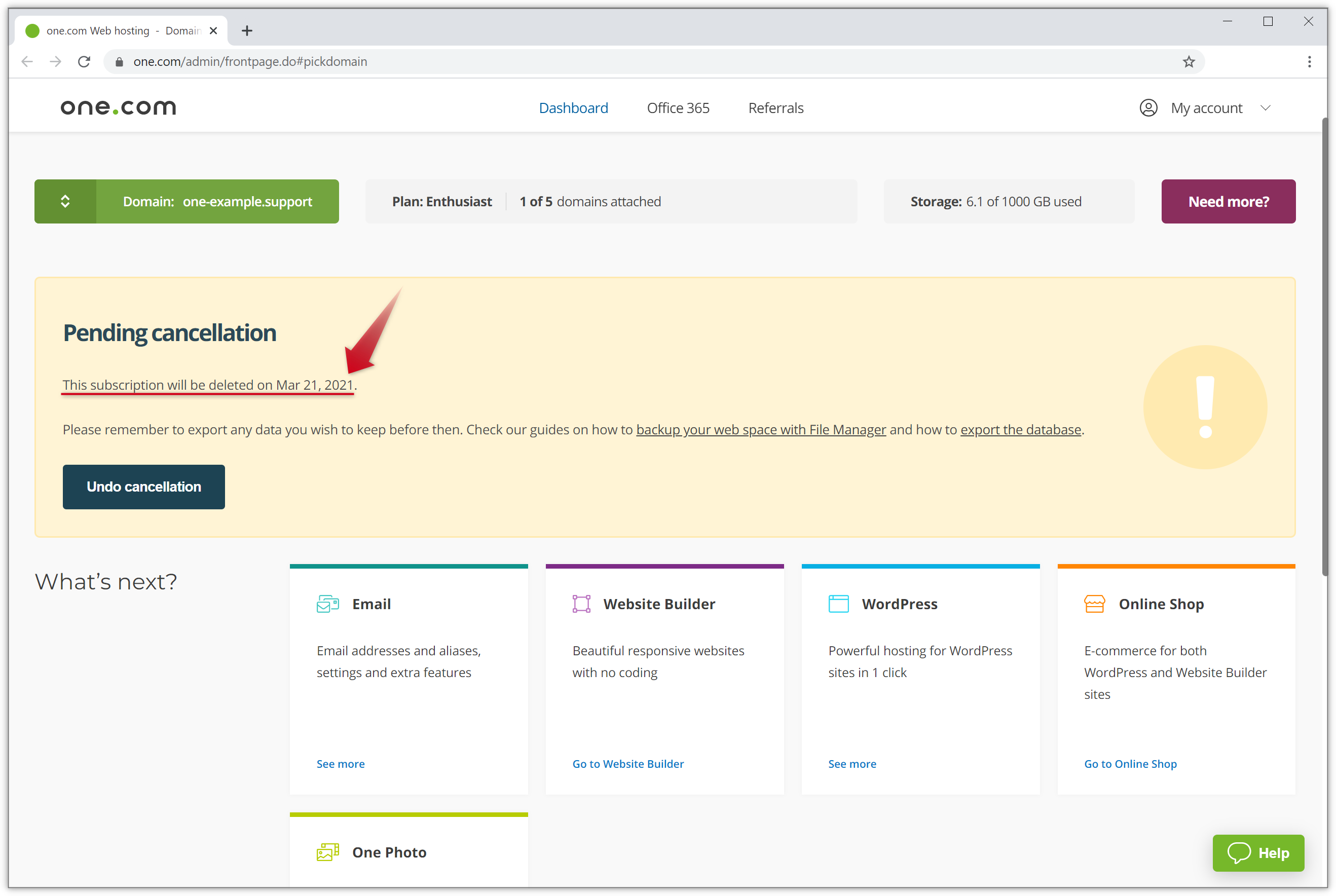 ---
Related articles: