This guide explains how to transfer your domain away from one.com to another Registrar (domain provider).
For this, you generally need an Auth-ID (also known as an EPP code), which you give to the new registrar to start the transfer. There are a few exceptions to this process, mentioned in the last section of this guide, depending on what kind of domain you want to transfer.
Note: A transfer of the domain is not a cancellation. If you want to cancel your subscription with one.com, that is a separate process. To learn more, please check our guide: How do I cancel my web hosting subscription?
---
How do I transfer my domain?
Follow these steps to retrieve your Auth-ID:
Click here to log in to the Product page in your control panel.
Click Manage to the far right of the domain you want the Auth-ID for.
Click Get Auth-ID in the menu that appears.
Click Send the Auth-ID in the new window to send the code to the registrant email.
Give the Auth-ID to your new registrar, and they will help you with the transfer.
Done!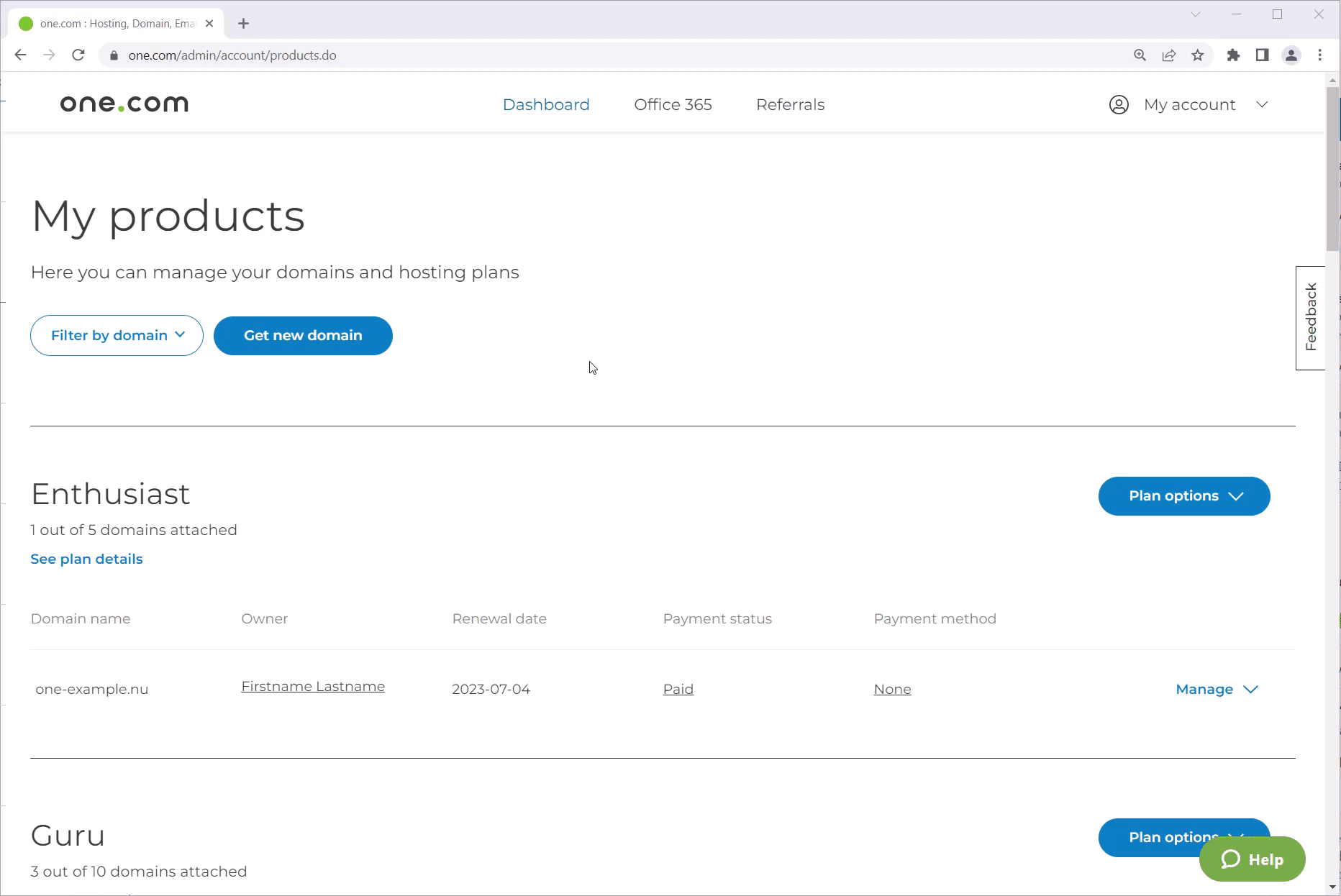 Note: The transfer may take up to ten days after the Auth-ID is approved. Most of the time, it's faster. This depends on the type of domain and the new registrar.
---
I didn't receive the Auth-ID
The Auth-ID is sent to the email address registered on your domain, not the contact email. If you need help determining which email is registered on the domain, you can see the current owner details in your one.com control panel.
Note: To change your registrant email, please check our guide: How do I change the registrant email for my domain?
---
How do I transfer my .es, .uk or .br domain?
Some domains don't use Auth-ID for transfers. The most common exceptions are .es, .uk and .br. However, if you have another domain that doesn't use Auth-ID, please get in touch with our support, and they will know how to handle the transfer.
For .es or .br, please contact your new registrar (domain provider), and they will help you with the domain transfer.
To transfer a .uk domain, please follow these steps:
Ask your new registrar for their IPS TAG.
Contact our support from your registered contact email address with your new IPS TAG.
Done! Once we have changed the IPS TAG, the new provider will automatically receive a notification.
Note: If you don't have access to your contact email address, you are also welcome to sign and send this form to our support to change the IPS TAG.
---
Related articles: