In this guide we show you how to set up your email account with Mobile Sync (Exchange ActiveSync), in the Samsung app on your Android device. The advantage of Mobile Sync over IMAP is that, besides your email, it also syncs your contacts and calendar.
Note: Before you can set up your account, you need to activate Mobile Sync. You do this from Webmail > Settings > Mobile Sync. Read our guide for more information.

Would you rather set up your account with IMAP? Check out the guide below.
---
Step 1 - Open the email app
Open the email app on your Android device.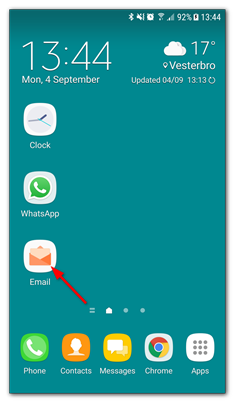 ---
Step 2 - Tap Add account
Tap Add Account.
Note: If you already have another account set up, first tap the menu in the top left corner and next the gear icon, to open settings. Then tap Add account.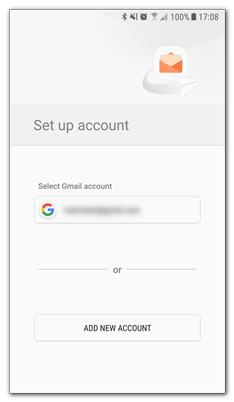 ---
Step 3 - Enter your email and password
Enter the email account you want to set up.
Enter your password, the same you use for Webmail.
Tap Manual setup.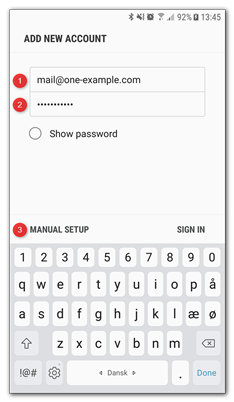 ---
Step 4 - Tap Microsoft Exchange ActiveSync
Select Microsoft Exchange ActiveSync as account type.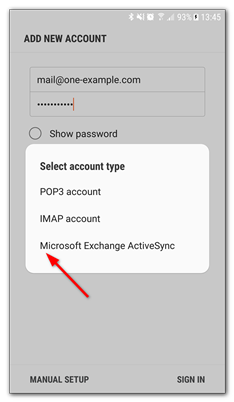 ---
Step 5 - Enter your account details
For Domain\username enter your email account with a "\" in front, like this: \mail@one-example.com.
For Exchange server enter: m.one.com
Make sure the box for SSL is checked.
Tap Sign in.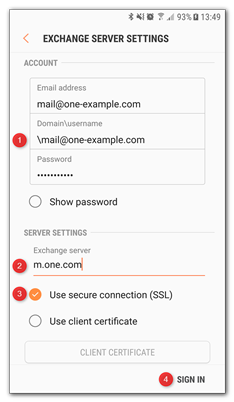 ---
Step 6 - Done!
Your account is now set up. It may take a while before all emails and folders are synced and available on your device.
Tip: Your calendar has been added to the calendar app and will be synced, unless you disable it. Your contacts have also been added.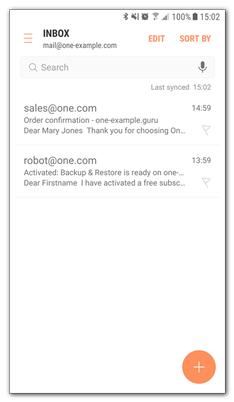 ---
Related articles:
Back