---
Easy-to-use drag-and-drop tool
Website Builder is a web-based tool that you can use to make your website. It is very easy to use and does not require coding knowledge. Simply drag components on your page and drop them at the desired location.
The standard version of Website Builder is included with all web hosting subscriptions. It gives access to all components, most features, and allows you to publish up to five pages. If you want to publish more pages you can upgrade to Website Builder Premium.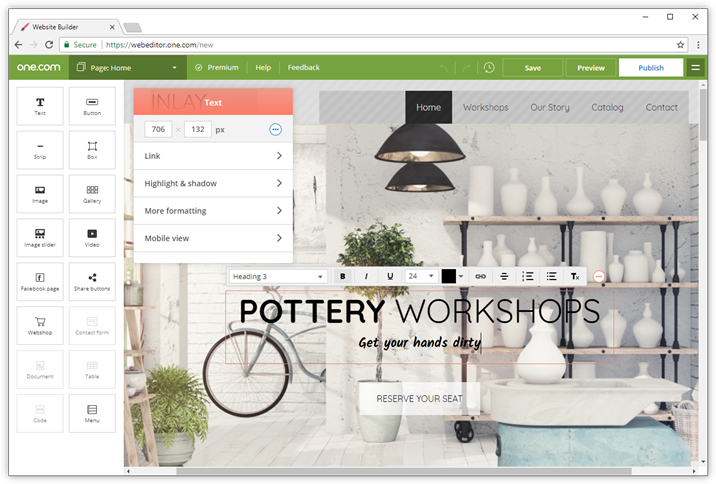 ---
More than 100 beautiful templates to choose from
To help you get started with your site, you can choose between a lot of beautifully designed templates. Browse the categories and select the design that appeals you the most. Some templates are only available for Premium users.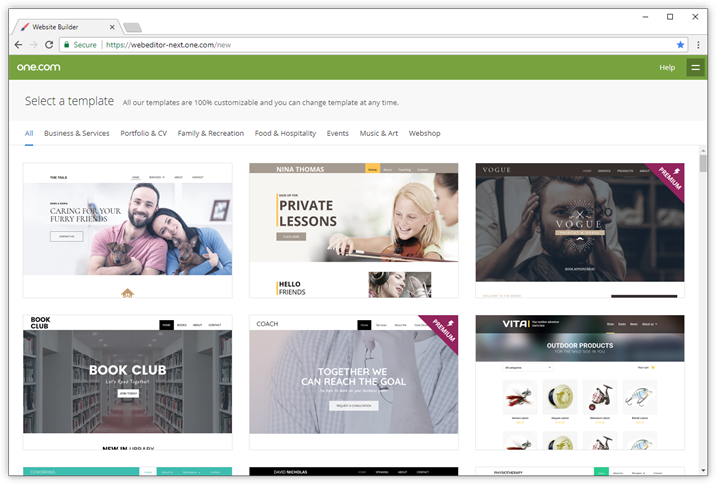 ---
All the features you need to make a professional website
The following features are included with Website Builder:
Fully customizable templates - Choose from numerous professionally designed templates to start building your site, all templates are fully customizable. Premium users get access to exclusive Premium templates.
Mobile view editor - Adjust the layout of your site, by changing the order of components or hiding them, so that it looks better on mobile devices. You can preview your site in desktop and mobile version.
Responsive templates - Responsive templates that adjust to the size of the screen of your user, so it's always shown in the best possible way.
Page layouts - Pre-designed page layouts that adjust to your styling and template. Choose a restaurant menu, contact page, gallery and more.
Social media sharing - Make it easy for your visitors to share your site with the Social links component, or add a link to your Facebook page.
Slide show and gallery - Add movement to your site with a slide show, or align your images perfectly in a grid with the gallery component and draw more attention to your site.
Template styles - Make sure your site has a uniform look and style. Set the template styling of your website, for headers, links, buttons, menus and text.
Google fonts - With Google Fonts you have more than 800 fonts to choose from. Simply select the font you need and import it to Website Builder.
Contact form builder - Create forms on your website, with text fields, drop-down menus or checkboxes. You can adjust the styling of the text and buttons.
Insert custom code - Use the code component to insert custom code in your website, for example for Google Maps and other third-party apps.
Cookie banner - Make sure you comply with privacy laws like GDPR by adding a cookie banner to your site, with a link to a cookie policy.
Tracking - Easily add third-party tracking ID's to your site to monitor your site's traffic and track campaigns, to help you optimize your marketing strategy.
Image editor - You don't need an expensive program to edit images on your computer. Simply edit your images directly in Website Builder. You can optimise them, add special effects, add filters and more.
Online shop (Try for 2 weeks) - Subscribe to the One.com Online Shop and use the Online Shop component to add it to your Website Builder site. BONUS! Included with the Online Shop is a free upgrade to Website Builder Premium.
Retina ready (Premium) - Show your images in the best way possible, if your screen is HD, then your images will be too.
Restore function (Premium) - Easily revert back to an older version of your website, with just a few clicks. You can save up to 200 versions.
---
Related articles:
Back