This guide explains how you can manage your products in the Online Shop and what you can do with all the different settings. We've divided the settings (and this guide) into six sections:
---
Products overview
From your Online Shop dashboard, click Products followed by Product list to open the Products overview. You can sort, add, delete, edit, or duplicate products here.
Sort products - Click the Filter menu in the top-right corner to sort your products by stock or categories. You can read more about sorting products in our separate guide for this.
Delete products - Select a product by checking the box next to it, and click More actions > Delete in the top-right corner.
Add products - Click the Add product button to add a new product. You need to select if you want to add a physical product, a digital product, or a gift card. Check our guides to learn more about adding digital products or gift cards.
Edit products - Click on an existing product to edit information for it. You can also edit several products at once (in bulk). This feature is described further in the last section of this guide.
Duplicate product - You can create an exact copy of a product. Simply tick the box next to a product, click More actions and then Duplicate in the top-right corner.
---
Basic information
When you want to add a new product, you need to enter basic information about it so that your customers know what it is you are selling.
Title - The name of the product that is visible in your shop.
Price - You need to set the price for your product. Select the On sale box if you want to set a sale price. That way, your customers can see they get a discount. Note that if you have variants, you must set the price for each variant further down the page.
Category - You can sort your products by category and select more than one. To add a new category, enter the name of the category in the field and click Add. Read more about categories and options.
Ribbon - You can promote your product with a ribbon. For example, this could read "NEW", "50% OFF" or "Popular". The text will be shown on top of your product to make it stand out. Read more about promoting your products.
Description - A description of your product. You can use styling to make your description stand out more.
Additional information - Click on the link to add additional information about your product. For example, more information about your return policy. You can add several other information sections.
Files - This option will only be available when you create a digital product. You upload the product here, and when the customer has purchased it, they will receive an email with a link to the product.
Images - You can upload up to 6 images of your product. The first image from the left will be the main product image. You can also give each image an ALT text.
Visibility - Select whether your product should be visible or hidden in your shop. This can be useful if you want to hide a seasonal product.
---
Weight and stock
Next, you need to add information about weight, stock and options.
Stock - The number of products you have available. If a product is out of stock, this will be visible in your shop. Click the blue Unlimited sign if you will never run out.
Weight - If you want to calculate your shipping costs based on weight, you need to set the weight of your product. Otherwise, it's not required. Read more about shipping options.
SKU - You can enter an SKU code to identify your product in your stock. This could, for example, be a combination of name, colour and size. Read more about Stock Keeping Units (SKU).
Options - You can specify different options for your product, like colours or sizes. Check the box if you want to add an option. Read more about categories and options.
Note: When you specify options for a product, you need to set the weight, quantity and SKU for each option separately.
---
Visibility and additional information
Related products - Add the products that you want to show as related products when this specific one is displayed. This can be products from the same category or similar ones. Simply type in the product name in the search bar and select it by ticking the box next to it. You can read more about related products in this guide.
Search keywords - If you add specific search keywords for the product, it will come up in the results when your customers type in certain words in the search bar. These words or terms can be general (for example, "bag") or more specific (for example, "black shoulder bag").
---
Search engines (Google)
Each product page must have a unique descriptive URL and meta description to optimise your shop for search engines.
URL - Each product has a URL so you can link to it directly from other pages. By default, the URL is based on the title of your product, but you can edit it here.
Meta description - You can specify a meta description for each product to optimise SEO. Read more about meta descriptions.
---
Bulk editing
You can also edit several products at once (known as 'bulk editing'). With bulk editing, you can edit different pieces of information for several products in one go. That way, you won't have to go in and out of several product pages if you need to edit bits of information for different products.
1. When your product list is open, you need to tick the box next to the products you want to edit. You can also tick the box at the top if you're going to edit all your products.
2. Click Bulk edit in the top-right corner.
3. You will now see an overview with open cells for the selected products. From left to right, you can change the following elements:
Product name - Edit the name of the product.
Visible - Select whether a product should be visible in the shop by sliding the toggle.
Category - Click Add to add a product to a category or click on the category to add another one.
Ribbon - If you want a promotion banner displayed on the product, you can enter the text here.
Stock - Edit the stock status of the product(s). Enter a number or tick the Unlimited box.
Regular price - Edit the normal price for the product in your selected currency.
On sale - Slide the toggle to put the product on sale. The toggle will only be visible for physical and digital products. Note that if you have variants on a product, you will have to slide the toggle for each variant that should be on sale.
Sale price - Enter the sale price of a product and its variants.
4. Click the blue Save button at the bottom of the page once you're done editing your products.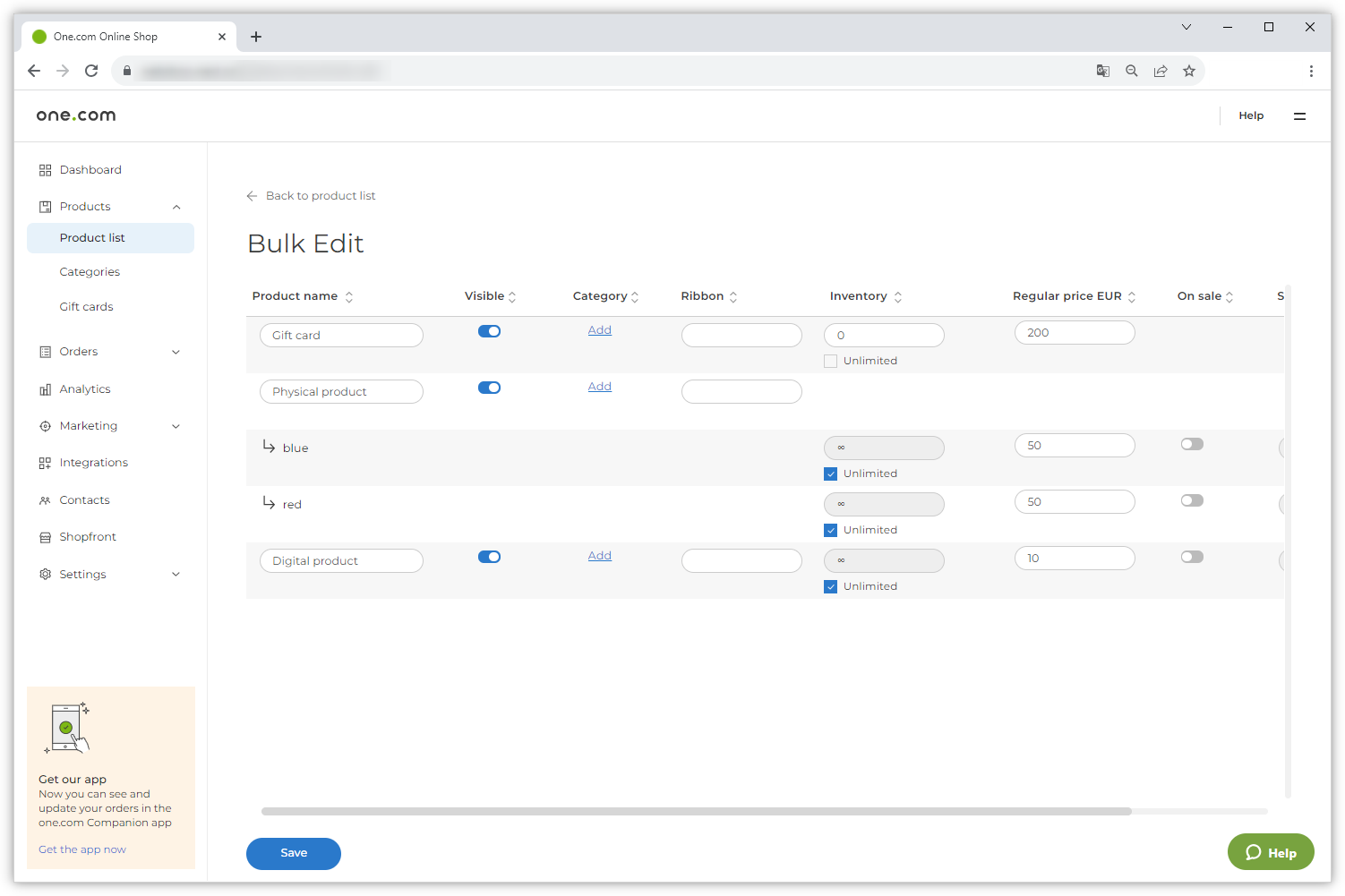 ---
Related articles: